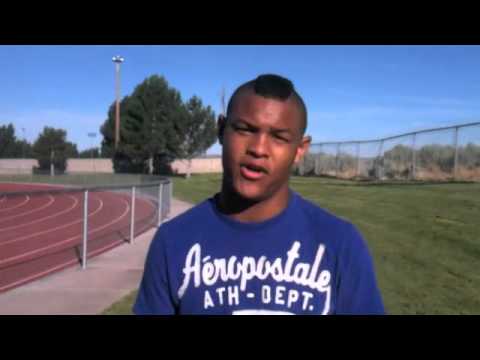 View 12 Items
James Edward, Deseret News
Scroll down to see South Sevier Felt's Facts
Note: South Sevier finished with a 1-8 overall record and was seventh in the 2A South region with a 1-6 record in 2011. It did not qualify for the playoffs.
MONROE — Turnovers. Turnovers. Turnovers.
That about sums up the 2011 football season for the South Sevier Rams.
"The two years I've been here we haven't had a game with less than two turnovers, even games we've won," said coach Weston Zabriskie.
South Sevier scored 15 offensive touchdowns in nine games last season, but committed over 20 turnovers. With that ratio, it's not surprising the Rams won just one game. Zabriskie said the goal this season is obvious — minimize turnovers.
"If we can limit the turnovers and just play field position, we're usually in every game," said Zabriskie.
Opponents often had the luxury of a short field to work with when playing South Sevier last year, so it's no surprise the Rams surrendered nearly 30 ppg.
With a new quarterback who should make better decisions, an emphasis on ball security all summer and eight returning starters on both sides of the ball, things are looking up for South Sevier.
"We're only in Year 3 of building the program, so expectations are a little higher," said Zabriskie. "We need to learn how to win. As soon as we learn how to win we think things will go a lot better for us."
Last year South Sevier had mild expectations, but Zabriskie said the team fell flat on its face because of its turnover epidemic.
"Every game we'd have three, four, five turnovers. When you're losing games by 13 points and you have five or six turnovers, there's positive to look at there but it never got fixed," said Zabriskie.
While the offense tries to sort out its turnover troubles this season, South Sevier will rely heavily on a defense led by a couple of college recruits.
Safety Patrick Baker is a two-time all-stater, and he's getting initial looks from Utah and Utah State. Fullback Alani Pututau is a move-in from California, and at 6-foot-2, 225 pounds, he's South Sevier's third-fastest player. He picked up an offer from Utah State on the first day the coaching staff saw him at camp.
"We have a lot of talent, but tradition goes a long way, and we don't necessarily have a ton of the tradition in football," said Zabriskie.
The program has made great strides this summer in an effort to change that, with 30 kids regularly coming out and lifting weights in the morning instead of just eight or 10 like the previous two years.
Outside of some stars defensively, the biggest strength for South Sevier this season will be on the offensive line. Bryce Bair and Wyatt Anderson are both two-year returning starters, while Wyatt Hansen and Cody Parker were starters last year.
"A lot of coaches all around the state would give anything to have all their linemen back, and we have four starters on both sides of the ball back," said South Sevier running back Garett Johnson.
Johnson rushed for 753 yards and six touchdowns on 116 carries last season. Three of his touchdowns covered long distances — 45, 70 and 95 yards.
"Garett Johnson is a kid that's really going to come into his own. He led us in rushing last year, and he just has that big-play ability," said Zabriskie.
He'll need to have a big year to ease the pressure on sophomore quarterback Trevor Jones. He started at receiver and defensive back as a freshman, but this season he's taking on a much larger responsibility. He's an athletic, dual-threat quarterback who is no stranger to varsity sports.
He was a role player on South Sevier's state championship basketball team, and he was a starter on the baseball team.
South Sevier Rams at a glance
Coach: Weston Zabriskie is entering his third season as a head coach at South Sevier. The North Sanpete graduate has put together a 4-17 overall record in his first two seasons.
Offense
(8 returning starters; Two-back offense)
South Sevier's turnover-plagued offense only averaged 13 ppg last year. Ball security has been the focus all summer, and running back Garett Johnson said he's as focused on it as anybody. With stud fullback Alani Pututau leading the way, and an offensive line featuring four returning starters, Johnson is in line to have a monster season. Trevor Jones has been handed the reigns at quarterback, and when he's not giving the ball to Johnson he'll be looking for Patrick Baker down field. Baker had 15 catches for 203 yards last year, but South Sevier's two other primary receiving threats from a year ago graduated.
Defense
(8 returning starters)
It's not often a 2A program has a couple of kids getting looked at by college coaches, but Baker and Pututau aren't your everyday 2A players either. With Baker at safety and Pututau at linebacker, they will anchor a defense that should be very good. Bryce Bair and Wyatt Anderson or two-year starters on the defensive line, while senior corner back Trevor Tobler is the top returning player in the secondary. With San Juan coming to town for the region-opener on Aug. 31, South Sevier will find out right away just how good its defense really is.
Coaches preseason 2A South straw poll: Sixth
Deseret News 2A South prediction: Fourth
Bottom line: If this team hangs onto the ball this year, there's no reason it won't finish in the Top 6 in the 2A South region and earn a playoff spot. Realistically though, there's enough talent for the Rams to set their sights much higher than just a playoff berth. A top-four finish and a first-round home playoff game should be the goal this year.
2012 Schedule
Aug. 17 — GUNNISON, 7 p.m.
Aug. 24 — at North Sevier, 7 p.m.
Aug. 31 — SAN JUAN, 7 p.m.
Sept. 7 — at Enterprise, 7 p.m.
Sept. 14 — BEAVER, 7 p.m.
Sept. 21 — KANAB, 7 p.m.
Sept. 28 — at Grand, 7 p.m.
Oct. 5 — at Parowan, 7 p.m.
Oct. 12 — RICHFIELD, 7 p.m.
Oct. 19 — Playoffs
....
Felt's Facts for South Sevier High School
All-time record: 185-285-1 (57 years)
Region championships: 7 (1925, 1971, 1972, 1973, 1974, 2000, 2009 co)
Playoff appearances: 26
All-time playoff record: 9-25-1
State championships: 1 (1925) * Payson and South Sevier tied in the semifinals in 1925, but no state championship was held. Both were awarded state titles.
State championship record: 0-0-0
Most played rivalry: 52 meetings with Richfield dating back to 1920. Richfield leads 35-17. Meet on Oct. 12.
Felt's Factoid(s): Jared Petersen threw a 99-yard pass to Brett Wallace in 1997 to become one of just 11 pairs of players to complete a 99-yard pass.
South Sevier coaching history
2010-current — Weston Zabriskie (4-17)
2003-2009 — Travis McAllister (34-35)
1998-2002 — Clint Christiansen (26-26)
1993-1997 — Brent Hafen (7-38)
1992 — Ron Winegar (1-8)
1991 — Rick Orr (1-7)
1984-1990 — Alfred Frehner (13-48)
1981-1983 — Garry Walker (6-20)
1980 — David Hare (6-5)
1971-1979 — Richard Orr (55-39)
1970 — Mike Jones (2-9)
.....
Deseret News First Team all-staters the past 10 years
2011 — Patrick Baker, RB/DB
2010 — Logan Baker, TE/LB
Comment on this story
2010 — Clayton Higginson, OL/LB
2009 — Ryan Anderson, OL/DL
2009 — Dillon Bishoff, WR/LB
2009 — Jace Mecham, OL/LB
2008 — Landon Leavitt, RB/LB
2008 — Scott Mathie, OL/LB
2006 — Jason Leavitt, RB/LB
2005 — Carson Christensen, QB
2005 — Carson Christensen, QB
To view second team and honorable mention all-staters through the years, check out the Deseret News All-State Archives
Email: jedward@desnews.com
Twitter: @DNewsPreps
Contributing: Jessica Wilde, Conner Johnson, Steve Mundee and prep football historian George Felt.