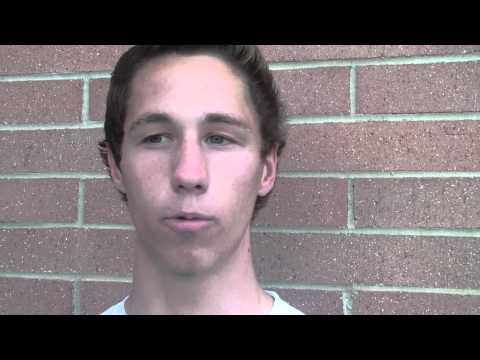 View 6 Items
Brandon Gurney, Deseret News

Scroll down to see Timpanogos Felt's Facts
Note: Timpanogos finished with a 4-7 overall record and a 4-3 record in Region 8 in 2011. It lost to Bountiful, 42-27, in the first round of the 4A playoffs.
OREM — The Timpanogos Timberwolves are optimistic about their chances in 2012 — and for good reason. The team made great strides a season ago, making the state playoffs, and the T-Wolves return a lot of key players from that team.
Perhaps more importantly, coach Ed Larson will be entering his third year at Timpanogos, which is a key year for most head coaches.
"The seniors have now been with me for three years. The staff is comfortable with me and me with them. So I think we could have a very good year," said Larson. "I think it takes three years to get firmly established in what we do, so we're excited."
Leading the seniors will be quarterback Kaden Bramall, who started last year as a junior. Bramall will be joined by a host of experienced wideouts and the team's leading rusher from last year, Max Hill.
"I have a one-two punch that I think is going to be very effective," said Larson about his running backs. "We have Max Hill who rushed for around 1,000 yards for us last year and Morgan Dickerson can come in and really pound it. So we feel very good about our running backs."
Indeed Larson, who likes to throw the football, might have his team do most of its damage on the ground this season. That's not to say returning wideouts Dyson Rivers and Jaxon Beck won't be playing big roles, however.
"The problem I have this year is how to get the ball around to as many as eight guys who I think will be capable of making plays for us on offense," said Larson. "It's a good problem to have, I guess, but we should have a lot of potential on offense."
The biggest question for Timpanogos on offense is at offensive line. The team lost three big starters, but Larson and Co. are hopeful that some promising young players can step up in their stead.
Following preseason practices, Hill is confident his teammates will be opening some good holes for him.
"We had a lot of guys play really well at camp with their run-block, so I'm very confident running behind them," said Hill. "I know our passing game will come too, so I think we're going to fine on offense."
As good as Timpanogos looks on offense, it might look even better on defense. The strength of the defense will be along the defensive front and at linebacker.
"We have a lot of good guys returning on our defensive line, but we need to find some corners," said Larson. "My front seven should be very good. We're not very big, but we're very quick. Our guys are very low to the ground and I think we could be really good there. I think our three linebackers, if they stay healthy, could be the best in Utah Valley."
Regardless of the existing question marks, players are very confident they have the right guy to put everything together.
"Coach Larson is the best coach in the state, I think," said Hill. "Kids really want to play for him because he really knows what he's doing. He has so much experience and he's so smart. It's great playing for a coach with so much experience and with so much knowledge about the game."
One thing Larson knows very well is that the most talented teams aren't always the best teams. In his experience, loads of talent doesn't always translate into loads of wins.
"Every year is different and chemistry matters," said Larson. "How the players work with each other and how they treat each other is so important to our performance on the field. I always tell my players that the best team talent-wise that I had at Ricks was my worst team record-wise, so it doesn't matter what kind of talent you have if you don't gel. Hopefully we have a team this year that gets it together and works well together and if we do, then I think we can go far."
Timpanogos Timberwolves at a glance
Coach: Ed Larson is entering his third season as head coach at Timpanogos and has a wealth of experience at both the prep and collegiate levels. He's coached at Ricks College, Snow College, Dixie State, Weber State, Provo High and Springville High.
Offense
(West-coast offense)
Like most teams in Region 8, Timpanogos will look to spread out the field and throw the football. Given the benefit of returning starters at quarterback and at wideout, Timpanogos could prove very potent if its line progresses as expected. The true strength of the offense should be at running back, however.
"We're real confident in our run game," said Hill. "I think we did well last year and I think we could be even better on offense this year. I have a lot of confidence in everyone on the offense."
Defense
(Base 4-3 defense)
The key on defense will be in the ability for the expected starters at linebacker to stay healthy. Two of the three have lingering injuries entering the season, but if they can be healthy, the Timberwolves should field one of the best defenses in Region 8.
Coach's preseason Region 8 straw poll: Fourth
Deseret News preseason Region 8 prediction: Second
Bottom line
Everything seems in line for Timpanogos to dethrone Timpview as the top school in Region 8 for the coming year. The Timberwolves were competitive in every game they played last season and ended strong after a slow start. That momentum should carry into this season with the expectation of contending for the region title a realistic one.
2012 schedule
Fri. Aug. 17 — LEHI, 7 p.m.
Fri. Aug. 24 — at American Fork, 7 p.m.
Fri. Aug. 31 — PLEASANT GROVE, 7 p.m.
Fri. Sept. 7 — at Salem Hills, 7 p.m.
Fri. Sept. 14 — SPRINGVILLE, 7 p.m.
Fri. Sept. 21 — TIMPVIEW, 7 p.m.
Fri. Sept. 28 — at Mountain View, 7 p.m.
Thu. Oct. 4 — MAPLE MOUNTAIN, 7 p.m.
Wed. Oct. 10 — at Provo, 7 p.m.
Wed. Oct. 17 — OREM, 7 p.m.
.....
Felt's Facts for Timpanogos High School
All-time record: 58-104 (16 years)
Region championships: 0
Playoff appearances: 8
All-time playoff record: 2-8
State championships: 0
State championship record: 0-0
Most played rivalry: 17 meetings with Orem dating back to 1996. Orem leads 13-4. Meet on Oct. 17.
Felt's Factoid(s): Timpanogos is one of just 11 schools to have a perfect playoff record on its home field (1-0).
Timpanogos coaching history
2010-current — Ed Larson (13-18)
2009 — Brad King (3-6)
2006-2008 — Brad Molen (13-18)
2004-2005 — Frank Bramall (8-13)
2003 — Darren DeGracie (4-5)
2001-2002 — Frank Bramall (13-10)
1996-2000 — Marc McKenney (7-40)
.....
Deseret News First Team all-staters the past 10 years
2007 — Christian Stewart, QB
2007 — Grant Jimenez, WR
2007 — David Kruger, DL
2007 — Taylor Lyons, DB
To view second team and honorable mention all-staters through the years, check out the Deseret News All-State Archives.
Kaden Bramall talks about the coming season
does it really matter what I type here?