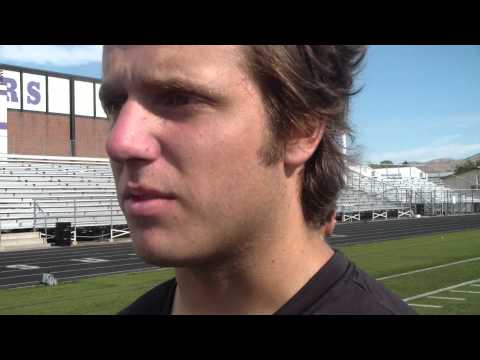 View 6 Items
Brandon Gurney, Deseret News

Scroll down to see Lehi Felt's Facts
Note: Lehi finished with a 2-8 overall record and an 0-5 Region 4 record in 2011. It did not qualify for the state playoffs.
LEHI — Rebuilding the Lehi football program isn't an easy task, but it's something coach David Hastings believes he can do. After accomplishing something last fall no Lehi coach had done since 2008 — he would appear well on his way.
The accomplishment? Hastings was able to win his first career game at Lehi —defeating Timpanogos 32-24 to start the 2011 season. It was a big thing for the players and everyone involved with the program. It was the first win for Lehi in 26 games.
"Learning how to win in a program that hasn't been able to win for a long while isn't an easy thing," said Hastings. "One of our themes my first year was to expect to win, and it's something these kids haven't expected to do for a long, long time. So the credit goes to them for believing in what we're trying to do here."
It shouldn't be a surprise that Hastings made strides his first year considering his coaching experience. He turned around a bottom-of-the-barrel program at Sugar Salem in Idaho before making his way to Lehi.
Now that it's off the snide in winning a football game, Lehi will now look to take the next step: being competitive in Region 4 and making a run at a playoff berth. Considering how tough the region is, accomplishing those things will be very difficult.
"Our region is brutal," said Hastings. "The preseason rankings come out and the Top 2 schools are in our region in Bingham and Lone Peak, so it's going to be tough to compete in this region. But it's something we're aiming to do."
Having implemented brand new offensive and defensive systems, Hastings is confident his team is ready to take the next step. Lehi will be a young team in 2012, but it's a team that returns a lot of experience.
"We started a lot of sophomores and juniors last year, so those guys will be back and that will be a strength for us," said Hastings. "We had five sophomores starting on offense last year and some of those starting on defense as well, so those guys should be improved and we should be better on both sides of the ball."
The Pioneer offense was humming last season behind Hasting's double-wing system. It wasn't uncommon for the team to account for over 300 yards on the ground with Zane Munger leading the way with 1,211 yards and 11 touchdowns.
Munger is gone, but Folo Ulukivaiola "Bubba" is back. Bubba rushed for 918 yards and eight touchdowns and will be asked to be the primary ball-carrier. "Bubba showed what he could do last year and I think he'll be that much better for us this year," said Hastings.
The team returns most of its starting offensive linemen and has put on a lot of good weight in the offseason. According to Hastings several players have added close to 30 pounds of muscle.
"I'm very happy with how kids responded to the work I wanted to see them do in the offseason," said Hastings. "It's a credit to their attitude and their dedication to this program. We've added a theme this year that's 'Brothers, family, Lehi,' so we're working on keeping the players accountable to others and so far I feel they've responded.
"We've had small successes. We placed in the Top 8 in the passing competition at BYU and with those successes it builds a positive attitude with everyone and that's what we want here."
Lehi Pionners at a glance
Coach: David Hastings is entering his second season at Lehi after going 2-8 his first year. He hails from Idaho and is a graduate of Madison High School.
Offense
(Double-wing offense)
Lehi likes to run the ball and run it often. After the success the team saw on the ground a season ago, Hastings won't be changing much with his base offense. Running back and the offensive line looks strong, but Hastings will break in a new quarterback.
"The only player who is really new to our offense is our quarterback, Clayton Greenwood," said Hastings. "We're confident that he'll do well and we expect to run it right at people again. We're a four-down offense, so when it's fourth-and-three we're going for it. We'll double-team a lot of guys at the point of attack, use some misdirection and we're confident that we'll put up similar — if not better — numbers offensively than we did last year."
Defense
(Base 4-3 defense)
While Lehi's offense was churning last season, opposing offenses were churning as well — scoring 35.4 points per game against the Pioneers. Hastings knows his defense will have to improve if the Pioneers are going to have any success in region play.
"We have a lot of guys back on defense, so I'm confident that we'll be better there," said Hastings. "We obviously can't give up as many points if we hope to be competitive, but I think that will happen. A lot of our defensive guys have put in the work, added weight and it's all going to help us."
Coach's preseason Region 4 straw poll: Sixth
Deseret News Region 4 prediction: Sixth
Bottom Line: Lehi will see improvement in 2012, but considering the region it plays in, it will be tough to finish higher than sixth. The Pioneers should fare well in nonregion play, however, and could easily sneak away with a couple of league wins.
2012 Schedule
Fri. Aug. 17 — at Timpanogos, 7 p.m.
Fri. Aug. 24 — Maple Mountain, 7 p.m.
Fri. Aug. 31 — Orem, 7 p.m.
Fri. Sept. 7 — at Payson, 7 p.m.
Fri. Sept. 14 — Viewmont, 7 p.m.
Fri. Sept. 21 — at Pleasant Grove, 7 p.m.
Fri. Sept. 28 — American Fork, 7 p.m.
Fri. Oct. 5 — at Riverton, 7 p.m.
Wed. Oct. 10 — at Bingham, 7 p.m.
Fri. Oct. 19 — Lone Peak, 7 p.m.
.....
Felts Facts for Lehi High School
All-time record: 338-408-22 (90 years)
Region championships: 12 (1940, 1944, 1950, 1963, 1990, 1992, 1996 co, 1997, 1999 co, 2000 co, 2003 co, 2004 co)
Playoff appearances: 31
All-time playoff record: 19-29
State championships: 2 (1980, 2000)
State championship record: 2-2
Most played rivalry: 67 meetings with American Fork dating back to 1927. American Fork leads series 45-18-4. Meet on Sept. 28.
Felt's Factoid(s): Lehi holds the record for fewest rushing yards allowed in a playoff game: minus-54 in a 1980 Class 2A quarterfinal.
Lehi coaching history
2011-current — David Hastings (2-8)
2007-2010 — Derrick Peyton (3-36)
2002-2006 — Joe Hays (22-30)
1998-2001 — Steve Clements (33-13)
1995-1997 — Chad Wilson (23-9)
1989-1994 — Jeff Kilts (27-30)
1975-1988 — Lou Andrus (57-78)
1971-1974 — Lloyd Jacobsen (12-24)
1967-1970 — unknown (18-19)
1960-1966 — Jim Crittenden (42-21-1)
1956-1959 — unknown (14-15-3)
1955 — Joe Crammer (2-5-1)
1951-1954 — unknown (14-15-3)
1944-1950 — Dean Prior (25-26)
1929-1943 — unknown (36-54-9)
1928 — Ross Nielson (2-4)
1925-1927 — unknown (3-11)
1921 — Wallace West (0-2)
1919 — unknown (1-4)
....
Deseret News First Team all-staters the past 10 years
2002 — Kade Hillstead, RB
2002 — Brian Goodell, DL
2002 — Alan Bailey, DB
2002 — David Clark, K
To view second team and honorable mention all-staters through the years, check out the Deseret News All-State Archives.