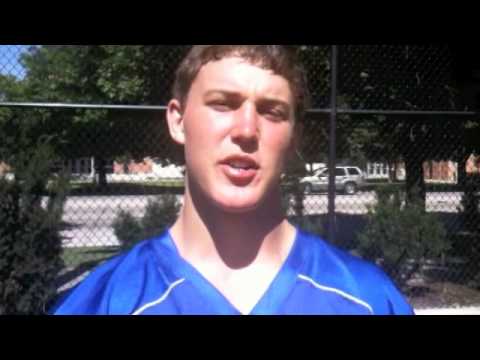 View 12 Items
James Edward, Deseret News

Scroll down to see Dixie Felt's Facts
Note: Dixie finished with a 7-3 overall record and was in a three-way tie for second place in Region 9 with a 4-2 record in 2011. It lost to Juan Diego 41-0 in the 3A first round.
ST. GEORGE — When Blake Barney was handed Dixie High's starting quarterback job as a sophomore two years ago, he was in way over his head at times. One game he'd throw for over 300 yards, but the next he'd barely break 150 yards with three interceptions.
Barney made great strides throughout his junior year — improving in every statistical category.
Heading into his senior season, Barney is poised for a breakout season for the Flyers.
"He understands the offense about as well as I do, which should help us," said Dixie coach Blaine Monkres, who's now in his fifth year at Dixie High.
Monkres said that Barney's maturity level has increased ten fold since his sophomore year.
"That first year he was just a little kid out there. He had a deer-in-the-headlights look every game, took everything really hard if he threw an interception or made a bad play. Last year he got a little bit better," said Monkres.
During his sophomore season, Barney completed 50 percent of his passes for 1,864 yards, 10 touchdowns and 10 interceptions. His completion percentage jumped to 54 percent last year, as he finished with 2,567 yards, 23 touchdowns and 10 interceptions.
The interception rate didn't decrease like Dixie's coaches had hoped, but that should change this season with another year under his belt and experienced targets to throw to.
Kyle Hansen (32 catches, 540 yards), Lukas Hildebrandt (22, 407) and Tanner Webster (15, 193) are all returning starters for Dixie's spread offense. The extent of Hansen's contributions is still uncertain as he recovers from a torn ACL from the basketball season.
Hildebrandt's emergence was the only silver lining to a season-ending injury to senior receiver Tadd Challis last year. The sophomore had his best game against Pine View when he hauled in seven catches for 157 yards and two TDs.
Taylor Berry, who started at middle linebacker last year, will see some time at running back and has the potential to be a bruiser between the tackles for the Flyers.
With so much experience at the skill positions, Dixie just needs a complimentary offensive line to be able to challenge teams like Hurricane, Pine View and Desert Hills for the Region 9 title.
Gavin Graff started on the offensive line as a sophomore last year, but the other starters all graduated. Despite the lack of experience, Monkres is hopeful the newcomers will provide Barney with the time he needs to get the ball to his talented receivers.
As Dixie found out last year when it lost Challis to a season-ending injury, staying healthy is critical.
"That's one thing about small schools: You can have a pretty front line but your back-ups drop off a bit," said Monkres.
Defensively, Dixie was in the bottom half of 3A last year in scoring defense at over 25 ppg. However, with both Berry and Jesse Lambert returning at linebacker, and defensive ends Braxton Ipson and Chris Abraham also returning, the Flyers should be much better this year.
"We should be a lot better than we've been in the past. We've got a lot of guys that started last year that had playing time," said Monkres.
Dixie's returning starters know that expectations are high this year, but Barney said he's excited for the challenges that come with it.
"I think we're going to be good. We have a lot of returning starters on both sides of the ball so I think we're going to be real competitive," he said.
Dixie Flyers at a glance
Coach: Blaine Monkres is entering his fifth season as Dixie's head coach, having amassed a 23-18 record in the previous four years. In 22 years as a head coach around the state, Monkres owns a 156-86 overall record. He's a graduate of Clearfield High School.
Offense
(6 returning starters; Spread offense)
Dixie was the third-highest scoring team in 3A last year at 34 ppg. That production should go up with Blake Barney returning for his third year at starting quarterback. The next step for him and the entire offense is production against 3A's top teams. Barney threw three interceptions in a 41-0 first-round loss to Juan Diego last year, and in a 51-21 region loss to Hurricane, Barney only completed 15-of-40 passes and threw two interceptions.
Defense
(5 returning starters)
Jesse Lambert led Dixie in tackles last year with 66 tackles, and he's back again to anchor the linebacking core along with fellow starter Taylor Berry. Berry was second on the team with 63 tackles. Collectively though, Dixie's entire defense needs to get tougher. Hurricane, Desert Hills and Juan Diego were the three best teams Dixie faced last year, and it surrendered 51, 41 and 41 points respectively in those three loses.
Coaches preseason Region 9 straw poll: Third
Deseret News Region 9 prediction: Third
Bottom line: Dixie should have no problem securing a playoff berth from Region 9, but challenging Hurricane for the Region 9 title won't be easy. Dixie lost to eventual 3A state champion Hurricane last year by 30 points, and Monkres said that the champs might be even better this year. Everything hinges on the defense. Dixie will be able to put up points with the best teams in 3A, but getting stops proved to be a challenge last year against upper-echelon teams and could be a challenge again this year.
2012 Schedule
Aug. 17 — SPRINGVILLE, 7 p.m.
Aug. 24 — RIVER VALLEY, ARIZ., 7 p.m.
Aug. 31 — at Provo, 7 p.m.
Sept. 7 — PINE VIEW, 7 p.m.
Sept. 14 — at Hurricane, 7 p.m.
Sept. 21 — DESERT HILLS, 7 p.m.
Sept. 28 — at Canyon View, 7 p.m.
Oct. 5 — CEDAR, 7 p.m.
Oct. 12 — at Snow Canyon, 7 p.m.
Oct. 19 — BYE
....
Felts Facts for Dixie High School
All-time record: 376-230-6 (67 years)
Region championships: 22 (1949, 1956, 1957, 1959, 1966, 1967, 1968, 1969, 1970 co, 1971, 1972, 1973, 1974, 1975, 1976, 1982, 1983, 1988, 1989, 1991 co, 1994 co, 2009 co)
Playoff appearances: 38
All-time playoff record: 48-32
State championships: 6 (1957, 1967, 1972, 1973, 1974, 1998)
State championship record: 6-2
Most played rivalry: 81 meetings with Cedar dating back to 1949. Dixie leads 48-33. Meet on Oct. 5.
Felt's Factoid(s): Dixie owns the state record for most points in a season with 678 in 1972.
Dixie coaching history
2008-current — Blaine Monkres (24-18)
2002-2007 — Jake Nelson (35-31)
2000-2001 — Ray Odette (3-14)
1997-1999 — Mike Smith (16-18)
1993-1996 — Jerry Dyer (21-17)
1975-1992 — Ray Odette (104-69)
1949-1974 — Walter Brooks (168-56)
1935 — Lloyd "Gus" Shields (1-2)
.....
Deseret News First Team all-staters the past 10 years
2011 — Austin Barker, K
2009 — Dallen Reber, LB
2009 — Dalton Smith, DB
2009 — Mike Sharp, SPEC
2007 — Nate Carter, RB
2006 — Nate Carter, RB
2006 — Derek Owen, DL
2006 — Kacen Smith, DB
2004 — Dallas Irvin, RB
2004 — T.J. Hardy, OL
To view second team and honorable mention all-staters through the years, check out the Deseret News All-State Archives.
Email: jedward@desnews.com
Twitter: @DNewsPreps
Contributing: Jessica Wilde, Conner Johnson, Steve Mundee and prep football historian George Felt.