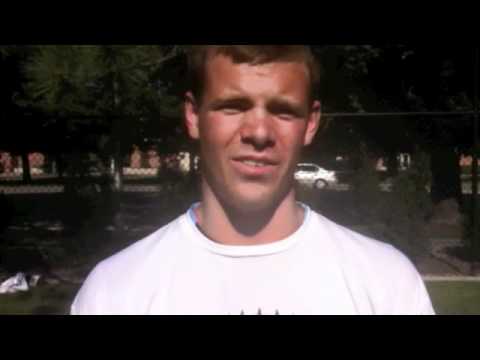 View 24 Items
James Edward, Deseret News

Scroll to bottom of story to see Sky View Felt's Facts
Note: Sky View High finished with a 5-6 overall record and tied for second in Region 5 with a 3-2 in 2011. It lost to Skyline in the first round of the 5A playoffs.
SMITHFIELD — Over the last decade or so, two Cache Valley schools have made plenty of noise in the Utah prep football playoffs, as Logan and Mountain Crest have won six state championships between them since 2000.
This year, though, it could be Sky View's turn to taste some of that sweet postseason success.
The Bobcats, who have reached the state playoffs in six of the last seven seasons under head coach Craig Anhder, are hoping to take the next step toward making a big name for themselves with a solid lineup featuring experienced performers and promising newcomers.
"I feel really good about things this year," said Anhder, who's beginning his eighth season at the Sky View helm. "I think our greatest asset for this team is their attitude. They have got just an incredible attitude. We don't have selfish kids. They want to do well as a team, probably more so than we've had here for the last three or four years.
"We have good team unity and a real good buy-in to the program. They're hard workers, the kind of kids that would go through a brick wall for you. It's fun to coach them and be around them."
Leading the way for the Bobcats' offense this season will be junior quarterback Braxton Godderidge, whose leadership entrusted the team to select him as one of its co-captains.
"He started two games for us last year and he played substantial time in some other games," Anhder said. "He's a great leader; I think that's his greatest asset. The team buys into him and he finds a way to be successful. They noticed he's a great leader, recognized that and voted him in as one of our team co-captains."
At tailback, senior Skyler Hunt, who saw substantial playing time last year, returns. "He's strong and he's running very well," the Bobcats' coach said. Dane Anderson, a junior, will also see playing time at tailback.
At the H-back position, senior Nathan Payne, who also played quite a bit last year and came down with several touchdown catches to his credit, gives them another a solid receiver.
The tight end job belongs to Ethan Dursteller, a good athlete who earned all-state honors at defensive end last year and is one of Sky View's few two-way starters.
Daniel Lemon, a 6-foot-3 senior wide receiver, is "tearing it up," Anhder says. "With that 6-3 body, his routes are great and he's catching the ball well. I think he's gonna have a real impact for us this year."
Mitch Larson, another senior who started most of last year, is "just a solid, possession-type receiver. He runs great routes and gets open," Anhder said.
"I feel good about our whole offense. Our offensive line is good and strong coming back."
On the O-line, tackle Kody Willmore and center Jarin Loveday are both returning starters, and they'll be joined by promising junior guards Kaden Diderickson and Seth White, along with senior offensive tackle Kristian Larson, who moves very well for a big man.
Over on defense, the starting tackles are senior Joe Humphries, who started much of last year, and sophomore Tyler Downs, who also saw starting duty last year as a freshman.
Dursteller and senior Kacey Shaw will man the defensive end spots, with sophomore Ben Wattyne providing depth on the D-line.
The Bobcats will have three new starters — seniors Kyle Johnson and Kyle Jorgensen and junior Robert Ercanbrack — at the linebacker positions.
The secondary includes seniors McKay Milne and Nick Haynie at cornerback, with Brad Weaver — who sat all of last season after sustaining a serious concussion playing basketball — at free safety and Kyle Standing at strong safety.
"I think it's gonna be a tough region," said Anhder, who is encouraged by his team's togetherness and willingness to help one another learn. "Logan's coming back and returning a lot of starters after winning the state championship last year. So they're gonna be good again, and Mountain Crest has got some good players, too.
"Box Elder will be good and solid. And I've got a lot of respect for coach (Fred) Fernandes at Roy. He turned Woods Cross around and got them competing at a higher level. And the new Bonneville coach (Tyler Gladwell) has got an impressive resume."
And while Cache Valley has become a hotbed of prep football excellence and success — Logan has taken home four state titles since 2000; Mountain Crest claimed state crowns in 2001 and '05, and both of those schools have also lost in the state finals or semifinals during the last decade — the Bobcats figure it's their turn to make some postseason noise of their own.
Sky View Bobcats at a glance
Coach: Craig Anhder begins his eighth season as Sky View's head coach. He has compiled a 49-29 record in seven seasons at the school. He is a graduate of Mountain Crest High.
Offense
(5 returning starters; Spread offense)
Braxton Godderidge, who's just a junior, shows great leadership at the quarterback position, and Skyler Hunt, Nathan Payne, Daniel Lemon, Mitch Larson and Ethan Dursteller join him in giving Sky View plenty of potent weapons. Kody Willmore and Jarin Loveday anchor the O-line, and it looks like scoring points shouldn't be a problem for this bunch of Bobcats.
Defense
(4 returning starters; Base 4-3 defense)
Dursteller is an all-state end, and Joe Humphreys and Tyler Downs saw plenty of playing time last season, so the front four looks solid. With three new starters at linebacker, the 'Cats can use the preseason to give those guys some vital varsity experience. By the time league play begins in mid-September, this group should be battle-tested and tough to score against.
Coaches preseason Region 5 straw poll: Third
Deseret News Region 5 prediction: Second
Bottom line: If Godderidge gets the offense in high gear and the defense comes around as expected, Sky View should contend for the region championship. The Bobcats have enough firepower on offense to put plenty of points up on the board, so their defense may hold the key to how far they will climb up the league ladder. Mark Sept. 28 down on your calender — that's the date defending 4A state champion Logan comes to town for these two teams' annual grudge match. It is also Sky View's annual homecoming game.
2012 Schedule
Aug. 17 at Olympus, 7 p.m.
Aug. 24 HUNTER, 7 p.m.
Aug. 31 BRIGHTON, 7 p.m.
Sept. 7 at Woods Cross, 7 p.m.
Sept. 14 at Mountain Crest, 7 p.m.
Sept. 20 at Box Elder, 7 p.m.
Sept. 28 LOGAN, 7 p.m.
Oct. 5 at Roy, 7 p.m.
Oct. 12 BONNEVILLE, 7 p.m.
Oct. 17 WEBER, 7 p.m.
.....
Felt's Facts for Sky View High School
All-time record: 219-237-8 (48 years)
Region championships: 6 (1969, 1972, 1979 co, 1982, 2006, 2007 co)
Playoff appearances: 20
All-time playoff record: 8-20
State championships: 0
State championship record: 0-1
Most played rivalry: 50 meetings with Logan dating back to 1964. Logan leads 30-20. Meet on Sept. 28.
Felt's Factoid(s): Sky View clashed with Mountain Crest in the 1987 Class 3A championship in front of a state-record 19,887 fans at Utah State's Romney Stadium.
Sky View coaching history
2005-current — Craig Anhder (49-29)
2004 — Dan Cox (4-7)
1999-2003 — Perry Christiansen (17-34)
1993-1998 — Doug Snow (19-36)
1990-1992 — Bill Brechler (12-16)
1983-1989 — Jan Hall (27-41)
1981-1982 — Jack Robinson (16-4)
1978-1980 — Doug Adams (9-19)
1968-1977 — Earl Lindley (58-30-3)
1964-1967 — Glen Oliverson (8-21-5)
.....
Deseret News First Team all-staters the past 10 years
2008 — Eric Berntson, DL
2008 — JD Falslev, Specialist
2007 — Adam Weston, LB
2007 — McKade Brady, DB
2006 — Jase Hill, QB
2006 — Britain Martin, WR
2006 — Chad Champlin, LB
To view second team and honorable mention all-staters through the years, check out the Deseret News All-State Archives.