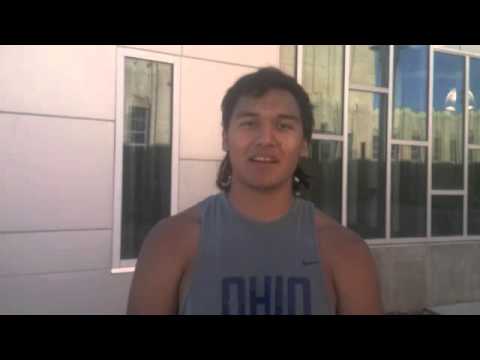 View 16 Items
James Edward, Deseret News

Scroll down to see Ogden Felt's Facts
Note: Ogden finished with a 4-7 overall record and was fourth in Region 11 with a 3-3 record in 2011. It lost to Delta, 43-0, in the first round of the 3A playoffs.
OGDEN — For a program that lost four straight to end last season, which included a pair of shutouts, expectations are uncharacteristically high at Ogden High School this season.
It has everything to do with the solid foundation laid by third-year coach Troy Kolan.
In his first season, the Tigers won just one game in the program's final season in 4A. Last year they took a big step forward by winning four games and qualifying for the playoffs.
"It was a huge step for us, especially coming from the year before," said Kolan.
Incredibly, Ogden was a play or two away from potentially hosting a playoff game. It went into the final game of the regular season last year needing a victory over Grantsville to force a three-way tie for second place with Morgan and Grantsville.
Grantsville scored a late touchdown to beat Ogden 33-32, and the narrow defeat dropped the Tigers down to a No. 4 seed. In the playoffs, Delta made quick work of the visiting lower seed.
"I still have nightmares of that Grantsville game," said Kolan.
Looking at the big picture though, there was nothing to be disappointed about 2011. Building a program is a process, and most expect this season to be better than last.
"These kids know exactly what I want and it's been fun to watch this group in particular 'cause there are some good kids I've had for three years straight. They understand the program. They now know the system, and hopefully that pays off in the end," said Kolan.
This year Ogden returns five offensive starters and four defensive starters, and the bulk of them are in the trenches.
Jusep Uscanga, Tino Reyes and Brian Saunders are all returning starters on the offensive line, while Larry Rodriguez is a returning starter at tight end.
The quartet has already been through the ringer in their brief high school careers. As sophomores, they were starters as Ogden endured a brutal season in Region 5 trying to compete with the likes of Logan, Mountain Crest and Box Elder.
"They learned a big lesson that year and then last year they made some progress, so I'm excited to see some of our line play up front," said Kolan.
Rodriguez, a big tight end who's also a solid receiving threat, is anxious to see that experience in action.
"Most teams that we're going to play haven't had that experience, and all of our guys have been playing since sophomore year," he said.
The only other returning offensive starter for Ogden is running back Josh Shackleford, but the junior should be a big asset this year.
An injury thrust him into the starting role in Week 3 last year, and he finished his sophomore season with 539 rushing yards and four TDs. He added 187 receiving yards and three TDs.
"He's put in more work this offseason than just about anybody, and I'm excited about physically the shape that he's in. He's a really shifty kid. He runs hard. As a sophomore, he was carrying people down field so I'm excited to watch him this year," said Kolan.
Michael Richardson takes over at quarterback, and the junior has big shoes to fill after a great year from Anthony Sattiewhite last season. Richardson was the starting JV quarterback in 2011, and he has a good understanding of the offense.
All the wide receivers are new, and that's one of the biggest question marks facing the Tigers this season.
Defensively, Ogden's line should be a strength like the offensive line, but the linebacking core will be brand new.
More than anything, Kolan said his team needs to be tougher mentally this season.
"Hopefully we can develop a sense of mental toughness — that when something bad goes wrong, that we know we can overcome that," said Kolan. "I know physically they'll be able to compete up front, but mentally we need to develop a sense of toughness."
Ogden Tigers at a glance
Coach: Troy Kolan is entering his third year as Ogden's head coach. The Morgan High graduate has compiled a 5-16 record in his first two seasons.
Offense
(5 returning starters; Pistol offense)
Ogden was in the bottom third in scoring offense last year at just 17 ppg. Improving upon that won't be easy with new quarterback Michael Richardson and a host of new receivers. Sophomore receiver Blake Harvey has been a pleasant surprise this summer. Coach Kolan said he just showed up out of nowhere and he's been snatching balls out of the air left and right. Receivers Cooper Ferrario and Ethan Vosburgh will be counted on for productive seasons as well. Josh Shackleford will carry the bulk of the burden at running back after a solid sophomore season.
Defense
(4 returning starters)
In a region where most of the teams like to run the ball, Ogden has the potential to be pretty good with three of its four defensive starters returning on the defensive line. Yopu Brian came on late last year and was one of Ogden's leading tacklers the final three games. Brian Saunders and Larry Rodriguez are both returning starters on the defensive line as well. All four of Ogden's linebackers will be new though, and Richardson is the lone returning starter in the secondary.
Coaches preseason Region 11 straw poll: Fifth
Deseret News Region 11 prediction: Fifth
Bottom line: Ogden made great strides last season by making the playoffs a year removed from only winning one game. Duplicating it won't be easy. All the top teams in Region 11 return the bulk of their starters, while Ogden is pretty much starting from scratch outside of the offensive and defensive lines. That talent in the trenches is very good though, and it might be enough to lead Ogden to the playoffs again this year.
2012 Schedule
Aug. 17 — BONNEVILLE, 7 p.m.
Aug. 24 — JUDGE MEMORIAL, 7 p.m.
Aug. 31 — at Clearfield, 7 p.m.
Sept. 7 — BEN LOMOND, 7 p.m.
Sept. 14 — at Bear River, 7 p.m.
Sept. 21 — at Canyon View, 7 p.m.
Sept. 28 — TOOELE, 7 p.m.
Oct. 5 — at Stansbury, 7 p.m.
Oct. 11 — MORGAN, 7 p.m.
Oct. 17 — at Grantsville, 7 p.m.
.....
Felt's Facts for Ogden High School
All-time record: 434-484-35 (113 years)
Region championships: 16 (1910, 1916, 1937 co, 1938, 1940, 1942, 1943, 1953, 1954, 1955, 1958, 1961, 1962, 1966, 1974 co, 1981)
Playoff appearances: 26
All-time playoff record: 13-24
State championships: 2 (1958, 1966)
State championship record: 2-3
Most played rivalry: 67 meetings with Logan dating back to 1920. Logan leads 37-26-4. Last met in 2010.
Felt's Factoid(s): The winner of the Ben Lomond-Ogden game claims the Iron Horse — one of just seven traveling trophies currently being contested in Utah prep football. Seven of their 63 matchups have gone into overtime, the most between any two teams. ... Tiger Ray Baird was the first of 16 Utah prep players to return an interception 100 yards (1946).
Ogden coaching history
2010-current — Troy Kolan (5-16)
2008-2009 — Eric Eyre (11-10)
2006-2007 — Dennis Dalton (3-18)
2004-2005 — Ed Larson (2-17)
1998-2003 — John Filiaga (19-44)
1994-1997 — Steve Coburn (11-29)
1987-1993 — Ralph Parrish (22-44)
1979-1986 — Dave Brown (30-49)
1974-1978 — Eric Maughan (23-26)
1971-1973 — Virgil Savage (6-18-1)
1969-1970 — Ira Winger (5-10-1)
1965-1968 — Wilf Christensen (25-13)
1960-1964 — Norris Johansen (34-12-1)
1953-1959 — Chris Apostol (47-24-6)
1952 — Mel Wood (5-3-1)
1946-1951 — Cluff Snow (24-22-6)
1945 — Keith Waansgard (3-5-1)
1941-1944 — unknown (26-13-2)
1938-1940 — Gilbert Moesinger (19-6)
1930-1937 — Ernest Simpkins (35-20-3)
1923-1929 — unknown (19-22-1
1922 — Dixon Kapple (5-2)
1920-1921 — Carl. W. Peterson (6-9-1)
1915-1919 — unknown (13-11-4)
1913-1914 — Lon Romney (2-10)
1912 — unknown (2-5)
1910-1911 — Mr. Brown (10-6-1)
1903-1909 — unknown (17-18-5)
1902 — Mr. Thompson (1-5-1)
1898-1901 — unknown (7-9-1)
.....
Deseret News First Team all-staters the past 10 years
(None)
To view second team and honorable mention all-staters through the years, check out the Deseret News All-State Archives.
Contributing: Jessica Wilde, Conner Johnson, Steve Mundee and prep football historian George Felt.
Email: jedward@desnews.com, Twitter: @DNewsPreps