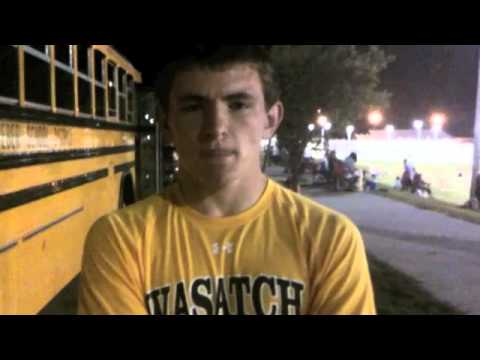 View 24 Items
James Edward, Deseret News

Scroll down to see Wasatch Felt's Facts
Note: Wasatch finished with a 5-6 overall record and was fourth in Region 10 with an 2-3 record in 2011. It lost to Hurricane, 42-7, in the first round of the playoffs.
HEBER CITY — Steve Coburn had no intention of leaving North Sanpete after just one season as its head football coach, but when the Wasatch job opened up, he figured it was time for his wife to have the final say.
"I've drug her all over the state with me, so it's time for us to go back home," said Coburn, whose wife has family in Orem.
North Sanpete's loss is Wasatch's gain.
Coburn brings a solid resume to Heber City, which includes five successful years as a head coach at Snow College. His first order of business is to bring stability to a program that was in an awkward transition period last year with the dismissal of coach Steve North.
Craig Davis filled in as head coach in a pinch last year, but with Coburn's arrival Davis returns to his more comfortable offensive coordinator role.
With Davis at the offensive helm and Coburn sprinkling in a bit of his philosophy, Wasatch and its seven returning offensive starters have the potential to be very good. The line is unproven, and there's question marks at running back, but the skill kids returning are excellent.
"We've got the skill positions to be very explosive offensively," said Coburn.
Offensively and defensively though, the lines are the concern. After going back and watching film of Wasatch get pushed around in the trenches last season, Coburn's plan to toughen up his new players has involved weights, weights and more weights.
During two-a-days, they'll be lifting. Throughout the season they'll be lifting.
"If we can get those positions shored up I think we have a chance to be pretty good," said Coburn.
Jackson Strong is Wasatch's only returning offensive lineman with any experience, but Coburn isn't coming to Heber City empty-handed. His son, Taylor Coburn, was the starting left tackle on Manti's 2A state championship team last year. He's pretty bummed to be relocating prior to his senior season, but his big-game experience should pay dividends for Wasatch.
Coburn will have another familiar face with him this year. Derek Bringhurst, his offensive line coach at North Sanpete last year, will be Wasatch's offensive line coach this year.
"The line wasn't as good as it needed to be last year. I think Derek will shore things up there," said Coburn.
You can bet that James DeLacenserie, Jake Larson and Talem Franco hope the line comes together in time. The seniors have a special bond in the spread offense, and are talented enough to help the Wasps challenge for the Region 10 title.
DeLacenserie leads the way at quarterback, a year after completing 48 percent of his passes for 1,777 yards and 21 TDs. His best game, ironically enough, came against Coburn's North Sanpete team last year as he passed for 229 yards and four TDs.
DeLacenserie's ability to beat teams with his arm and feet is what Coburn really likes.
"As a coach against him last year, the thing I was impressed with James was he was able to extend plays. He can make plays with his arm, but if it broke down he could break the pocket and still make plays after that," said Coburn. "He's a big kid, works hard in weight room."
Franco, who led Wasatch with 466 receiving yards last year, has noticed a big difference in DeLacenserie this year.
"He's really worked on everything. He's worked on his passing. He's worked on his roll outs. He's a stepped up quarterback this year (compared) to last year. He's really been cranking it out, and it's been really nice to have a better quarterback," said Franco.
Franco is a hard-working kid in his own right. He competes concurrently in cross country in the fall, and also runs track in the spring. Coburn described him as the heart and soul of what he envisions Wasatch football becoming.
Larson was second in receiving yards last year with 423, but he was among the state leaders with 11 touchdown receptions.
Coburn is hoping to platoon most positions this year in hopes that his players will not only be fresh in the fourth quarter of games, but fresh late in the season as well.
Wasatch Wasps at a glance
Coach: Steve Coburn is entering his first season as Wasatch's head coach. Coburn has five years of head coaching experience at Snow College (2006-2010) and nine years head coaching experience at the high school level, including last season at North Sanpete. He was 13-6 at Morgan (1988-89), 11-29 at Ogden (1994-1997) and 2-17 at Cottonwood (1998-99).
Offense
(7 returning starters; Spread offense)
An inexperienced offensive line is a bit of a concern heading into the season, but if the players continue to hit the weights, coach Coburn is hopeful they'll be a solid unit by region play. Senior QB James DeLacenserie and senior receivers Jake Larson and Talem Franco are the obvious heart of the team, but Gavin Nebeker has had a great summer and could emerge as a third option in the passing game. Running back is a bit of a concern, with three players vying for playing time — senior Tate Berg and juniors Hunter Pella and Jon Durrant. Berg broke both wrists in a skateboarding fall back in July and won't be ready until midseason. Durrant is a hurdler in track — a great athlete who should certainly help the Wasps.
Defense
(4 returning starters)
Wasatch gave up 40-plus points in five of 11 games last year. Getting tougher defensively has been one of the biggest focuses of the summer. Tag Baxter and Spencer Richards are returning contributors at linebacker, while Garrett Gregg, a move-in from California, will start at middle linebacker. The secondary will be anchored by strong safety Cooper Ballstaedt and free safety Josh Brown, who was a starting cornerback last year. The team still has several holes to fill on the defensive line.
Coaches preseason Region 10 straw poll: Third
Deseret News Region 10 prediction: Second
Bottom line: Coach Coburn's No. 1 concern about this year's team is the offensive line, and his No. 2 concern is the defensive line. It's safe to say those two areas will make or break the Wasps this year. Realistically, with so many holes to fill, Wasatch will likely be an up-and-down team in the trenches this year. There's no reason Wasatch shouldn't make the playoffs, but things would need to come together better than expected to claim the region title.
2012 Schedule
Aug. 17 — at Grantsville, 7 p.m.
Aug. 24 — BEN LOMOND, 7 p.m.
Aug. 31 — at Morgan, 7 p.m.
Sept. 7 — JUAB, 7 p.m.
Sept. 14 — at North Sanpete, 7 p.m.
Sept. 21 — UINTAH, 7 p.m.
Sept. 28 — JUDGE MEMORIAL, 7 p.m.
Oct. 5 — JUAN DIEGO, 7 p.m.
Oct. 11 — at Union, 7 p.m.
Oct. 19 — at Park City, 7 p.m.
.....
Felts Facts for Wasatch High School
All-time record: 418-350-18 (88 years)
Region championships: 20 (1931, 1942, 1943, 1944, 1964, 1966, 1967 co, 1968, 1970, 1972, 1974, 1975 co, 1977 co, 1981, 1982, 1984 co, 1993, 1999 co, 2002, 2007 co)
Playoff appearances: 44
All-time playoff record: 29-44
State championships: 0
State championship record: 0-5
Most played rivalry: 82 meetings with Morgan dating back to 1928. Wasatch leads 49-31-2. Meet on Aug. 31.
Felt's Factoid(s): Wasp Keefer Babbitt set the single-game reception-yard record of 314 in 2010.
Wasatch coaching history
2012 — Steve Coburn
2011 — Craig Davis (5-6)
2005-2010 — Steve North (43-28)
1999-2004 — Ron Tree (38-31)
1997-1998 — Tim Stanley (3-15)
1992-1996 — Monte Morgan (28-25)
1987-1991 — Ron Tree (21-28)
1959-1986 — Dan Wright (174-104-8)
1956-1958 — Eldon Wright (9-11-3)
1949-1955 — Marion Tree (38-20-1)
1945-1948 — Unknown (8-22-1)
1942-1944 — Floyd "Slick" Slater (20-6)
1940-1941 — Unknown (8-3-1)
1939 — Lou Neeley (3-2-1)
1932-1938 — Unknown (5-28)
1928-1931 — F. G. "Frosty" Richards (5-13-2)
1924-1927 — Unknown (10-8-1)
.....
Deseret News First Team all-staters the past 10 years
2010 — Keefer Babbitt WR
2009 — Payton Davis, QB
2009 — Kaleb Moritz, LB/OL
2009 — Cory Nielson, DB/WR
2009 — Mike Davis, WR/FS
2008 — Jake Hardcastle, OL
2007 — Jake Salazar, RB
2007 — Jeff Tukuafu, TE
2007 — Ethan Smith, LB
2007 — Matt Wheatley, K
2005 — David Hendricksen, OL
2003 — Dallin Norton, OL
2003— Colton Salazar, Specialist
2003 — Kacey Mahoney, K
2002 — Kurt McEuen, QB
2002 — Kent Robinson, WR
2002 — Clayton Williams, OL
2002 — Robbie Hatch, DL
2002 — Derek Kohler, DB
2002 — Chase Griffiths, Specialist
To view second team and honorable mention all-staters through the years, check out the Deseret News All-State Archives.
Contributing: Jessica Wilde, Conner Johnson, Steve Mundee and prep football historian George Felt.
Email: jedward@desnews.com Twitter: @DNewsPreps