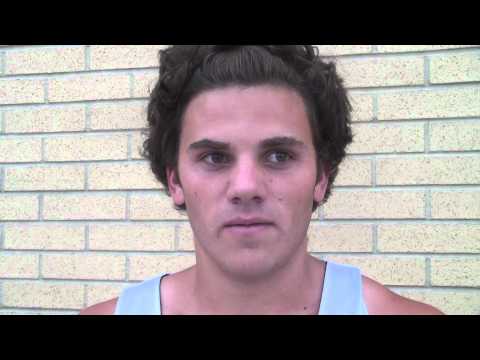 View 9 Items
Brandon Gurney, Deseret News

Scroll down to see Springville Felt's Facts
Note: Springville finished with a 3-8 record and a 3-4 record in Region 8 in 2011. It lost to Herriman, 44-21, in a 4A play-in game.
SPRINGVILLE — The Springville Red Devils enter 2012 with a new head coach and a desire to rebound from a disappointing 2011 season. Willy Child takes the head-coaching reigns from Scott Mitchell, who had some significant success.
Mitchell led the Red Devils to deep playoff runs in 2009 and in 2010, but now it's Child's turn.
Child has been part of the football staff for the past 12 years and worked as Springville's head baseball coach before being named Mitchell's replacement. He's someone who is well aware of the Springville community and the potential of its football program. After all, he played at the school before eventually becoming a coach here.
"I love this community and this school," said Child, who has been coaching at Springville for 18 years. "Coach Mitchell is a good friend of mine and I know the program well, so we're not going to change all that much. Coach Mitchell leaves some big shoes to fill and hopefully I can help them do some good things here."
Mitchell proved that good things can be done at Springville, as he advanced his team to the 4A state semifinals in 2009 and then to the state finals in 2010.
Those successes raised team expectations considerably for 2011, but after stumbling out of the gates with six straight losses those expectations were left unmet.
"We struggled with our depth a lot last year," said Child. "I think we'll improve some on that, but we'll still have to ask some guys to play both ways. We have some key contributors to last year's team returning, so we're confident that we will improve."
Child has some key guys returning at key positions beginning with senior Quinn Almond, who started last season at offensive tackle. Other key seniors include quarterback Payton Thorpe, running back Stephen Nelson and wide receiver Dawson Pederson.
"Not all of those guys started last year, but all of them have some real good experience," said Child. "Payton Thorpe played in some key games for us last season and played really well, so I like our senior leadership and they should help a lot with our younger guys."
Although the mantle of starting quarterback is daunting for Thorpe, he feels he's ready for it.
"It's sort of weird not having guys around to look up to, but we all realize that we're those guys now," said Thorpe. 'We're very excited for this season and we think we'll improve a lot from last year, but we just need to keep working hard and staying together as a team."
Former Springville head coach and defensive coordinator Doug Bills will be taking over the offense while Child will handle the defensive-coordinating responsibilities.
"Coach Bills obviously brings a ton of a experience and he'll be doing some new things there," said Child. "I'll be keeping the defense pretty much the same."
For Springville to reach the top of Region 8 again it will have to out-duel a lot of teams that caught people from surprise a season ago. Child believes his team will see improvement, but expects everyone in his region will be improved as well.
"Timpview is still the top team, but I think Timpanogos will be very good, and now you have Maple Mountain who improved a ton last year and they should be good again," said Child. "Orem will be very good again and just everyone in this region is a team you're going to have to be ready for every week."
In order to compete well in Region 8, Springville will have to overcome some lack of size.
"We're not a big team, but we feel we have some fast guys and a lot of good play-makers," said Thorpe. "I love this team and it's exactly the type of team I always wanted to finish out with as a senior."
Springville Red Devils at a glance
Coach: This will be coach Willy Child's first year as Springville's football head coach. He's been coaching at Springville for 18 years and has been the baseball head coach for the past 12 years.
Offense
(5 returning starters)
Springville will change some things up on offense and rely on the run, according to quarterback Payton Thorpe. It will be a two-back offense that will put the quarterback under center and in shotgun and will rely on senior playmakers.
"Coach (Doug) Bills obviously knows what he's doing and I think we'll have some good production on offense," said Child. "I like our quarterback and I like our playmakers on that side of the ball."
Defense
(4 returning starters)
There won't be any significant changes on defense with coach Child returning as the defensive coordinator. The key contributors will be defensive end Zach Hanson, middle linebacker Brandon Leslie and safety Jessie Noll.
"All three of those guys started for us last year as sophomores, so we're excited about the experience they now have," said Child. "We should be strong at key positions on defense as well and now we'll just look at younger guys to step up."
Coach's preseason Region 8 straw poll: Fifth
Deseret News Region 8 prediction: Sixth
Bottom line
Lack of size could be a big problem for the Red Devils as they look to regain their perch in Region 8. Last year was a rebuilding year, so 2012 should see a much more competitive team. It's going to be tough in region play, however, with each team also hoping to improve. Nevertheless, don't be surprised if Springville makes another run at the Region 8 title and sees success in the 4A playoffs.
.....
Schedule
Fri. Aug. 17 — at Dixie 7 p.m.
Fri. Aug. 24 — SPANISH FORK, 7 p.m.
Fri. Aug. 31 — JUAN DIEGO, 7 p.m.
Fri. Sept. 7 — at Maple Mountain 7 p.m.
Fri. Sept. 14 — at Timpanogos 7 p.m.
Fri. Sept. 21— OREM 7 p.m.
Fri. Sept. 28 — at Salem Hills 7 p.m.
Thu. Oct. 4 — PROVO 7 p.m.
Wed. Oct. 10 — at Timpview 7 p.m.
Wed. Oct. 17 — MOUNTAIN VIEW 7 p.m.
.....
Felt's Facts for Springville High School
All-time record: 386-378-32 (95 years)
Region championships: 22 (1922, 1926, 1929, 1933, 1938, 1954, 1976 co, 1977 co, 1978, 1983, 1984, 1985, 1986 co, 1988 co, 1990, 1991 co, 1992, 1993 co, 2001, 2004, 2009, 2010)
Playoff appearances: 42
All-time playoff record: 22-41
State championships: 1 (1985)
State championship record: 1-3
Most played rivalry: 92 meetings with Payson dating back to 1909. Springville leads 54-31-7. Last met in 2010.
Felt's Factoid(s): After leading Springville to the state championship, Scott Mitchell, the 1985 MVP, went on to a stellar career at Utah, where he still holds 25 school records. ... Springville holds the record for fewest passing yards allowed in a playoff game: the Red Devils held Sky View to minus-3 passing yards in a first-round game in 1985.
Springville coaching history
2012 — Willy Child
2008-2011 — Scott Mitchell (30-17)
2007 — Dan Hansen (2-9)
1990-2006 — Doug Bills (89-80)
1981-1989 — Ray Newbury (59-29)
1966-1980 — Mike Jacobsen (72-68-1)
1962-1965 — Karol Bills (2-5-29)
1957-1961 — Benny Kilpack (9-30)
1945-1956 — George Pehrson (46-38-11)
1942-1944 — Art Gilbert (6-12-2)
1937-1941 — Ned McBeth (17-15-5)
1936 — Carl Davis (3-1-2)
1935 — Mr. Rowe (2-2-2)
1932-1934 — Paul Thorne (5-12-1)
1930-1931 — Bob How (6-5-2)
1929 — Unknown (4-2-1)
1928 — C. B. Leddingham (5-1-1)
1908-1927 — Unknown (26-28-1)
.....
Deseret News First Team all-staters the past 10 years
2011 — Caleb McCray, LB
2010 — Marcus Case RB
2010 — Matt Sumsion TE
2010 — Brody Swanson DL
2009 — Jeff Geuck, DL
2009 — Alema Key, LB
2004 — Trevyn Smith, RB
2004 — Dan Gardner, OL
2003 — Alex Thorson, DB
To view second team and honorable mention all-staters through the years, check out the Deseret News All-State Archives.