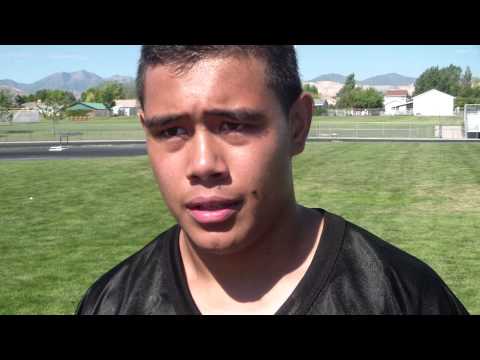 View 14 Items
Brandon Gurney, Deseret News

Note: Riverton finished with a 5-6 overall record and was third in Region 4 with a 3-2 record in 2011. It lost to West 21-10 in the first round of the 5A playoffs.
RIVERTON — With some quality returning players and solid depth at key positions, the Riverton Silverwolves hope to make some noise in 2012. Given their stacked schedule, any noise they make will be well-earned.
Not only does Riverton played in a stacked region — it also has a nonregion schedule that includes Alta, Herriman and Syracuse.
"I'm the type of coach who believes in playing a strong schedule," said coach Mike Miller. "You play games to get ready for the playoffs, and with the region we play in and all our other games — if we get through that schedule and make it to the playoffs, then I believe we'll be very well prepared for it."
Miller took a relatively inexperienced team last season to a 3-2 region record and a playoff berth. With some good experience returning, Miller believes his team can equal and even surpass last year's mark.
"I like the kids we have returning, but I like even more how they work together," said Miller. "There's a great sense of unity on this team and I love how our kids have worked during the offseason. So expectations are high. We're going to have to work hard and earn everything we get because I think everyone in our region is going to be improved as well."
Overall team speed is important for any football team and Riverton certainly looks to have that this season. Size, however, is a different story. "We're a bit small up front, and we'll have to overcome that," said Miller.
Along with overcoming their lack of size, Miller feels his team needs to learn how to finish games. Riverton was able to get out to early leads multiple times last season only to give up those leads as the game wore on.
Experience and increased depth in key areas should help the Silverwolves finish strong.
"I think our guys have a bad taste in their mouths from last year's loss to West and the other games where we gave up leads," said Miller. "Finishing strong is something we need to do better and I'm confident that we will this year.
Riverton Silverwolves at a glance
Coach: Coach Mike Miller will be entering his ninth year as head coach of the Silverwolves. He has compiled a 49-39 record at Riverton. He is a graduate of Kearns High.
Offense
(6 returning starters; Wing-T offense)
There's little pretense to what Riverton does offensively — it likes to run the football and run it often. It's an offense that utilizes a multiple-back formation as its base, so it's a good thing that Miller feels he can go three-deep at each backfield position.
"Backfield is definitely where we look to be our deepest this year," said Miller. "We have a lot of guys with some good experience and we're going to bring over some of our experienced defensive players to help out. So we should be good there."
The top running backs, fullbacks and wing backs returning include seniors Stratton Brown, BJ Newman, and Jared Mahoney. They'll be joined by players such as junior Dallin Munger and star linebacker Albert Tai, who will be playing more at the wing position.
Riverton is relatively young along its offensive front, but will bring back Kyle Burnett and Brady Holt — both of whom saw plenty of playing time last season. Connor Henderson is expected to start at quarterback with Derek Coats and Preston McMullin expected to be the top receivers.
Defense
(5 returning starters)
Linebacker looks to be the strength of the defense with senior Albert Tai leading the way at middle linebacker. Tai is expected to be flanked by Dallin Munger and Ethan Cutler — both of whom started last season.
"I like our linebackers and Albert Tai is a great player for us and someone we count on to make a lot of plays," said Miller. "I also like our secondary. We have a lot of good returning experience there, so I expect us to be better defensively."
Coaches preseason Region 4 straw poll: Third
Deseret News Region 4 prediction: Third
Bottom line: Riverton should without question be improved from last season, but will be hard-pressed to rise above its third-place region finish due to the strength of both Bingham and Lone Peak. The Silverwolves should make the playoffs with the goal of getting past the first-round well in sight.
2012 Schedule
Fri. Aug. 17 — Hillcrest 7:00 p.m.
Sat. Aug. 25 — Herriman (at Rice-Eccles Stadium) 4:00 p.m.
Fri. Aug. 31 — at Syracuse 7:00 p.m. Fri.
Sept. 7 — at Alta 7:00 p.m. Fri.
Sept. 14 — Kearns 7:00 p.m. Fri.
Sept. 21 — at Bingham 7:00 p.m.
Fri. Sept. 28 — Pleasant Grove 7:00 p.m.
Fri. Oct. 5 — Lehi 7:00 p.m. Wed.
Oct. 10 — at Lone Peak 7:00 p.m. Wed.
Oct. 17 — American Fork 7:00 p.m.
.....
Felts Facts for Riverton High School
All-time record: 61-77 (13 years)
Region championships: 0
Playoff appearances: 9
All-time playoff record: 1-9
State championships: 0
State championship record: 0-0
Most played rivalry: 13 meetings with Bingham dating back to 1999. Bingham leads 11-2. Meet on Sept. 21.
Felt's Factoid(s): Riverton became just the seventh — and latest — school to rush for more than 4,000 yards during a season when the Silverwolves ran for 4,456 in 2010.
Riverton coaching history
2004-present — Mike Miller (48-39)
1999-2003 — Rick Bojak (13-38)
.....
Deseret News First Team all-staters the past 10 years
2010 — Landon Fisher TE
2010 — Skyler Fullmer LB
2008 — Zach Spencer, RB
2002 — Todd Jensen, DB
To view second team and honorable mention all-staters through the years, check out the Deseret News All-State Archives.