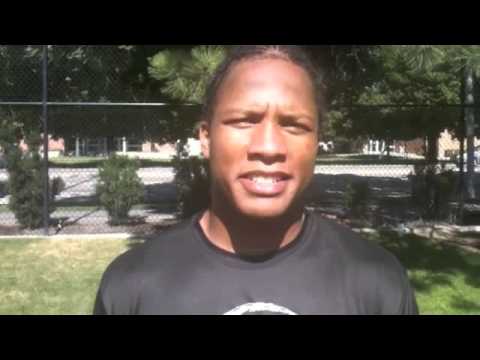 View 14 Items
James Edward, Deseret News

Scroll down to see Pine View Felt's Facts
Note: Pine View finished with a 4-5 overall record and was 2-4 in Region 9 in 2011. It did not qualify for the playoffs.
ST. GEORGE — During what turned out to be a decisive four-game stretch for Pine View last year, the Panthers' defense simply couldn't get stops.
Despite an offense that featured a pair of 1,000-yard rushers, Pine View lost to Dixie, Desert Hills, Cedar and Hurricane on consecutive Friday nights in September that officially eliminated coach Ray Hosner's team from playoff contention.
A year later, Hosner is focused on the little things to get Pine View back to its traditional winning ways.
"We just need to be disciplined. No excuses. We didn't play disciplined last year and that's my fault. I didn't do a lot of things in the offseason that I usually do. I was in a little accident so I was slowed down a little bit. But we're back to basics and doing the things we need to do," said Hosner.
Better discipline might've made a difference in a 35-33 loss to Dixie, a 21-14 loss to Desert Hills or a 35-28 setback to Cedar last season. With a win in just one of those games, Pine View might've snuck into the playoffs.
As much as Pine View is focused on toughening up defensively for those Region 9 slug fests, it's no secret this team will live or die with the offense.
Kody Wilstead was a part-time starter as a freshman last year, but the 6-foot-6 quarterback is poised for a breakout season as a sophomore. Senior Prentiss Miller rushed for over 1,000 yards each of the past two seasons, and Hosner expects to lean on him even more this year.
Playing behind an offensive line that includes a pair of D1 recruits, it's easy to see why expectations are high for the Panthers.
Senior center Logan Stott, who has committed to the University of Arizona, is a four-year starter for the Panthers. Fellow senior Kody Boyer, who has committed to Utah State, is a three-year starter.
Stott and Boyer are among seven returning starters on offense for Pine View, but they might be the most important.
Despite Wilstead gaining valuable experience last season sharing time with running QB Braxton Peterson, the bottom line is he's still extremely raw. Even though he has a cannon for an arm, he'll need time to find open receivers. Until Wilstead starts making aggressive defenses pay, Hosner fully expects opposing defensive coordinators to do everything in their power to confuse the sophomore.
"I think a lot of teams are going to be doing certain things to Kody, so we've got to be able to run the ball," said Hosner. "(Prentiss Miller) has got to carry the team. When people are doing certain things to us, he's got to be able to carry the ball and make plays."
Pine View won't have to wait long to test itself against quality opposition. The Panthers travel to East and Orem the first two weeks of the season, and both 4A opponents are expected to be very good this season.
"We have two great games coming out of the shoot to make sure we're ready," said Hosner.
After a Week 3 game against Uintah, Pine View heads into Region 9 play in September with an identical four-week grind against Dixie, Desert Hills, Cedar and Hurricane. Hosner believes increased toughness and discipline should help the Panthers win a few of those games this year.
Pine View Panthers at a glance
Coach: Ray Hosner is entering his 12th season as Pine View's head coach with a career record of 94-33. He's a graduate of Jamison Madison High School in New York.
Offense
(7 returning starters; Spread offense)
Pine View didn't throw the ball much last year, but that will change this year. A year ago the Panthers had one of the top running QBs in 3A, but sophomore quarterback Kody Wilstead isn't a threat to run the ball at all. It's all about his arm strength, and coach Hosner said the youngster can throw any ball. The bigger question is who will emerge as his go-to receivers? Seniors Carson Murdock and Tyker Olds and juniors Jack Bangerter and Cason Prisbrey combined to catch just 37 passes last year in Pine View's run-oriented offense, but you can bet Hosner is hoping at least two of those guys catch at least 37 passes by themselves this year. Running back Prentiss Miller should have no problem going over 1,000 yards for the third straight year.
Defense
(7 returning starters)
It's all about discipline and toughness for Pine View this year defensively. Leading the way will be defensive end four-year starter Wes Moeai. Pine View's second-leading tackler last year with 76, Moeai has had a great offseason and Hosner expects him to have a great year. Tyker Olds was the team's third-leading tackler with 71 last year, and he's expected to anchor the improved linebacking core. Austin Gibbs is the leader of the defensive backfield, a player whose run-stopping ability will be just as important as building on his four interceptions from last year.
Coaches preseason Region 9 straw poll: Second
Deseret News Region 9 prediction: Second
Bottom line: Region 9 foes Hurricane, Desert Hills and Cedar all advanced to the 3A semifinals last season, but all three graduated a ton of starters from those teams. Heading into this season, that should open the door for an experienced team like Pine View to challenge for the region title. With the talent Pine View has at running back and on the offensive line, it's hard to imagine it won't make the playoffs. Realistically though, starting a sophomore quarterback presents some obvious challenges.
2012 Schedule
Aug. 17 — at East, 7 p.m.
Aug. 24 — at Orem, 7 p.m.
Aug. 31 — UINTAH, 7 p.m.
Sept. 7 — at Dixie, 7 p.m.
Sept. 14 — at Desert Hills, 7 p.m.
Sept. 21 — CEDAR, 7 p.m.
Sept. 28 — HURRICANE, 7 p.m.
Oct. 5 — at Canyon View, 7 p.m.
Oct. 11 — vs. Bear River, 3 p.m. (at Snow College)
Oct. 18 — SNOW CANYON, 7 p.m.
.....
Felt's Facts for Pine View High School
All-time record: 173-119 (29 years)
Region championships: 9 (1985 co, 1986, 1993, 1994 co, 2001, 2003 co, 2004, 2007, 2008)
Playoff appearances: 20
All-time playoff record: 17-20
State championships: 0
State championship record: 0-4
Most played rivalry: 35 meetings with Dixie dating back to 1983. Pine View leads 23-12. Meet on Sept. 7.
Felt's Factoid(s): Panther Riley Stephenson kicked a state-record 194 extra points over his career from 2002-05.
Pine View coaching history
2001-current — Ray Hosner (94-33)
1998-2000 — Sark Arslanian (16-12)
1994-1997 — Wade Turley (14-22)
1992-1993 — Bill Jacobsen (7-10)
1989-1991 — Chris Brockman (11-16)
1985-1988 — Jim Johnson (26-13)
1983-1984 — Wes Christiansen (5-13)
.....
Deseret News MVPs the past 10 years
2005 — James Lark, QB
Deseret News First Team all-staters the past 10 years
2011 — Jake Arslanian, WR, Pine View
2010 — Will Bangerter LB
2009 — Kaden Hosner,DB
2008 — Kevin Moss, OL
2008 — Adam Bangerter, LB
2008 — Justin Ence, DB
2007 — Nick Marinko, QB
2007 — Robert Evans, WR
2007 — Riley Dias, Specialist
2005 — Jesse Ence, RB
2005 — David Foote, WR
2005 — Derek Buchanan, TE
2005 — Mic Snyder, DL
2005 — Nate Harris, LB
2005 — Carter Mees, DB
2005 — Riley Stephenson, K
2004 — James Lark, QB
2004 — Carson Seegmiller, WR
2004 — Riley Stephenson, K
2003 — Matt Black, DL
2002 — Skyler Ence, QB
2002 — Ricky Dias, WR
2002 — Matt Irvin, OL
To view second team and honorable mention all-staters through the years, check out the Deseret News All-State Archives.
Contributing: Jessica Wilde, Conner Johnson, Steve Mundee and prep football historian George Felt.
Email: jedward@desnews.com, Twitter: @DNewsPreps