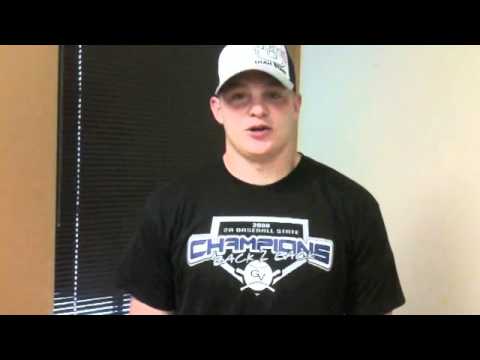 View 21 Items
James Edward, Deseret News

Scroll to bottom of story to see Spanish Fork Felt's Facts
Note: Gunnison finished with a 2-7 overall record and was seventh in the 2A North region with a 1-7 record in 2011. It did not qualify for the 2A playoffs.
GUNNISON — With Gunnison only trailing eventual 2A champion Manti 17-14 just before halftime in last year's Week 4 meeting, coach Yori Ludvigson couldn't help but feel Gunnison was on the precipice of turning the corner on a history of futility.
At that exact moment, if you had told Ludvigson that things would quickly spiral downward and his Bulldogs wouldn't win a game the rest of the season, he would've said you were nuts.
Three minutes later when halftime arrived, five of Gunnison's best players were injured. They each missed a minimum of three games, and the Bulldogs never recovered losing their final six games. It marked Gunnison's sixth straight losing season, and the 21st in the school's 23-year football history.
"It's kind of always been a Gunnison thing. It's Gunnison — we're never going to be good," said Taylor Anderson about the mentality of the team throughout the skid.
Changing that losing mentality has been Ludvigson's top priority since taking over the program prior to the 2010 season. After a difficult first season, Ludvigson genuinely thought Gunnison was poised to compete for a playoff spot in 2011.
Injuries and a defeatist attitude creeping back in to the players' minds derailed those hopes.
As the team prepares for the 2012 season, Ludvigson has spent much of the summer convincing his players they have what it takes to win.
"Mentally they have to realize, 'Don't live in the past. Go win. Go play. You have as much right, and you've worked as hard as Millard or anyone else,'" said Ludvigson.
His players have bought into that notion, and now it's a matter of staying healthy and going out and taking care of business beginning Aug. 17 at South Sevier.
Gunnison returns four starters on offense and defense, and Utah State commit Braden Harris will anchors things on both sides of the ball.
At fullback last season, Harris led the team with modest rushing stats (393 yards, two TDs) despite only playing offense in five games because of a hand injury. He'll be counted on for greater production in the spread offense.
Outside linebacker is his bread and butter though, and is the reason the Aggies recruited him. A Deseret News First Team All-Stater last year, Harris racked up 88 tackles despite routine double teams — not to mention teams running away from him.
"He shut down half the field and everyone went away from him. He should do a lot more this year. He knows a lot more and we have more support for him this year. He should play well," said Ludvigson.
The Bulldogs used five different linebackers opposite Harris last year, but none of the five made their mark and Gunnison struggled mightily to keep teams from moving the ball on the ground.
"That was the problem last year — we couldn't stop the run," said Ludvigson. "If you don't stop the run, you don't win. You're dead meat."
Preston Judy will get the first crack at anchoring down the other outside linebacker position, while Jarrett White is a returning starter at middle linebacker.
Offensively, moving the ball on the ground and taking pressure off first-year starting quarterback Taylor Anderson is just as important. Even though he's a senior, Anderson only started four games at quarterback in JV ball last season after getting hurt.
Ludvigson doubted whether Anderson could succeed at the varsity level, but he's been pleasantly surprised throughout the summer.
"He's really stepped up. He's a kid I really didn't expect to be QB. We have a sophomore that had better mechanics, but (Anderson) became a leader, rallying the kids. The kids were buying into him," said Ludvigson.
With returning offensive line starters White and Matt Mecham blocking for him, not to mention the emergence of Ryker Pickett, a 6-foot-3, 305-pound junior offensive lineman, Anderson should have some time to find open receivers and improve upon Gunnison's 45-percent completion percentage from a year ago.
With the offense and defense seemingly leap years ahead of where they were this time last year, Harris believes this is the year the program takes that next step.
"I think we're starting to realize we can have a good program here and be a power house in 2A," said Harris.
Gunnison Bulldogs at a glance
Coach: Yori Ludvigson is now entering his third year as head coach at Gunnison, where he's guided the team to a 5-12 record the past two years. Ludvigson is a graduate of Manti High School.
Offense
(4 returning starters; Spread offense)
For the first time since Ludvigson's been the coach at Gunnison, he has a deep coaching staff to go along with a deep team. Mike Grajek joins the team this year and will take over most of the play-calling duties. He's been a head coach at Milford and Morgan in his career, as well as an assistant at Las Vegas and Virgin Valley in Nevada. He should help Taylor Anderson make great strides at QB. Anderson's top target this year will be Colby Caldwell. A junior last year, he was second on the team with 322 receiving yards and six TDs. Lafe Christensen is another receiver who could have a solid year. At the end of the day, Gunnison only averaged 17 ppg last year, and that production will need to improve dramatically for the Bulldogs to be successful.
Defense
(4 returning starters)
Gunnison was certainly blown out from the opening whistle in several games last year, but it also collapsed on several others occasions. It blew a 14-0 halftime lead in losing to American Leadership 21-14, and against South Summit it led 16-14 at halftime but was promptly outscored 35-7 in the second half. The Bulldogs need to improve their fitness to try and finish out games in the fourth quarter. A big key will be in the trenches. The coaching staff is planning on rotating four players at defensive tackle — Mecham, Pickett, Dante Beck and Skyller Bentley. Keeping opposing offensive lineman from getting to the second level will be vital if the Bulldogs hope to improve their soft run defense from a year ago. Lafe Christensen will anchor the secondary. He had a great sophomore year, but missed all of last season after having surgery on both shoulders.
Coaches preseason 2A North straw poll: Fifth
Deseret News 2A North prediction: Sixth
Bottom line: From the players to the coaches, Gunnison has done everything in its power to become a successful football team. Unfortunately for the Bulldogs, they're in a very tough region and must play against rivals who are just as talented but have much more tradition to go along with it. If coach Ludvigson's team can fight through that mental barrier, it should be in the hunt for the playoff berth that eluded it last year.
2012 Schedule
Aug. 17 — at South Sevier, 7 p.m.
Aug. 24 — BEAVER, 7 p.m.
Aug. 31 — at North Sevier, 7 p.m.
Sept. 7 — MANTI, 7 p.m.
Sept. 14 — at Millard, 7 p.m.
Sept. 21 — at American Leadership, 7 p.m.
Sept. 28 — EMERY, 7 p.m.
Oct. 5 — NORTH SUMMIT, 7 p.m.
Oct. 12 — at South Summit, 7 p.m.
Oct. 19 — Playoffs
.....
Felts Facts for Gunnison High School
All-time record: 61-147 (22 years)
Region championships: 0
Playoff appearances: 7
All-time playoff record: 3-7
State championships: 0
State championship record: 0
Most played rivalry: 21 meetings with South Summit dating back to 1992. South Summit leads 16-5. Meet on Oct. 12.
Felt's Factoid(s): Gunnison had Utah's only paid head female football coach. Vicki Brandt, an English, French and journalism teacher, spearheaded Gunnison's efforts to start a football program in 1989. For a year she organized training camps and rallied community support for equipment and field construction. Two weeks before she was to coach the first game, the school board acknowledged her as the sole person responsible for the program, paid her and hired Ron Dalley to replace her.
Gunnison coaching history
2010-current — Yori Ludvigson (5-14)
1994-2009 — Rhett Jackson (63-126)
1990-1993 — Ron Dalley (5-22)
Deseret News First Team all-staters the past 10 years
Comment on this story
2011 — Braden Harris, RB/LB
2010 — Jantz Jensen, TE/LB
2007 — Heston Neal, RB/DB
2006 — Taylor Ashton, RB/LB
2006 — Chad Satterfield, RB/LB
2005 — Ben Dalley, RB/LB
2005 — Joey Crane, RB/LB
2004 — Jack Pay, OL
2003 — Juan Salas, K
2002 — Paul Christensen, WR
To view second team and honorable mention all-staters through the years, check out the Deseret News All-State Archives.
Email: jedward@desnews.com
Twitter: @DNewsPreps
Contributing: Jessica Wilde, Conner Johnson, Steve Mundee and prep football historian George Felt.