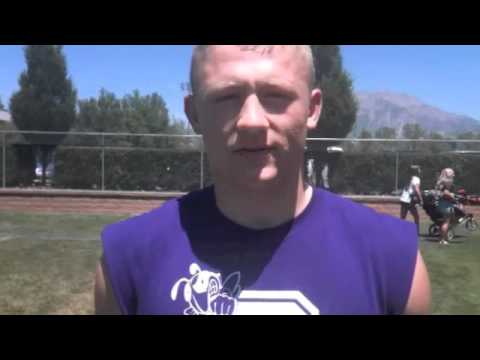 View 19 Items
James Edward, Deseret News

Scroll to bottom of story to see Box Elder Felt's Facts
Note: Box Elder finished with a 6-5 overall record and was fourth in Region 5 with a 2-3 record in 2011. It lost to Olympus in the first round of the 4A playoffs.
BRIGHAM CITY — The way Box Elder High head football coach Robbie Gunter sizes up the situation, it almost appears as if everybody else in Region 5 is playing for second place behind defending 4A state champion Logan.
At least, that's the way it looks right now, although Gunter and the rest of the region certainly aim to have something to say about it before the 2012 campaign runs its course.
"It's a tough region and it looks loaded," the Bees' fourth-year coach said. "I'm sitting here looking at it on paper and, if we do our part, we could have a five-way tie for second — except for Logan. They've got everybody back except (star quarterback) D.J. Nelson, and he was the guy.
"They had a great defense last year, and they're all back this year," he said of the Grizzlies. "... All those guys that you said 'Ooh, that guy's pretty good,' they're all back. They can build an offense, and if they've got a defense like that, they're gonna be awfully tough to beat.
"Mountain Crest is loaded with some studs," Gunter added. "Sky View always has phenomenal, fast athletes, and Roy and Bonneville will be improved."
So, what about his own Box Elder ballclub?
"We've good group returning, and they're working at it," the Bees' coach said. "There's a good, positive vibe about the team. Guys are excited.
"Every year you get the senior class that wants their chance to leave their legacy, so it's always a fun time of year to direct them and get them where they need to be."
With a handful of returning starters on both sides of the ball, it's a safe bet that the Bees will definitely be in the mix come state playoff time again this year.
Shad Watson, a junior who has started the last two years at linebacker, moves into the starting quarterback spot this season.
"He's a big, athletic kid that does a good job," Gunter said. "He's been really working hard at it. He's a good leader who can run it and throw it. He's been our backup for the last couple of years, and he's really worked at it all offseason."
Jake Tolman, a senior who starts at cornerback and receiver, will back up Watson at quarterback. "He's a great athlete and he'll do a great job for us at quarterback if called upon," Gunter said.
The starting halfback position is "by committee," Gunter says, with seniors Kasen Flinders and Tyler Thornton serving as co-chairmen right now.
At fullback, senior Kyler Allen gets the starting call, and he's "probably our strongest kid," Gunter said. "He's very athletic and he has the ability to run in space, which fullbacks don't always do."
Allen will be backed up by junior Breckin Gunter, the coach's son.
At slotback, senior McKay Parrish and junior Jayk Brooks will share the reps, with Tolman and senior Dallin Stewart the team's top two wide receivers.
Nate Wanner, a senior who started at offensive tackle last year, has moved over to the tight end position and is battling with senior Clark Bown and freshman Darius McFarland for the bulk of the playing time.
On the offensive line, senior Taylor Lancaster will start at center, flanked by senior Paul Pilivi and junior Luke Daley at the guard spots, with senior Keaton Ayotte also available there. Senior Randon Smith and junior Cordon Barker will start at offensive tackle.
A pair of seniors, Joe Flores and K.C. Lowry, will serve as the starting defensive tackles, with Wanner and Ayotte joining them on the D-line at the end positions.
Breckin Gunter and seniors Nick Sorenson and Kasen Flinders will start at linebacker, where junior Luke Peterson and senior Alex Werling are also battling for playing time.
Rasten Yeates, a senior, is a returning starter at safety, with Brooks and McKay Parrish at the other safety spot. Watson will also rotate in at safety at times, while Stewart, Tolman and Thornton will get the bulk of the playing time at cornerback.
The Bees don't possess a ton of depth and have a lot of guys going both ways. So at many positions, they've got a pair of players splitting the majority of playing time. But tremendous team unity and togetherness will be a huge positive force for this group.
"We're OK as long as everybody stays healthy," Gunter said. "If we lose one guy, it changes everything — especially when they go on both sides of the ball.
"Depth is always an issue at a few key spots. We're not huge, and we're not extremely fast, so those two things usually get you beat. Overall they can all move pretty fast, but we don't have any (Olympic men's 100-meter champion) Usain Bolts out there. But we do have a couple of kids that are really fast."
Coach Gunter says the strength of this team is "the team itself. You get groups of guys who grow up together and have success, and these guys have come together. They have that brotherhood and that teamwork that is their strength.
"What we've noticed as coaches is all these guys are competing against each other, but yet they'll stand back there and tell that guy exactly what they need to do beat him. That doesn't always happen. They're very supportive of each other. And the older kids have embraced the younger kids because they know they need 'em.
"I love these kids," he said. "They are who they are and they've been playing together and they've known each other forever, and the community knows who these kids are.
"We've got to compete. I like our chances. I like our team a lot and I love our guys. I'd rather be coaching our guys and our style than anybody else's. But it's gonna be work to get 'em to the playoffs and win a region championship here."
Box Elder Bees at a glance
Coach: Robbie Gunter begins his fourth season as Box Elder's head coach. He has compiled a 14-17 record in three seasons at the school and is 50-46 overall in nine years as a high school head coach. He is a graduate of Marsh Valley (Idaho) High.
Offense (5 returning starters; Wing-T offense)
Shad Watson steps in to run the offense at quarterback, and Kyler Allen should be strong at the fullback position. But the Bees don't have a lot of experience at the other running back and receiver positions, and they'll need cohesive play from their offensive line to make things work.
Defense
(6 returning starters; Base 4-3 defense)
The Bees' lack of size may hurt them here, but Breckin Gunter is a proven performer at linebacker and Rasten Yeates has starting experience in the secondary. Though the defensive line is not huge, it has enough size, savvy and strength to hold its own and make it tough for opposing offenses to light up the scoreboard.
Coaches preseason Region 5 straw poll: Fourth
Deseret News Region 5 prediction: Fourth
Bottom line: The Bees have a long, proud winning tradition and, although they don't have great size, depth or experience, they'll still make their presence known this season. It'll be tough to jump ahead of the Cache Valley schools — defending 4A champion Logan, along with Mountain Crest and Sky View — who took the league's Top 3 spots last season, but Box Elder will remain in the hunt for one of the league's state playoff berths. And having four of their first six games, including their first two Region 5 contests, at home certainly won't hurt the Bees' chances.
2012 Schedule
Aug. 17 WEBER, 7 p.m.
Aug. 24 CLEARFIELD, 7 p.m.
Aug. 31 at Bear River, 7 p.m.
Sept. 7 vs. Syracuse (at Weber State), 7 p.m.
Sept. 14 ROY, 7 p.m.
Sept. 21 SKY View, 7 p.m.
Sept. 28 at Mountain Crest, 7 p.m.
Oct. 5 at Bonneville, 7 p.m.
Oct. 12 LOGAN
Oct. 17 at Highland, 7 p.m.
.....
Felts Facts for Box Elder High School
All-time record: 530-302-25 (95 years)
Region championships: 35 (1919, 1921, 1922, 1923, 1924, 1926, 1928, 1930, 1933, 1934, 1935, 1936, 1941, 1945, 1946, 1949, 1950, 1951, 1957, 1960, 1962, 1964, 1965, 1966 co, 1968, 1982, 1983 co, 1984 co, 1992 co, 1995, 1996, 2001 co, 2003, 2004 co, 2010 co)
Playoff appearances: 55
All-time playoff record: 41-47-1
State championships: 8 (1926, 1928, 1935, 1945, 1946, 1946, 1957, 1960, 1995)
State championship record: 6-10-1
Most played rivalry: 93 meetings with Logan dating back to 1919. Box Elder leads 61-29-3. Meet on Oct. 12.
Felt's Factoid(s): Box Elder's 91 meetings with Bear River is the longest uninterrupted active rivalry in state history, having been played every season since 1923. The winner has taken home a traveling trophy, the Golden Spike, since 1959. ... Box Elder holds the record for most consecutive undefeated, untied regular seasons with four (tied with two others). The Bees didn't lose a regular season game from 1933 through 1936.
Box Elder coaching history
2009-Current — Robbie Gunter (14-17)
1991-2008 — Wes Roesler (128-71)
1988-1990 — Larry Findley (18-10)
1981-1987 — Michale Madeo (39-29)
1979-1980 — Larry Findley (10-10)
1974-1978 — Gordon Peterson (21-25)
1964-1973 — Unknown (56-40)
1963 — Gerald Simmons (2-6)
1960-1962 — Les Dunn (22-9)
1921-1959 — Earl Ferguson (213-78)
1917-1920 — Alvin Twitchell (7-7)
.....
Deseret News First Team all-staters the past 10 years
2011 — Britton Gunter, DB
2006 — Riggin Holmgren, OL
2006 — Curtis Cosgrove, DL
2006 — Broc Lindauer, LB
2006 — Alex Nelson, DB
2004 — Nate Brown, DL
2004 — Jordan Brown, DB
2003 — Beau Herbert, RB
2003 — Matt Putnam, DL
2003 — Dan Sumko, SP
To view second team and honorable mention all-staters through the years, check out the Deseret News All-State Archives.