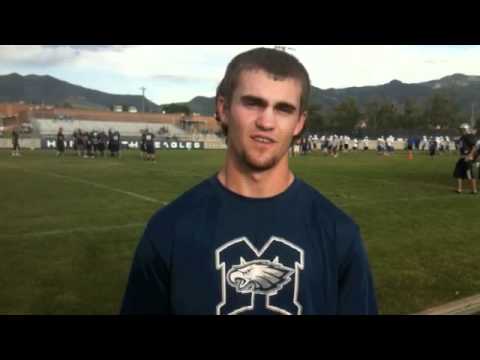 View 12 Items
James Edwards

Scroll to bottom of story to see Millard Felt's Facts
Note: Millard finished with a 9-3 overall record and was second in the 2A North region with a 6-1 mark in 2011. It lost to Manti, 37-9, in the 2A championship game.
FILLMORE — Heading into last year's 2A championship game against Manti, Millard's football team was feeling pretty good about the prospects of ending a nine-year title drought.
Even though it lost to Manti a month earlier in the regular-season finale, it was a tight game throughout, and Millard believed the 20-14 final score could've easily been reversed with a break here or there.
The rematch was anything but close though. Manti built a 37-0 lead after three quarters on its way to an incredibly easy 37-9 victory.
"We were just as surprised as anybody. We thought we were 100-percent prepared, emotionally ready to go," said Millard coach Marshall Sheriff. "In the state game, they were either a lot better than I gave them credit for, or we surprised them the first game and they decided to play to their potential the second game."
Heading into the 2012 season, that loss still resonates throughout the Millard program.
"We're pretty motivated this year 'cause we lost state pretty bad. We're letting that burn deep down inside of us and that's helping us work even harder," said Millard running back Jesse Rhodes.
That title-game loss was particularly frustrating for Rhodes. He led the entire state last year with 1,723 rushing yards, but Manti limited him to just 75 yards in the championship — and only seven yards in the first half.
Rhodes shared the limelight last year with fellow running back Pancho Alcala, who added 1,144 yards and 16 touchdowns for the Eagles. Alcala graduated though, and Millard's rushing attack is now all about Rhodes.
"I feel like I can step up this year. I feel like I've been working pretty hard," said Rhodes.
Rhodes is one of five returning starters on each side of the ball, but Sheriff said the voids Millard must fill are pretty significant.
"We lost some really good players. We're really nervous about the holes some of those players left. We should be OK if we fill those holes, but if we can't, we could have a long season," said Sheriff.
The biggest concern is on the offensive line. Jeremy Aleman and DonE Fullmer are solid returning starters in the trenches, but after them there's a huge drop in experience. During Millard's team camp in mid-July, Sheriff said it was a roller coaster trying to get the new offensive linemen on the same page.
"They were basic JV players last year, and now they have to step up and be varsity players," said Sheriff.
How quickly the new linemen adjust to their new roles will determine whether or not Millard can challenge Manti and South Summit for the 2A North region title.
Despite Alcala's departure from Millard's explosive offense, Sheriff isn't too concerned about replacing his production. Senior Dakota Bullock and junior T.J. Stevens have had great offseasons and should combine to match Alcala's productivity at the up-back position in the inverted wishbone.
"They don't have as many attributes in football that Pancho did, but they're bigger," said Sheriff.
Bullock saw quite a bit of varsity time last season, carrying the ball 31 times for 93 yards and a touchdown. Stevens, however, has never taken a snap at any level for Millard.
In the summer before his freshman year, a cyst was discovered on his brain. The cyst, which doctors said was never life threatening, has since been removed and after sitting out the past two seasons Stevens is poised to make big contributions.
"He's been a real great addition, and something we didn't think we'd have," said Sheriff.
Just as Bullcock is trying to help replace Alcala offensively, he's expected to replace his production defensively as well. Alcala was fourth on the team last year with 88 tackles, and Bullcock will slide right into his starting spot.
"He's a hard-working kid, and a pretty dang good athlete. If he'll do what he's capable of doing we should be able to fill a pretty big hole," said Sheriff.
If Bullock, Stevens and the numerous other first-year starters adapt to their new roles, Millard should be in the thick of the 2A race once again.
Millard Eagles at a glance
Coach: Marshall Sheriff is entering his 13th season as Millard's head coach, and he's amassed a 102-36 record along the way. The Delta High graduate led Millard to the 2A state title in 2001.
Offense
(5 returning starters; Inverted wishbone offense)
Coming off a season in which it was second in 2A scoring averaging 33 ppg, there are some big question marks for Millard. The most significant one is on the line, which has just two returning starters. If the line gels together quickly, running back Jesse Rhodes has a chance to break the 2,000-yard plateau. As a sophomore he racked up 1,286 yards and last his production jumped to 1,723 yards. Tanner Slavens is another key returning starter at quarterback. Even though the Eagles don't throw much, when they do Slavens is a solid passer and he has a great understanding of running the offense.
Defense
(5 returning starters)
The voids to fill defensively aren't quite as significant as the offensive concerns. Jeremy Aleman returns at middle linebacker after racking up 115 tackles a year ago, while new linebackers Dakota Bullock and T.J. Stevens are expected to make strong contributions. DonE Fullmer is a bulldog on the defensive line — a big reason Millard was second in 2A last year surrendering under 10 ppg. The biggest concern defensively is in the secondary. If the personnel doesn't emerge as Sheriff hopes, he might have to slide Stevens or another linebacker to safety, which would then create a void at linebacker.
Coaches preseason 2A North straw poll: Third
Deseret News 2A North prediction: Second
Bottom line: Year after year, Millard is one of the top teams in 2A. It's hard to imagine that being any different this year, especially with an elite back like Rhodes returning. However, the lack of experience on the offensive line is definitely a concern. The goal every year at Millard is to win a state championship, something that's eluded the program for 10 years. If last year's team, which had returning starters at almost every position, couldn't get the job done, the 2012 Millard Eagles will have their work cut out for them.
2012 Schedule
Aug. 17 — at Parowan, 7 p.m.
Aug. 24 — at Delta, 7 p.m.
Aug. 31 — NORTH SUMMIT, 7 p.m.
Sept. 7 — at South Summit, 7 p.m.
Sept. 14 — GUNNISON, 7 p.m.
Sept. 21 — at Emery, 7 p.m.
Sept. 28 — at American Leadership, 7 p.m.
Oct. 5 — at North Sevier, 7 p.m.
Oct. 12 — MANTI, 7 p.m.
Oct. 19 — Playoffs
.....
Felt's Facts for Millard High School
All-time record: 537-236-22 (86 years)
Region championships: 40 (1933, 1937, 1944, 1945, 1946, 1947 co, 1949, 1950, 1951, 1952, 1953, 1954, 1955, 1956, 1957, 1958, 1959, 1960, 1962, 1963, 1967 co, 1969, 1978, 1979, 1980, 1981, 1983 co, 1988 co, 1989 co, 1997, 1998, 1999 co, 2001, 2002 co, 2003, 2004 co, 2006, 2007, 2009 co, 2010)
Playoff appearances: 13
All-time playoff record: 77-46
State championships: 13 (1950, 1951, 1952, 1953, 1958, 1960, 1976, 1978, 1981, 1982, 1988, 1995, 2001)
State championship record: 13-8
Most played rivalry: 88 meetings with Delta dating back to 1926. Millard leads 47-37-4. Meet on Aug. 24.
Felt's Factoid(s): Millard's 40 region championships are the most in state history as are its 12 consecutive region titles (1949-60). ... Millard also has the most undefeated, untied regular seasons — 18, including four consecutive two times (1957-60 and 1978-81). ... The Eagles have appeared in a state-record 21 championship games (won 13).
Millard coaching history
2000-current — Marshall Sheriff (111-36)
1999 — Dennis Alldredge (7-4)
1995-1998 — Franklin Bramall (36-9)
1992-1994 — Al Marshall (12-17)
1984-1991 — Dennis Alldredge (50-32)
1973-1983 — Lew Monsen (99-27)
1967-1972 — Nyle Norris (40-22)
1965-1966 — Lynn Foxley (10-7-1)
1964 — Rex Lilly (3-5)
1943-1963 — Taft Watts (149-33-10)
1942 — Sam Gordon (1-3-1)
1941 — Meldon Walker (2-3)
1938-1940 — Stan Watts (8-6-1)
1936-1937 — "Riff" Kimball (6-4)
1935 — unknown (1-3-1)
1934 — F.G. Richards (0-2-1)
1933 — Dunn Taylor (6-2)
1931-1932 — Leo Probert (0-6)
1930 — Phil Baker (0-4)
1927-1929 — Royal Chamberlain (2-8)
1926 — Eddie Kimball (0-3-1)
.....
Deseret News First Team all-staters the past 10 years
2011 —Pancho Alcala, RB/DB
2011 — Jesse Rhodes, RB/DB
2011 — Keith Kesler, OL/DL
2010 — Nate Robison, QB/DB
2010 — Jesse Rhodes, RB/DL
2010 — Pancho Alcala, RB/DB
2009 — Rendon Shields, RB/LB
2009 — Thomas Kesler, OL/DL
2009 — Kade Wilcox, RB/DE
2008 — Clancy Mortensen, RB/LB
2007 — Freddy Alcala, OL/LB
2007 — Grant Barber, QB/DB
2007 — Clancy Mortensen, RB/DB
2007 — Josh Robinson, WR/DB
2007 — Zack Wilcox, RB/LB
2006 — Tyrel Beckstrand, WR/DE
2006 — Daniel Freeman, OL/DL
2006 — T.J. Robbins, RB/LB
2006 — Kyle Tuttle, QB
2006 — Scott Whitaker, OL/LB
2005 — John Monsen, WR/DB
2005 — Ty Ashton, OL/DL
2004 — Maben Larsen, QB
2004 — Slade Turner, DL
2003 — Clint Monsen, RB
2003 — Ethan Stephenson, RB
2003 — Daniel Anderson, OL
2003 — Devan Shields, DB
2002 — Mike Monsen, LB
2002 — Jordan Kofoed, LB
Email: jedward@desnews.com
Twitter: @DNewsPreps
Contributing: Jessica Wilde, Conner Johnson, Steve Mundee and prep football historian George Felt.