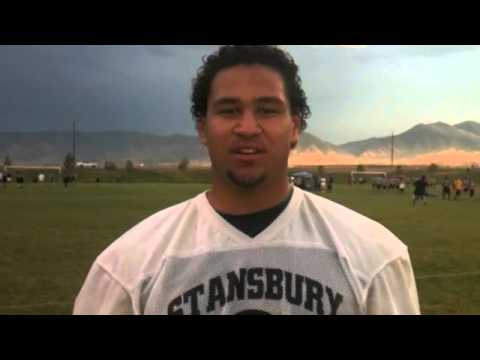 View 13 Items
James Edwards

Scroll to bottom of story to see Stansbury Felt's Facts
Note: Stansbury finished with a 9-2 overall record and was first in Region 11 with a 6-0 record 2011. It lost to Desert Hills, 26-7, in the 3A quarterfinals.
TOOELE — Clint Christiansen has always been a coach who talks confidently about his teams. Even in Stansbury's first year back in 2009, he went into the season believing the Stallions could compete for a playoff spot.
That team won just one game, and it came against fellow newcomer Maple Mountain.
Entering the 2012 season, Christiansen's confidence isn't misplaced.
A year after winning every Region 11 game by double digits and advancing to the 3A quarterfinals, Stansbury returns the vast majority of its starters this year.
"We're really excited where we're at right now. It's going to be a heck of a year for us," said Christiansen.
With the talent Stansbury has coming back, there's no reason it shouldn't win the Region 11 title again. The next challenge is competing consistently with the big boys of 3A. It lost two games last season, a Week 3 contest to eventual Region 12 champion Delta and a quarterfinal contest to eventual 3A runner-up Desert Hills. Both were double-digit losses.
The offense sputtered in the Delta loss, but Desert Hills' 26 seniors and superior size wore out Stansbury in the playoffs.
That playoff loss, and the frustration of getting pushed around in the second half, has fueled a passionate offseason.
"To win it, you're going to have to go through St. George. Bottom line. They're loaded from top to bottom, and we've preached that to our kids," said Christiansen. "Can we compete with the size of those schools? The option game gives us the opportunity to do that offensively, but defensively we're going to have to figure out if we can stop them."
In that loss to Desert Hills last year, Stansbury power running back Mike Needham carried the ball 20 times for 133 yards and three TDs.
Conversely, Stansbury running quarterback Chase Christiansen only had 32 yards on 10 carries. It's hard to imagine Christiansen ever being held in check on the ground like that again.
Following a sophomore season that opened the eyes of Georgia Tech's coaching staff, the option quarterback is poised for even greater things in 2012. He carried the ball 150 times for 1,149 yards and 19 TDs last year.
Christiansen's next step as a quarterback is improvement in the passing game. His coach — who's also his father — enlisted the help of a friend to help with that. Pine View coach Ray Hosner and Christiansen were college roommates, and Hosner spent some time this summer with the young quarterback teaching him to release the ball higher.
After a slight adjustment to Chase's mechanics, coach Christiansen said he could see an immediate improvement in his delivery and velocity.
With offensive experience around him, that should pay big dividends this fall.
"Skill wise, we're definitely better. The kids are more mature and they're bigger and stronger. We're fast everywhere. We have a lot of speed on the field," said Christiansen.
Offensively, the only significant voids Stansbury must fill are two spots on the line, but those were addressed and solved at Southern Utah's team camp.
"We had an outstanding camp, probably as good as we've ever had. We answered some questions on the offense line. There wasn't really anybody who could stop us or slow us down at camp," said Christiansen.
For a team that was the third-highest scoring team in 3A last year at 34 ppg, that's a scary thought for Region 11 and the rest of 3A.
Stansbury Stallions at a glance
Coach: Clint Christiansen is entering his fourth year as Stansbury's head coach and the 13th of his coaching career. His all-time coaching record is 59-66 and includes stops at South Sevier and Provo. He's a graduate of Grantsville High School.
Offense
(8 returning starters; Triple-option offense)
Along with the return of Chase Christiansen's 1,100 yards rushing, fullback Jackson Clausing is also back after rushing for 679 yards on 109 carries last year. Colton May will also be a threat in the run game. Stansbury will try and be less one dimensional this year, with the coaching staff hoping for a 70-30 run-pass ratio. It tried to throw more last year, but the receivers dropped too many passes. Receivers Cole Merseth and Jaron Moon along with tight Austen Kincaid have done a much better job catching the ball this summer.
Defense
(6 returning starters)
Stansbury is loaded at linebacker this year with three of four starters returning — May, Clausing and Chandler Staley. May led the team with 103 tackles, but arguably the best linebacker isn't even a returning starter. Chase Christiansen didn't start at linebacker last year, but he should see plenty more playing time there this year. Both Utah and BYU have expressed interest in the junior defensively. On the line, Allan Havili is back to plug the middle, while Austen Kincaid and Jaron Moon are poised for a smooth transition from back-ups to starters. Iosua Opeta will take over at nose guard.
Coaches preseason Region 11 straw poll: First
Deseret News Region 11 prediction: First
Bottom line: There's little doubt that Stansbury, ranked fourth in the 3A preseason rankings, will claim the Region 11 title this year. Led by emerging star Chase Christiansen, the option offense is one of the most explosive in the state. Defensively Stansbury should be much better as well. The biggest question surrounding this team won't really be answered until playoff time. Relatively young a year ago, only time will tell if Stansbury toughened up enough in the offseason to compete physically with the elite Southern Utah teams.
2012 Schedule
Aug. 17 — UINTAH, 7 p.m.
Aug. 24 — at Park City, 7 p.m.
Aug. 31 — DELTA, 7 p.m.
Sept. 7 — BEAR RIVER, 7 p.m.
Sept. 14 — TOOELE, 7 p.m.
Sept. 21 — at Morgan, 7 p.m.
Sept. 28 — DESERT HILLS, 7 p.m.
Oct. 5 — OGDEN, 7 p.m.
Oct. 12 — at Grantsville, 7 p.m.
Oct. 17 — at Ben Lomond, 7 p.m.
.....
Felt's Facts for Stansbury High School
All-time record: 12-18 (3 years)
Region championships: 1 (2011)
Playoff appearances: 1
All-time playoff record: 1-1
State championships: 0
State championship record: 0-0
Most played rivalry: 3 meetings with two schools, Ogden and Tooele, both dating back to 2009. Stansbury leads Ogden 2-1 and Tooele leads Stansbury 2-1. Meets Ogden on Oct. 5 and Tooele on Sept. 14.
Stansbury coaching history
2009-present — Clint Christiansen (12-18)
.....
Deseret News First Team all-staters the past 10 years
2011 — Jeremy Cafe, DL
To view second team and honorable mention all-staters through the years, check out the Deseret News All-State Archives.
Twitter: @DNewsPreps
Contributing: Jessica Wilde, Conner Johnson, Steve Mundee and prep football historian George Felt.