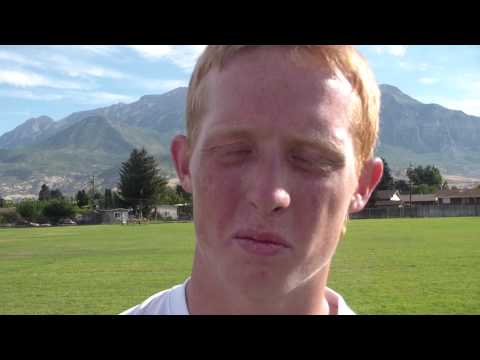 View 14 Items
Brandon Gurney, Deseret News

Note: Orem finished with a 5-6 record and had a 4-3 region record in 2011. It lost to East, 31-13, in the first round of the 4A playoffs.
OREM – Tyler Anderson began his coaching career at Orem last season hoping to restore the program to its former glory. After exceeding preseason expectations, he looks well on his way to accomplishing that goal.
Anderson played for Orem when it was the king of Utah Valley — winning a state championship his senior year in 1987. While much has changed with the school he graduated from, Anderson remains confident his alma mater can become a state championship program again.
"We did a lot of good things last year," said Anderson. "We put in a new offense and I think our kids picked it up very well for a first year. Kids bought into what we did, and this year — with that first year behind us — I think we have a chance to be that much better."
Anderson and his team will have to be better in an improving Region 8 that is now aware of how dangerous Orem can be under its new head coach. Indeed, Orem is often the first school opposing Region 8 coaches mention when asked about teams to watch out for in 2012.
With key players returning at key positions, Orem looks well poised to improve on its play from last year.
"We have Taylor Camp back at quarterback, so that's big. And we have some good receivers like Isaiah Fiso," said Anderson. "We have some good linemen and a lot of our defensive backs are back as well, so it's good and we just need some of the new guys to step up and I think we can look for bigger and better things this year."
Orem did lose star receiver Cole Payne, who accounted for almost half of his team's receiving yards and 13 of its 23 touchdown receptions. A lot of the other returning receivers return, however, which will be key in Anderson's wide-open offense.
Anderson's chief concern for the coming year is establishing quality depth. Given Orem's comparatively small enrollment compared with other 4A programs, finding depth isn't easy.
"I'm confident with our starters and we should be really good if we can just stay healthy with those guys," said Anderson. "We're going to need to find some younger guys to step up and give us good depth. Because we're a smaller 4A school, finding good depth every year might be a challenge."
What makes Anderson confident is the type of kids Orem has in its program. Although it's been just one year, he feels that Orem produces the type of hard-working and high-character kids that will work to bring Orem back to its former glory.
"You look at what Timpview has done and I really think we can do that here," said Anderson. "I think we can do it because of the quality of kids we have here. I've been so impressed with their work ethic, their attitude and I've yet to have any problems with character or grade issues.
"So I'm really excited about what we can do here."
Orem Tigers at a glance
Coach: This is Tyler Anderson's second year as head coach at his alma mater. He was an assistant coach at Westlake in 2010. Prior to that he was a head coach at Harmony High in Florida for four years compiling a 23-24 record. Before that he was a head coach at Tooele from 2000 to 2003, finishing with a 28-17 record and leading Tooele to a state title in 2002.
Offense
(6 returning starters; Spread offense)
Although many teams in Region 8 have gone to a spread offense, none of them throw it as much as Orem. Anderson will be throwing it around a lot again this year while adding a few new wrinkles.
"I think with having the kids that we do and with a year running our offense under our belt that we'll be even more dynamic," said Anderson. "We have a lot of good skill guys here, so it melds good with what we do offensively."
The offensive line will be led by Ben Thomas, who was a big key for the overall offensive production a year ago.
Defense
(6 returning starters)
With a good amount of returning experience, Orem hopes to be more dominant defensively. After feeling out what his defense could do best last season, Anderson hopes to change things up a bit his second year.
"We're going to present some different looks than we did last year," said Anderson. "I really like the guys we have coming back in the defensive backfield and we have some good guys on the line. If we find some good linebackers, then we could be improved a lot on defense."
Coaches preseason Region 4 straw poll: Second
Deseret News Region 4 prediction: Fifth
Bottom line
There is certainly a lot to be excited about this season at Orem. A new coach and a new attitude provided a lot of good football last year. What it didn't provide for, however, was a strong finish strong finish. Orem lost its final three games and four of its final five.
Orem won't be able to take teams by surprise with its wide-open offense this year, but should be better on the defensive end. It could contend for the region title, but could just as easily be shut out of the state playoffs if it can't improve on finishing strong in what looks to be an improved region.
2012 Schedule
Fri. Aug. 17 -- Herriman 7:00 p.m.
Fri. Aug. 24 -- Pine View 7:00 p.m.
Fri. Aug. 31 -- at Lehi 7:00 p.m.
Fri. Sept. 7 -- at Provo 7:00 p.m.
Fri. Sept. 14 -- Salem Hills 7:00 p.m.
Fri. Sept. 21 -- at Springville 7:00 p.m.
Fri. Sept. 28 -- at Timpview 7:00 p.m.
Fri. Oct. 5 -- Mountain View 7:00 p.m.
Wed. Oct. 10 -- Maple Mountain 7:00 p.m.
Wed. Oct. 17 -- at Timpanogos 7:00 p.m.
.....
Felt's Facts for Orem High School
All-time record: 469-269-21 (83 years)
Region championships: 24 (1935 co, 1941, 1945, 1946, 1947, 1948, 1951, 1962, 1963, 1964, 1965, 1966, 1967, 1968, 1970 co, 1974, 1985 co, 1987, 1990, 1993, 1994, 1996 co, 2000 co, 2004 co)
Playoff appearances: 48
All-time playoff record: 47-43
State championships: 5 (1962, 1968, 1994, ?, ?)
State championship record: 5-7
Most played rivalry: 57 meetings with Provo dating back to 1930. Orem leads 31-25-1. Meet on Sept. 7.
Felt's Factoid(s): Tiger Jared Harper is the only Utah prep player with a 99-yard run in a state playoff game (1996 quarterfinal).
Orem coaching history
2011-current — Tyler Anderson (5-6)
2002-2010 — Bob Steele (48-52)
2000-2001 — Alex Jacobson (15-8)
1989-1999 — Paul Clark (74-39)
1985-1988 — Thomas Rabb (31-11)
1980-1984 — Steve Downey (27-22)
1977-1979 — (unknown) (21-11)
1971-1976 — Tom Molen (33-23-2)
1969-1970 — Charlie Dine (17-5-2)
1954-1968 — Udell Westover (105-31-5)
1949-1953 — Glenn Zimmerman (27-13-1)
1929-1948 — Don "Sanky" Dixon (56-48-11)
.....
Deseret News First Team all-staters the past 10 years
2011 — Cole Payne, WR
2008 — Jordan Egbert, TE
2007 — Tucker Lamb, LB
2006 — Tom Steele, LB
2006 — Nate Killpack, K
2005 — Ryan Freeman, OL
2005 — Zeke Wily, DL
2004 — Ryan Freeman, OL
2003 — Mark Freeman, OL
2002 — Mark Freeman, OL
To view second team and honorable mention all-staters through the years, check out the Deseret News All-State Archives.