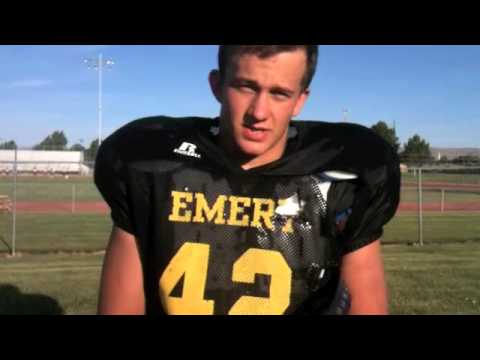 View 13 Items
James Edward, Deseret News

Scroll to bottom of story to see Emery Felt's Facts
Note: Emery finished with a 6-5 overall record and was fifth in the 2A North region with a 3-4 record in 2011. It lost to Manti, 34-6, in the quarterfinals of the 2A playoffs.
CASTLE DALE — The word "loaded" has been used by numerous 2A coaches this year to describe Emery's football team.
With eight returning starters on offense and defense, it's hard to argue with that claim. It's the quality of those starters that has raised the expectation level at Emery.
The linebackers are of the 185- to 190-pound variety, instead of the 160-pound variety that's common in 2A — and they can run well too. The skill-position players are very athletic, led by returning first-team all-stater Cory Cox. The offensive line is experienced with three returning starters.
With so many strengths, coach Jim Jones is cautiously optimistic his team can compete with the upper-echelon teams in the 2A North region like Manti, Millard and South Summit.
"We're a lot further ahead at this time than we were last year. Last year, it was like starting from scratch," said Jones, whose team still put together a winning record in its first year after dropping down from 3A.
Despite the returning experience, Emery is still fairly young with six juniors projected to start. They're quality kids though, which bodes well for 2012 and 2013.
The biggest question mark for the Spartans this season is: Will they have toughness defensively?
"Last year we were real young, and when we played teams who threw the ball we were successful. We beat those kinds of teams. Teams that really ran the ball well — Manti, Millard, South Summit, even North Summit — we struggled with those teams," said Jones. "We need to become more physical defensively, and we've got to be better stopping the run."
In those games against run-oriented region foes last year, Emery lost to Manti 28-0 and 34-6, lost to South Summit 40-15, lost to Millard 36-27 and lost to North Summit 43-29.
Emery's defense got a boost with move-in Kaden Feichko, a strong, athletic player who will start at linebacker alongside Cox.
A move-out, however, has hurt the offense. Junior running back Dominic Rondinelli transferred to Carbon a year after rushing for 644 yards and three TDs for the Spartans.
"It hurts 'cause he's a really good football player," said Jones.
David Dyer, a wide receiver last year, will slide into Rondinelli's starting spot in the Jet offense. A year ago, Dyer led Emery with 12 receptions for 253 yards and five TDs.
"He's not a real big kid, but he's a quick, athletic kid (and) has good football instincts," said Jones.
Marco Mota is another strong returning running back for the Spartans, while Spencer Labrum is back at quarterback. He's a big kid who's not incredibly mobile, but he runs the offense really well and throws it well too.
All will benefit from an experienced offense line.
"It seems like when you're starting out with kids, it takes you a year or two to make sure they know exactly what they're doing, and then you can start working on the little things that can kind of make or break you. That's the point we're at. We know what we're doing and now we can work on the little nuances of the offense," said Jones.
Along with that talent and experience, Emery also has a favorable schedule. A year ago it played at Manti, Millard and South Summit, but this year all three teams will be traveling to Castle Dale.
"We just need to play hard, (and have) good leadership," said Cox.
Emery Spartans at a glance
Coach: Jim Jones is in his second stint as Emery's head coach. His second stint began in 2006 and he's amassed a 32-34 record in those six seasons. His all-time record in 24 years is 157-107. Jones is a graduate of San Juan High School.
Offense
(8 returning starters; Jet offense)
As a junior last year, Cory Cox carried the ball 144 times for 812 yards and five touchdowns. With a strong offensive line in front of him, he should easily eclipse the 1,000-yard mark this season. Seniors Logan Tuttle and George Sorenson and junior Duncan Thomas are all returning starters in the trenches. With a year under his belt at quarterback, Spencer Labrum figures to have a much more productive season after completing 39 percent of his passes for 534 yards and eight TDs last fall.
Defense
(8 returning starters)
Like last year, Emery should be a very good defensive team against the pass. Bailey Faimalo is back after snatching eight interceptions last year, while fellow corner back Tyler Pulli is also returning. David Dyer is moving from linebacker to safety, a switch that was made possible by a solid linebacking core that includes Marco Mota, Kaden Feichko and Cory Cox. For Emery to be successful, it must find a way to improve a run defense that was pretty suspect last season.
Coaches preseason 2A North straw poll: Fourth
Deseret News 2A North prediction: Fourth
Bottom line: Last season, Emery started six sophomores and five juniors. The experience gained by those underclassmen should pay big dividends this year, especially if the defense has toughened up as expected. Despite what has the makings of an exciting season though, cracking the Top 3 in the 2A North region will still be very difficult. Manti, Millard and South Summit finished 1, 2, 3 in the region last year, and they're recent tradition makes them favorites to do so again this year.
2012 Schedule
Aug. 17 — at Richfield, 7 p.m.
Aug. 24 — GRAND, 7 p.m.
Aug. 31 — MANTI, 7 p.m.
Sept. 7 — NORTH SEVIER, 7 p.m.
Sept. 14 — at American Leadership, 7 p.m.
Sept. 21 — MILLARD, 7 p.m.
Sept. 28 — at Gunnison, 7 p.m.
Oct. 5 — SOUTH SUMMIT, 7 p.m.
Oct. 12 — at North Summit, 7 p.m.
Oct. 19 — Playoffs
Felts Facts for Emery High School
All-time record: 226-266-4 (50 years)
Region championships: 8 (1967 co, 1987, 1988 co, 1989, 1991, 1995, 1997, 1999)
Playoff appearances: 32
All-time playoff record: 18-31
State championships: 1 (1987)
State championship record: 1-1
Most played rivalry: 45 meetings with North Sanpete dating back to 1962. Emery leads 25-20. Last met in 2010.
Felt's Factoid(s): Emery played in the highest-scoring state playoff, dropping to Manti, 54-52, in five overtimes in a 1985 Class 2A first-round game. ... Coach Jim Jones starts his 25th season at Emery, ranking second in tenure among active coaches that have been at just one school.
Emery coaching history
2006-Current — Jim Jones (second stint, 32-34)
2003-2005 — Kevin Reynolds (5-26)
1987-2002 — Jim Jones (106-63)
1985-1986 — Greg Cook (10-10)
1983-1984 — Dean Nelson (3-15)
1978-1982 — Layne Moody (13-34)
1976-1977 — Unknown (4-16)
1974-1975 — Paul Clark (6-12)
1972-1973 — Bob Steele (1-16)
1971 — Unknown (6-3)
1970 — Stilson (8-3)
1967-1969 — Unknown (15-13)
1965-1966 — Ray Butcher (8-8)
1963-1964 — Douglas Hunt (8-9)
Deseret News First Team all-staters the past 10 years
2011 — Cory Cox, RB/LB
2007 — Wade Bohn, OL
To view second team and honorable mention all-staters through the years, check out the Deseret News All-State Archives.
Email: jedward@desnews.com
Twitter: @DNewsPreps
Contributing: Jessica Wilde, Conner Johnson, Steve Mundee and prep football historian George Felt.