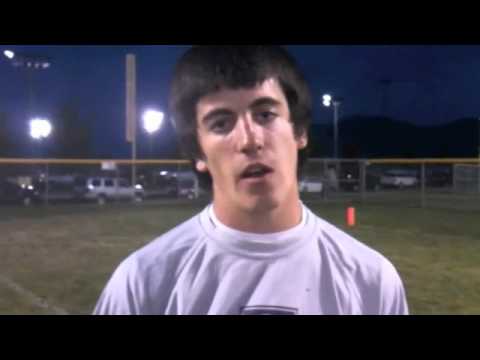 View 16 Items
James Edward, Deseret News

Scroll to bottom of story to see Tooele Felt's Facts
Note: Tooele finished with an 0-10 overall record and last in Region 11 with an 0-6 record in 2011. It did not qualify for the playoffs.
TOOELE — Kyle Brady knew his first year as Tooele's head football coach wasn't going to be easy, but he never envisioned his team would suffer through an 0-10 season.
The Tooele alum learned a lot throughout the winless campaign, lessons he believes will benefit the program not only this year but in the years to come.
"I think a lot of people thought because I've had some success as a player, I'd come in and we'd be good automatically. We've just had so many down years. It's going to take time to build things back up," said Brady.
"We have a lot of good young kids coming back. I think we'll improve from last year. We've only got one way to go and that's up."
To help the program get back on track, Brady has made subtle and significant changes. Subtle changes include ditching preseason games against West and Hurricane in favor of games against similar opponents.
Brady hopes the change helps his players gain confidence heading into Region 11 instead of getting physically beat down against superior teams and drained of their confidence.
Secondly, the struggles of last year made Brady realize a change in offensive philosophy was necessary. He believes a switch to the Wing-T offense gives Tooele a chance to be successful.
"It's a bit easier for us to block. It makes it so the kids feel a little bit more comfortable with the offense and feel like they can make the blocks they need to make and not have to block a big guy 1-on-1," said Brady. "When we play Morgan and Bear River, they have some big linemen and it's hard for our little guys to get into them sometimes."
Brady hired BJ Hunter to be his offensive coordinator, a Wing-T specialist who enjoyed his best success with Olympus in the late '90s with Mike Miller.
Brady has been pleasantly surprised how the players have picked up the offense. He believes the run-oriented offense will help Tooele run a bit more clock this season and keep games closer.
Success won't come easy though. Tooele will start three or seniors at most this season and might start a couple of sophomores and a freshman.
"We might take some bumps and bruises along the way trying to get them to learn, but we have some real good younger athletes and some kids that have football savvy," said Brady.
Senior Adam Mikesell is one of the few seniors expected to start this year, and the quarterback has really taken to the new offense. He regularly spends time after practice with coach Hunter going over the Wing-T offense and learning all its intricacies. Mikesell isn't the most athletic quarterback, and his success will be based on making the right reads at the line of scrimmage.
Despite last year's frustrating season, fullback Zach Coffman still knows a thing or two about winning. He was a state champion wrestler at 170 pounds last year, and his coach is hoping he can bring that winning mentality to the football team.
Along with his role at fullback, Coffman will start at defensive end. He'll be joined by returning starting linebacker Andrew Spendlove.
Despite the struggles of last year, Brady believes the defense should be better this season.
"If I can team these kids where they need to be, what they need to be doing and we can play assignment football, we will actually have a pretty good defense," said Brady.
With what should be an improved defense and a more efficient offense, Tooele should be much more competitive in 2012.
"If we improve every week with as young as we are, I'm hoping we can compete in region and hopefully knock off a couple teams. I know last year we didn't win any games, but I feel this year if we compete in those first nonregion games and get some confidence then when it comes region we might have a chance to surprise a few teams," said Brady.
Tooele Buffaloes at a glance
Coach: Kyle Brady is entering his second year as head coach at Tooele after an 0-10 rookie season. He's a graduate of Tooele High School and was the 2002 Deseret News Mr. Football recipient.
Offense
(2 returning starters; Wing-T offense)
Tooele doesn't have much size on the offensive line, but the switch to the Wing-T offense should help minimize the negatives associated with that. Tooele has quite a few quality "scat back" type kids who should have success in the Wing-T. Seth Manning is a wrestler along with fullback Zach Coffman who will place on the wing. Juniors Adam Pace and J.D. Furuta will also see plenty of carries at the wings. Andrew Spendlove will start at tight end, and he'll be a big part of the running game and passing game. As a sophomore last year, he had 22 catches for 317 yards.
Defense
(3 returning starters)
Tooele gave up over 36 points per game last year, but looking back on it coach Brady believes field position was a big part of that. Against Stansbury in Week 5, Tooele stood toe-to-toe with the Stallions in the first half and the game was tied at 7-7, but turnovers put the defense in bad spots and it eventually lost 35-7. Coffman and Johnny Sullivan will anchor the defensive line, and the 6-foot-2 Sullivan is much more comfortable this year. He moved to Utah right at the end of two-a-days last year, and was playing catch-up with the rest of the season. Pace and Furuta will play the safety positions, and Brady said the defense is designed for them to come up and make tackles.
Coaches preseason Region 11 straw poll: Sixth
Deseret News Region 11 prediction: Sixth
Bottom line: It can't get any worse than 0-10, but there's no nothing that says 0-10 can't happen again. Tooele is doing everything it can to guard against that, and the switch to the Wing-T offense should help. At the end of the day, Tooele is still a very young football team and winning a game or two would be a step in the right direction.
2012 Schedule
Aug. 17 — at Judge Memorial, 7 p.m.
Aug. 24 — CYPRUS, 7 p.m.
Aug. 31 — UNION, 7 p.m.
Sept. 7 — at Hillcrest, 7 p.m.
Sept. 14 — at Stansbury, 7 p.m.
Sept. 21 — GRANTSVILLE, 7 p.m.
Sept. 28 — at Ogden, 7 p.m.
Oct. 5 — MORGAN, 7 p.m.
Oct. 11 — BEN LOMOND, 7 p.m.
Oct. 17 — at Bear River, 7 p.m.
Felt's Facts for Tooele High School
All-time record: 374-435-20 (96 years)
Region championships: 19 (1925, 1927, 1928, 1929, 1930, 1931, 1932, 1933, 1937, 1943, 1950, 1952, 1953, 1957, 1962, 1985,
1988 co, 2001, 2002)
Playoff appearances: 33
All-time playoff record: 31-28
State championships: 5 (1928, 1929, 1933, 1937, 2002)
State championship record: 4-3
Most played rivalry: 66 meetings with Cyprus going back to 1926, with Tooele leading 35-28-3. Meet on Aug. 24.
Felt's Factoid(s): Tooele is tied with two other teams for the most shutouts in one season with 10 (1929). ... Buffaloes Bill Lamb and Doug Wolters each returned two punts for touchdowns — four total TDs — against Jordan in a 1962 game. The following week, Lamb returned two more punts for scores, this time against Bingham.
Tooele coaching history
2011-current — Kyle Brady (0-10)
2008-2010 — Ray Groth (7-22)
2005-2007 — Sam Elliott (16-16)
2004 — Doug Harding (3-8)
2000-2003 — Tyler Anderson (28-17)
1993-1999 — Rick Harrison (17-51)
1988-1992 — Lee Leslie (25-26)
1987 — Unknown (2-7)
1983-1986 — Larry Harison (16-20)
1981-1982 — DeLayne Richart (2-16)
1977-1980 — Sonny Sudbury (7-28)
1972-1976 — Dick Raben (13-30)
1968-1971 — Dave Bray (15-23-1)
1967 — Newell Sorensen (6-3)
1954 -1966 — Dean Stringham (58-53-3)
1950-1953 — Harold "Butch" Gutke (26-8-2)
1949 — Johnny Putnik (7-2)
1946-1948 — Bob Orr (7-12-2)
1942-1945 — Unknown (9-18-3)
1941 — Bill Cowley (2-8)
1940 — Unknown (2-6)
1937-1939 — Dan Gillespie (16-11-2)
1932-1936 — Unknown (28-9-3)
1928-1931 — Sterling Harris (30-5)
1919-1927 — Unknown (25-20-3)
1918 — Mr. Andrew
1917 — J. W. West (4-1-1)
1915-1916 — Unknown (3-5)
Deseret News Mr. Football recipients
2002 — Kyle Brady, DB
Deseret News First Team all-staters the past 10 years
2002 — Griffin Sorensen, WR
2002 — Chris Terry, OL
2002 — Chris Gochis, LB
To view second team and honorable mention all-staters through the years, check out the Deseret News All-State Archives.
Email: jedward@desnews.com
Twitter: @DNewsPreps
Contributing: Jessica Wilde, Conner Johnson, Steve Mundee and prep football historian George Felt.