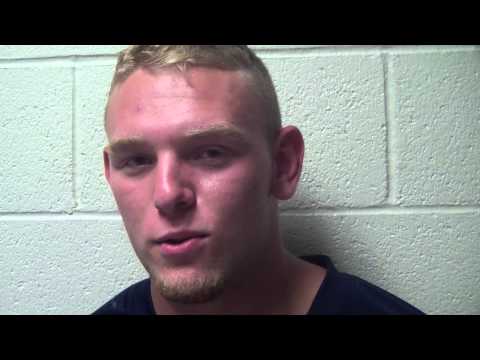 View 10 Items
Brandon Gurney, Deseret News

Scroll to bottom of story to see Westlake Felt's Facts
Note: Westlake finished with a 4-7 overall record and a 3-2 record in Region 7 in 2011. It lost to Timpview, 24-17, in the 4A quarterfinals.
SARATOGA SPRINGS — Westlake players remember it all too well. Having tied up the game late against perennial 4A powerhouse Timpview in the state quarterfinals, they allowed T-Bird receiver Austin Fullmer to get behind their defense for the winning touchdown reception with just seconds remaining.
It was a brutal end to a season that featured tons of improvement and lots of promise.
The Thunder began 2011 with a thud — losing its first five games — including a 40-9 thrashing at the hands of Timpview. From that point, though, it was able to rally, advance to the state quarterfinals and come within seconds of beating that same Timpview team.
Considering how they ended 2011, there's a lot to be excited for in 2012.
"That Timpview game was tough, but it gave us a lot of confidence, I think," said coach Gary Clark. "I think we proved last year that we can play with the best, and we'll try to prove the same thing this year and try to improve on what we did last year."
Clark enters his first year as Westlake's head coach having served last year as an assistant. In his inaugural year Clark hopes to continue with the strides the team made last season — and add to them.
It won't be easy, however, as Westlake will field a relatively young and inexperienced team.
"We're young again this year," said Clark. "It's sort of like how we were last year, but I'm confident that we can do some of the same things we did a year ago and even improve on that. We can't get off to the slow start we did a year ago and we have to finish better. Sure, we came close to beating Timpview, but now we need to make sure that we're no longer that one play away.
"The next step is now to make that play and get that one more game."
In order to get that one more game Westlake will rely on a stingy defense that looks strong at key positions.
"We have a lot of good players returning at linebacker, which is where we're probably the strongest," said Clark. "We lost some size up front, but I think our linebackers will be very strong for us."
The linebacking corps will be led by senior middle linebacker Caden Daley, who is excited about the coming year and is willing to take on the leadership mantel.
"Our defense is going to be our strong point — especially the front seven," said Daley. "I'm definitely excited for this year and I think I'm going to have my best season yet and I think this team will have its best year yet."
On offense the team will rely on some young up-and-comers, including quarterback Gavin Williams.
"Gavin is a young guy, but he's maturing quickly," said Clark. "We hope that he'll be at the point to step right in when the season starts because we feel he has a lot of potential."
For Clark the simple goal is to get better and hopefully have enough to try to take the state championship.
"It's all about work and I've been happy with how our players have been working," said Clark. 'I like the attitude and I like the leadership our seniors have shown, so I think we have the potential to improve and to be a very good football team."
Westlake Thunder at a glance
Coach: Coach Gary Clark begins his first year as head coach at Westlake after spending last year as an assistant. Clark was the team's offensive coordinator last season and has experience coaching at Timpview as well as in the states of Hawaii and Arizona.
Offense
(3 returning starters)
Clark believes his offensive strength will be at the wide receiver position, where he'll rely on Austin Fotheringham and River Sanderson.
"Wide receiver should be where we're strong and we'll be looking at those guys to make a lot of plays," said Clark. "We lost a lot of size on our offensive line, but we have some talent there. ... We'll have to compensate as best we can for what we lost there. Tione Finau is a good returning starter who will lead us at the tackle position."
Defense
(3 returning starters)
Linebacker should be the strength of this group with converted safety Daniel Nugent joining Caden Daley.
"Daniel Nugent is a three-year starter for us, so we have a lot of confidence in him making plays from outside linebacker," said Clark. "We lost a lot of size on our defense from last year, but I think we have good playmakers and some good discipline. So hopefully we'll be OK against some of the bigger lines out there."
Coach's preseason Region 7 straw poll: Fourth
Deseret News Region 7 prediction: Fourth
Bottom line: With a new quarterback and a somewhat depleted line on both sides of the ball, Westlake has its work cut out for it in Region 7. Fortunately there is a good attitude surrounding the team following its resurgence at the end of last season. Coach Clark should do well in bringing in some good team discipline to one of the rising 4A programs.
2012 Schedule
Fri. Aug. 17, 2012 PROVO, 7 p.m.
Fri. Aug. 24, 2012 TIMPVIEW, 7 p.m.
Fri. Aug. 31, 2012 at Mountain View, 7 p.m.
Fri. Sept. 7, 2012 at Northridge, 7 p.m.
Fri. Sept. 14, 2012 OLYMPUS, 7 p.m.
Fri. Sept. 21, 2012 at Hillcrest, 7 p.m.
Fri. Sept. 28, 2012 MURRAY, 7 p.m.
Fri. Oct. 5, 2012 SKYLINE, 7 p.m.
Fri. Oct. 12, 2012 at Herriman, 7 p.m.
Felts Facts for Westlake High School
All-time record: 16-15 (3 years)
Region championships: 0
Playoff appearances: 2
All-time playoff record: 1-2
State championships: 0
State championship record: 0-0
Most played rivalry: 4 meetings with Timpview dating back to 2009. Timpview leads 4-0. Meet on Aug 24.
Westlake coaching history
2012 — Gary Clark
2009-2011 — Jason Walker (16-15)
Deseret News First Team all-staters the past 10 years
2011 — Moana Ofahengaue, DL
To view second team and honorable mention all-staters through the years, check out the Deseret News All-State Archives.