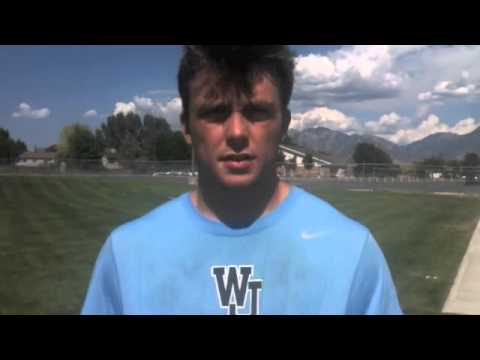 View 16 Items
James Edward, Deseret News

Scroll to bottom of story to see West Jordan Felt's Facts
Note: West Jordan finished with a 3-6 overall record and was fifth in Region 3 with a 1-4 record in 2011. It did not qualify for the playoffs
WEST JORDAN — Cameron Peacock was one of the top running backs in the state last fall, but looking back on his senior season last year, West Jordan coach Mike Morgan said the entire team did Peacock a disservice with as poorly as they ran the ball.
Even though the Dixie State signee approached 1,000 rushing yards, good defenses limited him quite easily.
The frustration of that situation has brought about change for West Jordan this year.
"There's definitely got to be a threat. We didn't even scare anybody," said Morgan.
West Jordan's base spread offense isn't changing — quarterback Michael Moorehead will still throw the ball 30-plus times per game — but the team has spent the offseason working on improving the productivity of the running game.
It starts in the trenches with four returning starters, and then trickles down from there to Moorehead and starting running back Kaden Maddox.
"With the personnel that we have and all our running backs and fullbacks, we have a great running personnel. So we feel it's going to be a good change for us," said Moorehead. "Our new offense opens up a lot of opportunities for a lot of different players."
The offense will have a bit of a Wing-T feel to it, but Moorehead will still be counted on heavily to throw the ball. He completed 57 percent of his passes for 2,120 yards and 15 TDs last year, even though he threw 13 interceptions.
West Jordan knows it will need to score a lot of points to keep pace with Region 3 juggernauts like Alta, Jordan and Cottonwood, and a greater emphasis on the running game could help shorten those big games as well.
At the end of the day though, West Jordan can run the ball all it wants, but it won't matter if the defense can't get stops. The Jags gave up 40-plus points in five of nine games last year. It started in Week 1 when Bingham scored 45 and the trend continued until Week 10 when Jordan hung 55 points on the Jags.
"Ever since I've started since as sophomore, I've felt like I strive off adversity. And I feel like this school every year we always have a tough region. That just makes us fight harder and motivates us," said linebacker Spartacus Eason.
Morgan said Eason is as tough as any kid who's ever played for him at West Jordan, but the program just doesn't get a lot of kids like that anymore. That doesn't mean they can't be successful and compete for a playoff spot, though.
"They're typical West Jordan kids — just tough, not very big. They're just hard-nosed kids, and that's what makes them so good," said Morgan. "These kids will make some noise. This group somewhere along the line will do something. I hope it's near the end."
West Jordan opens the season at home against Bingham on Aug. 17, and Morgan said that game will reveal a lot about the character of his team and how effective the offensive wrinkles will be. The Jaguars will be heavily undersized in the trenches compared to Bingham, but that's where Morgan hopes to see the fighting spirit of his players.
After that, the tough preseason continues with games against Hurricane, Hunter and Pleasant Grove before diving into region play with Cottonwood.
West Jordan Jaguars at a glance
Coach: Mike Morgan has amassed a 66-68 record in 13 season as West Jordan's head coach. He's a graduate of Brighton High School.
Offense
(7 returning starters; Spread offense)
West Jordan's offensive line will be undersized compared to most in 5A, but there's plenty of experience with Spartacus Eason, Lamont Keophilavong, Trent McIntyre and Dallas Schaefer all returning from last year. They've worked hard on new blocking schemes, which the coaching staff hopes leads to a more threatening running game. Michael Moorehead is back for his third full season as starting quarterback, and the coaching staff would love to see him avoid the injury bug this year. Moorehead's top four receiving threats from a year graduated, but Tristan Taei, Diego Barajas and Jarmaya Omar have emerged as his go-to guys throughout the summer.
Defense
(8 returning starters)
West Jordan's defense will rely heavily on a trio of returning starters at linebacker, Jacob Ponce, Chinedu Ahanonu and Kaden Maddox. Ponce the led the team with 59 tackles a year ago, while Ahanonu (52 tackles) and Maddox (46 tackles) weren't that far behind. Eason will be another key player on the defense whether he ends up starting at linebacker or on the defensive line. Landon McMorris and Josh McMorris are two other returning starters who will be counted on for more this year.
Coaches preseason Region 3 straw poll: Fifth
Deseret News Region 3 prediction: Fifth
Bottom line: West Jordan's only region victory last year was against Copper Hills, which it will be favored to beat again this year. After that, if the Jaguars have any hope of cracking Region 3's Top 4 and securing a playoff spot, they will need to beat either Cottonwood, Brighton, Alta or Jordan. It narrowly lost to Cottonwood and Brighton last season, so it's definitely not an unrealistic expectation — especially if the running game comes around like the coaching staff hopes.
2012 Schedule
Aug. 17 — BINGHAM, 7 p.m.
Aug. 24 — HURRICANE, 7 p.m.
Aug. 31 — HUNTER, 7 p.m.
Sept. 7 — at Pleasant Grove, 7 p.m.
Sept. 14 — Bye
Sept. 21 — COTTONWOOD, 7 p.m.
Sept. 28 — COPPER HILLS, 7 p.m.
Oct. 5 — at Brighton, 7 p.m.
Oct. 11 — at Alta, 7 p.m.
Oct. 17 — JORDAN, 7 p.m.
Felt's Facts for West Jordan High School
All-time record: 129-177 (31 years)
Region championships: 3 (1992, 1994, 1999 co)
Playoff appearances: 15
All-time playoff record: 4-15
State championships: 0
State championship record: 0-0
Most played rivalry: 31 meetings with Bingham dating back to 1981. Bingham leads 24-7. Meet on Aug. 17.
Felt's Factoid(s): WJ combined with Cottonwood for 1,216 total yards and set the single-game record for two teams (Sept. 30, 2011). ... Jaguar Michael Moorehead set a state completions and attempts record for a single game on 44-of-74 passes in 2010. ... C.J. O'Neal set the record for season reception with an even 100 in 2009.
West Jordan coaching history
1999-current — Mike Morgan (66-68)
1997-1998 — Brent Hawkins (6-14)
1989-1996 — Rick Bojak (48-33)
1985-1988 — Tom Molen (3-34)
1981-1984 — Larry Sanich (6-28)
Deseret News First Team all-staters the past 10 years
2010 — Martavius Redmond WR
2005 — Mike Meifu, RB
2004 — Rio Stotler, DL
2003 — Hunter Utley, OL
To view second team and honorable mention all-staters through the years, check out the Deseret News All-State Archives.
Email: jedward@desnews.com
Twitter: @DNewsPreps
Contributing: Jessica Wilde, Conner Johnson, Steve Mundee and prep football historian George Felt.