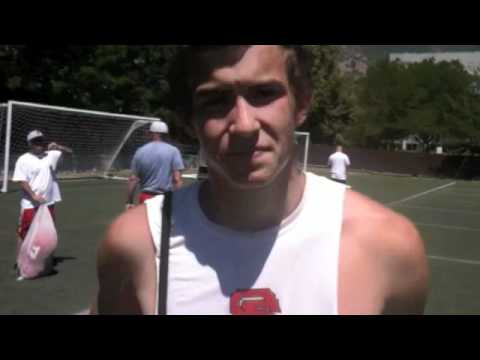 View 16 Items

Scroll to bottom of story to see Spanish Fork Felt's Facts
Note: Spanish Fork finished with a 9-4 overall record and was second in Region 12 with a 4-1 record in 2011. It beat Morgan and Juan Diego in the playoffs before losing to Hurricane, 38-35, in the 3A semifinals.
SPANISH FORK — At BYU's 7-on-7 camp earlier this summer, new Spanish Fork head coach Kirk Chambers couldn't help but feel out of place.
Between his playing days at Provo High, Stanford and then seven years in the NFL, the former offensive lineman said he never paid much attention to what happened in 7-on-7 games. He joked they were like playing football in pajamas.
His specialty is in the trenches — when the linemen put their fingers in the ground. His vast football knowledge with arguably the most important aspects of the game will make one of the best teams in 3A that much better.
Spanish Fork advanced to the 3A semifinals last year by stunning three-time state champion Juan Diego in the quarterfinals. At Rice-Eccles Stadium the following week, it went toe to toe with eventual 3A state champion Hurricane before losing 38-35.
From what he's seen since being hired in late April, Chambers said the expectations shouldn't be any different in 2012.
"It's a learning process that I'm going through, but we've got great leadership to help us and we've got a lot of pieces in place that (former coach) Matt Christensen put in there with his coaching staff," said Chambers. "We're trying to position ourselves to make a run."
With several returning starters, a strong senior class and quality options at quarterback, the pieces are there from a personnel standpoint as well to make a run.
Chambers said he only expects to make a few offensive and defensive tweaks.
For the most part, he has no intention of messing with an offense that featured a 2,800-yard passer and a 1,500-yard rusher last season. Chambers said he only plans on making minor improvements where necessary to the blocking schemes of offensive coordinator Brandon Condie, but that's about it.
"I'll put in my influence on the running game 'cause that's what I understand and how we protect. But as far as what we've done in the past we're trying to keep as many pieces in place as we can," said Chambers.
With the graduation of three-year starting quarterback Hayden Nielsen, Spanish Fork has a major hole to fill in the spread offense. Chambers isn't looking forward to picking Nielsen's replacement either. He spent his whole career blocking for whoever the coach put behind him, but suddenly he's in the unenviable spot of picking the guy.
He won't decide whether to hand the starting quarterback job over to junior Jeremiah Evans or sophomore Jason Money until the week before the season, but he likes the progress of both.
"Two really good-looking quarterbacks. It's a problem, but it's a good problem to have 'cause they both really want it. Unfortunately there's one spot for a quarterback out there," said Chambers.
Defensively, one of Spanish Fork's biggest challenges will be shoring up the defensive line. He's counting on new defensive coordinator Kevin Nicoll to make that happen.
Nickle was an assistant at Olympus last season but wanted to move his family down to Utah County. Spanish Fork principal Dave McKee set up a meeting between the two coaches, and Chambers knew right away Nicoll was the guy he wanted to lead his inaugural defense.
Nicoll will be grooming all new starters on the defensive line, but does have some experience at linebacker with seniors Gunnar Beus and Wyatt Groves. Fellow seniors Cam Money and Colton Olsen are returning starters in the secondary, and Chambers has seen great things from all his seniors so far.
"The senior class is very motivated and they understand their role as being leaders and being the players that push this team. The great thing about them is they're the ones with the high expectations of themselves. You can coach that, but it's much better if you don't have to so you can focus on the finer points of the game," said Chambers.
Spanish Fork Dons at a glance
Coach: Kirk Chambers is entering his first season as Spanish Fork's head coach. The Provo High graduate spent the past seven years playing in the NFL, including last season with the Atlanta Falcons.
Offense
(5 returning starters; Spread offense)
Spanish Fork was among the Top 5 scoring offenses in 3A last year at 33.3 ppg, and the task of trying to duplicate that production is going to fall on the shoulders of an underclassman. Junior Jeremiah Evans and sophomore Jason Money have been battling throughout the summer for the starting QB job, and they have big shoes to fill with the departure of all-stater Hayden Nielsen. Whoever gets the nod, they'll have five returning starters to ease with the transition. Levi Mitchell and Jordan Brandon are returners on the line who hope to give Spanish Fork's new quarterback time to adjust. Also back offensively are Gunnar Beus at fullback and Cam Money and Olsen at receiver.
Defense
(4 returning starters)
The inability to stop quality running teams is ultimately what prevented Spanish Fork from winning the region or state championship last year. Delta ran all over Spanish Fork to clinch the Region 12 championship, and then Hurricane did the same in a 38-35 semifinal victory over the Dons. Shoring up the defensive front and getting stops against quality opponents will be the biggest challenge this season for new defensive coordinator Kevin Nicoll.
Coaches preseason Region 12 straw poll: First
Deseret News Region 12 prediction: First
Bottom line: Despite the coaching change and the graduation of some extremely talented offensive players, there's no reason Spanish Fork won't be in the hunt for a state championship again this year. The Dons can help themselves out by claiming the Region 12 title, and the schedule is certainly favorable with three of five region games at home, including the Delta game on Oct. 5. That game will likely determine the Region 12 championship.
2012 Schedule
Aug. 17 — PARK CITY, 7 p.m.
Aug. 24 — at Springville, 7 p.m.
Aug. 31 — AMERICAN FORK, 7 p.m.
Sept. 7 — at Logan, 7 p.m.
Sept. 14 — at Judge, 7 p.m.
Sept. 21 — CARBON, 7 p.m.
Sept. 28 — at Juab, 7 p.m.
Oct. 5 — DELTA, 7 p.m.
Oct. 12 — NORTH SANPETE, 7 p.m.
Oct. 17 — at Payson, 7 p.m.
-----
Felt's Facts for Spanish Fork High School
All-time record: 335-416-20 (92 years)
Region championships: 7 (1935 co, 1961, 1969, 1970 co, 1973 co 1977 co, 1991 co)
Playoff appearances: 29
All-time playoff record: 16-29
State championships: None
State championship record: 0-0
Most played rivalry: 91 meetings with Payson dating back to 1917. Spanish Fork leads 44-43-4. Meet on Oct. 17.
Felt's Factoid(s): SF's Hayden Nielsen is one of just four Utah high school players to accumulate over 9,000 career yards of total offense (9,451 from 2009-11).
Spanish Fork coaching history
2012 — Kirk Chambers
2006-2011 — Matt Christensen (41-28)
2000-2005 — Scott Brumfield (29-34)
1995-1999 — Everett Kelepolo (25-26)
1987-1994 — Doug Snell (26-49)
1981-1986 — Dave Clark (21-36)
1965-1980 — DelRay "Andy" Anderson (79-74-3)
1956-1964 — Don Fuller (42-38-3)
1953-1955 — Thayne Stone (3-17-1)
1952 — Gus Black (1-6)
1949-1951 — Thayne Stone (6-14-1)
1948 — Gus Black (2-3-1)
1940-1947 — Unknown (16-39-1)
1939 — Lloyd Jacobsen (4-2)
1932-1938 — Unknown (20-20-4)
1928-1931 — Fenton Reeves (12-6-3)
1919-1927 — Unknown (2-15-2)
1918 — Mr. Simmons (0-2)
1916-1917 — Unknown (6-7-1)
.....
Deseret News First Team all-staters the past 10 years
2011 — Hayden Nielsen, QB
2011 — Christian Taele. RB
2011 — Sosiua Vaitohi, OL
2011 — Colin Argyle, LB
2010 — Isaac Asiata OL
2009 — Chase Loftin, WR
2009 — Isaac Asiata, OL
2008 — Breck Lewis, QB
2008 — Richard Wilson, TE
2006 — Jordan Smith, WR
2005 — Taft Morley, DB
2003 — Craig Johnson, OL
2002 — John Welsh, DB
To view second team and honorable mention all-staters through the years, check out the Deseret News All-State Archives.