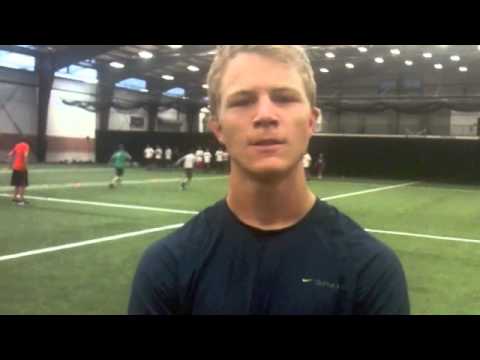 View 26 Items
James Edward, Deseret News

Scroll down to see Morgan Felt's Facts
Note: Morgan finished with a 7-3 overall record and was third in Region 11 with a 4-2 record in 2011. It lost to Spanish Fork, 35-20, in the first round of the 3A playoffs.
MORGAN — The fate of Morgan's football team was sealed in Week 4 last year when, as coach Kovi Christiansen put it, "Grantsville snuck up on us." An overtime loss to Grantsville and subsequent loss to Region 11 champion Stansbury dropped Morgan down to the No. 3 seed heading into the postseason.
Road teams rarely win in the first round of the 3A playoffs, so it was no surprise to see Morgan ousted by Spanish Fork.
Heading into the 2012 season, Christiansen said simply, "We've got to be in the Top 2."
The Trojans are counting on great team speed to help them get there.
"I feel like we have more speed than we've had in a long time," said Christiansen. "It will be nice to have that speed on offense and defense."
As nice as that speed will be in the Double Wing-T offense, Christiansen expects to see a greater benefit defensively.
"When you have more team speed you're obviously better off, especially how football is now these days. It's not so much run it down your throat it's about trying to beat you to spots. We'll have 11 quick-enough, athletic-enough guys. We should do pretty good on defense. It should look like a swarm out there," said Christiansen.
Only time will tell if it's enough to hold off Grantsville and then challenge Stansbury for the region title.
Lantzen Toomer, one of the team's leading rushers a year ago, is optimistic Morgan can take care of business.
"We have a lot of returning linemen back and all four running backs, so I feel like we have a really good chance of taking the region. Hopefully we'll live up to the hype," said Toomer.
Morgan's top-four running backs last year combined to rush for 2,426 yards, and incredibly they're all back. Kade Carrigan led the way in yardage with 773 yards and seven touchdowns. Bridger Anderson added 659 yards and 11 TDs. Toomer chipped in with 632 yards and six TDs, and Joseph Kippen made an impact with 362 yards and seven TDs.
Christiansen loves what each running back brings to the table.
"Lantzen's a kid who's never really going to get off the field. He's just an all-around athlete, knowledgeable and just has great footwork. All those Toomer kids have had great footwork," he said.
Anderson is a powerful yet fast athlete who enjoyed a strong season on the track last spring.
"He has good footwork, but he'll run you over if you're not ready," said Christiansen.
Carrigan and Kippen are quick shifty kids who can make plays from anywhere on the field.
Junior Ben Saunders takes over at quarterback, and he's an athletic kid who's had a good summer.
Bryce Fern and Kyle Stapley are the lone returning starters on the line, but they're big kids who should be even better with a year under their belts. The newcomers aren't as big though, and like any coach, Christiansen wishes he had more size in the trenches.
Being a bit undersized, however, is usually the norm in Morgan.
"We're usually not too big. One thing we do have is our kids usually know how to work. They compete. Even though we're usually outsized, they play hard and don't give up," said Christiansen.
In fact, during summer conditioning it wasn't uncommon to see a player or two puking in the dumpster.
It's all about trying to get bigger, stronger and faster to crack the Top 2.
"We'll have to play good to get first or second, but I think we have the athletes to do that," said Christiansen.
Morgan Trojans at a glance
Coach:Kovi Christiansen is entering his sixth season as Morgan's head coach with a career coaching record of 38-19. He's a graduate of Lovell High in Wyoming.
Offense
(4 returning starters; Double Wing-T offense)
K.T. Tibbits was in line to take over the starting quarterback role, but he decided he'd rather play wide receiver. His decision opens the door for junior Ben Saunders to slide into the starting role. Morgan ranked seventh in 3A scoring offense last year at 33 ppg, but with Bridger Anderson, Kade Carrigan, Lantzen Toomer and Joseph Kippen all returning at running back, it's hard to imagine it won't improve upon that number this fall.
Defense
(6 returning starters)
It's all about speed this year. And in a region where the team to beat features an option quarterback that's being recruited by Georgia Tech, Morgan's speed will come in handy. The defensive line will be anchored by Ethan Hipwell and Kyle Stapley. Hipwell would prefer to play linebacker, but coach Christiansen said he's too valuable at defensive end to move. Toomer and Anderson are returning starters at linebacker, with big-hitting Anderson setting the tone for the entire team. Carrigan is a returning starter in the secondary. Morgan lost its two leading tacklers from a year ago, but the coaching staff isn't too concern based on the quality of its six returning starters.
Coaches preseason Region 11 straw poll: Second
Deseret News Region 11 prediction: Third
Bottom line: There's no reason to think Morgan won't be better this year with those four returning contributors at running back. Both Stansbury and Grantsville return even more returning starters though, so the Trojans will have their work cut out cracking the Top 2 in Region 11. Morgan is a school rich in football tradition, and with Stansbury and Grantsville both travelling to Morgan this year, a region championship isn't out of the question.
2012 Schedule
Aug. 17 — at Maple Mountain, 7 p.m.
Aug. 24 — SOUTH SUMMIT 7 p.m.
Aug. 31 — WASATCH, 7 p.m.
Sept. 7 — GRANTSVILLE, 7 p.m.
Sept. 14 — at Ben Lomond, 7 p.m.
Sept. 21 — STANSBURY, 7 p.m.
Sept. 28 — BEAR RIVER, 7 p.m.
Oct. 5 — at Tooele, 7 p.m.
Oct. 11 — at Ogden, 7 p.m.
Oct. 17 — at Roy, 7 p.m.
Felt's Facts for Morgan High School
All-time record: 417-312-22 (84 years)
Region championships: 21(1930 co, 1935, 1939, 1940, 1946, 1947, 1975 co, 1976, 1977 co, 1979, 1980, 1983, 1989, 1991 co, 1992, 1993, 1996, 1997, 2000, 2005 co, 2008)
Playoff appearances: 44
All-time playoff record: 46-38
State championships: 6 (1940, 1977, 1979, 1983, 1993, 1997,)
State championship record: 6-4
Most played rivalry: 82 meetings with Wasatch dating back to 1928. Wasatch leads 49-31-2. Meet on Aug. 31.
Felt's Factoid(s): Morgan holds the single-game sack record (tied with Weber) of 15, set in 1972 against Grantsville. ... Trojan Jordan Wamsley returned five kickoffs for TDs in 2009 to set a state season record (tied with San Juan's Jens Wilson).
Morgan coaching history
2007-current — Kovi Christiansen (38-19)
1997-2006 — Renn Hoopes (81-33)
1994-1996 — Mike Grajek (19-10)
1990-1993 — Blaine Monkres (32-9)
1988-1989 — Steve Coburn (13-6)
1972-1987 — Jan Smith (113-59-1)
1971 — Richard Rodak (3-6-1)
1969-1970 — Brent Thorne (9-11)
1967-1968 — Joe Dilworth (11-7-1)
1961-1966 — Bob Wilson (17-30)
1957-1960 — Don Johnson (9-20-1)
1956 — Jack Raymond (1-8)
1951-1955 — Kent Murdock (8-28-3)
1949-1950 — Floyd C. Stevens (6-9-1)
1947-1948 — Garth Bellston (10-3-4)
1946 — Francis Porter (5-4-1)
1941-1945 — Fred Bohman (8-22-1)
1939-1940 — Bill Cowley (10-2-2)
1929-1938 — Wes Schwab (19-24-3)
1928 — I.L. Peterson (1-2-1)
Deseret News First Team all-staters the past 10 years
2011 — Boston Saunders, DL
2010 — Tad Sargent, RB
2009 — Jordan Wamsley, SP
2008 — Jake Kinsey, DB
2008 — Chad Crossley, OL
2005 — Alan Tucker, QB
2005 — Mike Rose, DB
2004 — Derek Wiscombe, DB
2003 — Jeff Manning, RB
2003 — Blake Preece, OL
2003 — Joe Wiscombe, DB
2002 — McKay Bybee, SP
To view second team and honorable mention all-staters through the years, check out the Deseret News All-State Archives.
Contributing: Jessica Wilde, Conner Johnson, Steve Mundee and prep football historian George Felt.
Email: [email protected], Twitter: @DNewsPreps