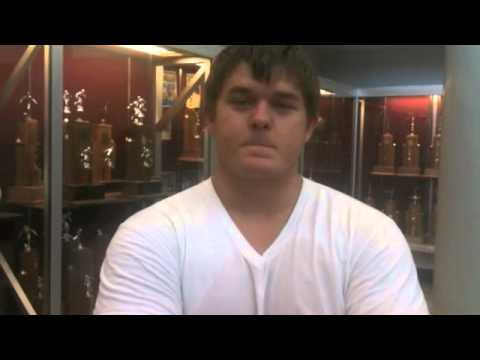 View 13 Items
James Edward, Deseret News

Scroll down to see Jordan Felt's Facts
Note: Jordan finished with a 10-3 overall record and tied for second in Region 3 with a 3-2 record in 2011. It lost to Lone Peak, 45-41, in the 5A semifinals.
SANDY — There's no way to know if Jordan High would've survived to beat Lone Peak in last year's 5A semifinal had freshman quarterback Austin Kafentzis not broken his collarbone midway through the second quarter.
Jordan led 13-3 at the time, and back-up Baron Bajkowski more than held his own leading the offense. It was Jordan's defense that couldn't get stops as Lone Peak won 45-41 on its way to an undefeated state championship season.
With the way last season ended, the Beetdiggers can't help but feel they have some unfinished business heading into the 2012 season.
With all five starters on the offensive lineman returning along with Kafentzis, the reigning MaxPreps National Freshman of the Year, many believe Jordan is a dark horse to claim the 5A title this season.
"Our goal is always to win a state championship, but this year we really feel like we should be good and we should be there. And if we work hard we should put ourselves in a position to win a state championship," said coach Eric Kjar.
Those elevated expectations have everything to do with the continuity of the offense, and it starts in the trenches with returning starters B.J. Cavender, Zach Larsen, Tyshon Mosley, Ian Moes and Aarron Reupena.
The quintet paved the way for Kafentzis' dominant freshman season, and Kjar said they've worked hard throughout the offseason to get stronger and improve their technique. Kafentzis feels so comfortable with his line, he'd be surprised if he gets sacked all year.
While that's probably unrealistic, what is realistic is to expect an even better sophomore season.
"I feel a lot more comfortable 'cause I've been in the system a whole year," he said. "Everything is starting to become second nature."
Last year the freshman completed 212-of-366 passes for 3,188 yards and 23 touchdowns. He also rushed for 1,377 yards and 21 touchdowns. The obvious weak spot was his 19 interceptions, but 13 of those picks came in the first seven games of the year.
The coaching staff limited the running plays for Kafentzis early in the season, but once they took off his training wheels midway through the season, his rushing yards and passing efficiency went up, while his interceptions went down.
Kafentzis still needs to improve his accuracy, but Kjar said he's making the right reads and there's no limitations on the playbook this year. There might be a bit of an adjustment period while Jordan breaks in a new core of wide receivers, but the potential is there for them to be even better than last year's group.
Kjar has no doubt everything will come together.
"He's the type of kid that's always working to get better, so I just think he's going to continue to improve throughout his high school career. I think he'll be turned loose a little bit more offensively than he was last year," said Kjar.
It's ironic Jordan's defense broke down in the semifinals last year, because that was arguably the most consistent part of the team. The 'Diggers surrendered 16 ppg, and only gave up more than 21 points twice prior to getting lit up by Lone Peak.
Six of those starters are returning, and Jordan should be even better this year.
"I think we have a chance to be our best defense this year, and I think a lot of it is the kids' familiarity with the scheme and our defensive staff," said Kjar.
In Kjar's three years as head coach, Jordan's scoring defense has improved each year from 31.2 ppg to 22.7 pgg to 16.3 ppg. Linebackers Colton Shaver and Tyler Swan will be counted on to continue that downward trend.
With the season just a few weeks away, Kjar said the talent is definitely there, but the effort will need to be there throughout the season.
"We feel like we have the kids to do it, but the big thing with that is the effort level. You have to practice every day hard to get better, and you have to have kids who are willing to sacrifice that. I know we have that with the good core of our kids, but there are others that are trying to figure out what hard work is all about," said Kjar.
Jordan Beetdiggers at a glance
Coach: Eric Kjar has led Jordan to a 26-12 record in his first three seasons as head coach. He's a graduate of Kemmerer High in Wyoming.
Offense
(7 returning starters; Spread offense)
The foundation for this offense is as good as any in the state with five returning starters on the line and a returning all-state quarterback. The big question mark is at receiver. The six players who combined for 221 of Jordan's 225 receptions last year are gone. That puts a lot of pressure on QB Austin Kafentzis, but he's a player who always tries to stay pressure positive. Realistically though, this year's group of receivers could be even better. Two weren't even on the team last year. Mason Krueger opted not to play football last year, but the 6-foot-3 junior wide out will be a big target for Kafentzis to throw to. Adriel Jefferson sat out last season while he tried to transfer to another school, but he's back and is a really quick kid who fits perfectly for the slot position.
Defense
(6 returning starters)
Colton Shaver was second on the team last year with 73 tackles, while Tyler Swan was second with 67. Swan is joining Shaver at linebacker after playing strong safety last year, and they'll have plenty of opportunities to make tackles again this year playing behind what could be a dominant defensive line. Anchoring the line is Mori Savini, a 260-pound junior who had 54 tackles and seven sacks last year. Standout offensive linemen Zach Larsen, B.J. Cavender, Ian Moes and Tyshon Mosley will all get some reps on the defensive front as well.
Coaches preseason Region 3 straw poll: Second
Deseret News Region 3 prediction: First
Bottom line: A state championship is every team's goal, but for only a handful is it a realistic goal. Jordan is one of those teams. Had the Beetdiggers held on for another minute against Lone Peak in last year's semifinals, it could easily be heading into 2012 as the defending 5A state champions. Those expectations will be with Jordan all season, and only time will tell how the team handles them.
2012 Schedule
Aug. 17 — at Fremont, 7 p.m.
Aug. 24 — LAYTON, 7 p.m.
Sept. 1 — vs. Long Beach Poly, 4:30 p.m. (At Bingham HS)
Sept. 7 — at Kearns, 7 p.m.
Sept. 14 — ALTA, 7 p.m.
Sept. 21 — COPPER HILLS, 7 p.m.
Sept. 29 — vs. St. John Bosco, Calif., 1:30 p.m. (at Rio Tinto Stadium)
Oct. 5 — at Cottonwood, 7 p.m.
Oct. 12 — BRIGHTON, 7 p.m.
Oct. 17 — at West Jordan, 7 p.m.
Felt's Facts for Jordan High School
All-time record: 499-402-28 (102 years)
Region championships: 25 (1931, 1934, 1935, 1936, 1938, 1939, 1940, 1941, 1944, 1947, 1948, 1950, 1958, 1961, 1983, 1984,
1987, 1988 co, 1989, 1991, 1993 co, 1994, 1998, 2002 co, 2005 co)
Playoff appearances: 41
All-time playoff record: 47-30
State championships: 11 (1931, 1934, 1936, 1939, 1940, 1941, 1944, 1947, 1948, 1950, 1994)
State championship record: 11-4
Most played rivalry: 66 meetings with Granite dating back to 1909. Jordan leads series 32-29-5. Last met in 1994.
Felt's Factoid(s): Jordan holds the season passing record of 4,467 set in 2009. ... Beetdigger Alex Hart set a state record – and tied a national record – by throwing eight TD passes in a game in 2009. ... Hart holds the season record for average total offense per game with 415.5 yards, set in 2009. ... Cody Raymond holds the career TD reception record (tied with Fremont's Austin Raught) at 41.
Jordan coaching history
2009-current — Eric Kjar (26-12)
2003-2008 — Alex Jacobson (35-32)
1989-2002 — Jim Birch (80-64)
1986-1988 — Al Watrin (22-11)
1980-1985 — Rick Bojak (46-23)
1978-1979 — Bob Andrus (4-13)
1973-1977 — Doug Berry (16-31)
1972 — Tom Keller (1-8)
1971 — Ray Odette (3-7)
1969-1970 — Randy Autentico (2-13-3)
1967-1968 — Dean Stringham (5-13)
1966 — Bob Sanchez (1-8)
1965 — Tom Louazt(3-6)
1962-1964 — Evert Jones (14-11-1)
1961 — Glen Jackson (9-1)
1954-1960 — Howard Linford (19-35)
1950-1953 — Dale Sorensen (21-13-3)
1935-1949 — Dunn Taylor (106-29-7)
1931-1934 — Eddie Kimball (31-5-2)
1928-1930 — E.G. Foxley (9-10-1)
1920-1927 — O.D. Ballard (22-27-6)
1919 — Spike Gardner (5-2)
1918 — Parker Pratt (0-0)
1914-1917 — "Blondy" Hamilton (10-12-1)
1913 — unknown (2-4)
1909-1912 — O.G. Dutton (7-12-1)
Deseret News First Team all-staters the past 10 years
2011 — Austin Kafentzis, QB
2011 — B.J. Cavendar, OL
2011 — Hayden Babka, LB
2010 — McCoy Hill, QB
2010 — Taylor Loomis, WR
2009 — Alex Hart, QB
2009 — Braden Hammond, WR
2008 — Alex Hart, QB
2008 — Vyncent Jones, OL
2007 — Cody Raymond, RB
2007 — Vyncent Jones, OL
2006 — Sean Taylor, QB
2006 — Cody Ramond, WR
2005 — Cody Raymond, WR
2005 — Cody Larsen, DL
2002 — Phil Poloa, RB
2002 — Kevin Freestone, LB
To view second team and honorable mention all-staters through the years, check out the Deseret News All-State Archives.
Contributing: Jessica Wilde, Conner Johnson, Steve Mundee and prep football historian George Felt.
Email: [email protected]
Twitter: @DNewsPreps