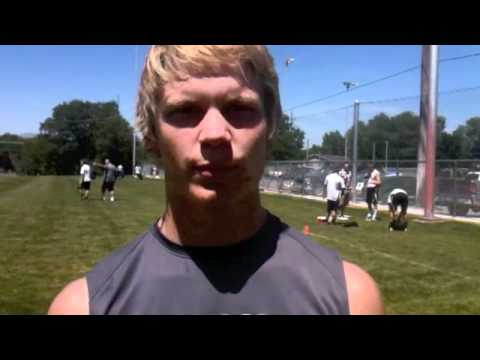 View 14 Items
James Edward, Deseret News

Scroll down to see Payson Felt's Facts
Note: Payson finished with a 3-7 overall record and was fifth in Region 12 with a 1-4 record in 2011. It did not qualify for the playoffs.
PAYSON — Jeremy Chapman genuinely believed that Payson's football team was poised for its first winning season in 33 years last season.
It certainly didn't play out that way though. The Lions struggled out of the gate and never recovered — missing the playoffs entirely.
Just because his team underachieved last year, however, doesn't mean Chapman is about to scale back his expectations in 2012.
In fact, quite the opposite.
"I'd be disappointed if we don't have a home playoff game," said Chapman.
He didn't necessarily feel that way when Payson lost to Delta 40-7 in the regular-season finale last year, but that belief has definitely gotten a facelift ever since.
In the offseason Chapman and his assistant coaches went about redefining what Payson football needed to stand for. They established three core values: discipline, dedication and tenacity. They challenged their players to apply these values on and off the football field.
"We presented it to the kids and they bought in fantastically, and because of that I'm excited," said Chapman.
The shift in attitude along with several key returning starters makes Payson a very intriguing team this season.
It starts at quarterback. Senior Devan Judd has been Payson's starter since midway through his sophomore year and he's poised for a big senior season.
"When we give him time he's proven he'll eat teams up," said Chapman.
As a junior last season, Judd passed for 2,893 yards and 20 touchdowns, even though he was very mistake prone with 21 interceptions. With an extra year under his belt and a better understanding of Payson's spread offense, he's hoping for much better things.
"I feel really comfortable with it. I'm just working on the timing with the receivers and once we get that down I think we'll be really solid," said Judd, who maintains a 4.0 GPA.
Judd obviously needs help, and he's got plenty of it on the offensive line. Juniors Derek Johnson and Henry Clinger and sophomore Brian Hoschouer are all returning starters up front.
Most of Payson's skill-position players saw limited action last year, but Chapman likes their potential.
Defensively, Payson is getting a big overhaul. In a region that features almost exclusively running teams, not to mention a preseason schedule with the same mix of opponents, Chapman believes it was important to change the Lions' schemes.
"Everything we've done this offseason through weight lifting and drills has been about getting bigger and stronger just to defend the run," said Chapman.
In that season-ending disaster against Delta, Payson's porous run defense surrendered 349 rushing yards.
If the Lions have any hope of closing the gap in Region 12 and competing for a playoff spot, it's imperative they shore up that run defense. They'll get tested right out of the gate as they open the season on Aug. 17 against 5A school Granger.
In last year's season-opener, Granger thrashed Payson 43-19 by rushing for over 300 yards.
Payson Lions at a glance
Coach: Jeremy Chapman is entering is fourth season as head coach at his alma mater. He's amassed a record of 12-18 in those three seasons.
Offense
(4 returning starters; Spread offense)
Payson only averaged 18.6 ppg last season, but senior quarterback Devan Judd is hoping to improve that production. His primary receiving threats are senior KK Loveless and sophomore Preston Little. Coach Chapman said that physically Little was the team's best receiver as a freshman last year but mentally he wasn't ready. Kyle Moffat rushed for 374 yards and five touchdowns last year, but the junior should have a much better campaign this year running behind an offensive line with three returning starters.
Defense
(6 returning starters)
Getting stops was a problem last year, but Payson is counting on a strong front seven and a new scheme to change that this year. Anchoring the defensive line are a pair of seniors, Rueben Uresti and Taris Schramm. The two combined on 73 tackles and six sacks last season. Sophomore John Harmon is a deceiving strength at linebacker despite standing just 5-foot-7 and weighing 170 pounds. Chapman said he's a natural leader and expects him to have a strong season after starting as a freshman last year.
Coaches preseason Region 12 straw poll: Fourth
Deseret News Region 12 prediction: Third
Bottom line: Chapman hasn't shied away from saying the 2012 season will be a disappointment if the Lions don't earn a home playoff game by finishing in the Top 2 in Region 12. For a team that hasn't enjoyed a winning season since 1978, simply making the playoffs seems like a more reasonable goal. Even that is no guarantee. Spanish Fork and Delta are tough as always, while Juab is expected to have another strong season. Even Carbon and North Sanpete are both expected to be improved from last year.
2012 Schedule
Aug. 17 — at Granger, 7 p.m.
Aug. 24 — SALEM HILLS, 7 p.m.
Aug. 31 — at Maple Mountain, 7 p.m.
Sept. 7 — LEHI, 7 p.m.
Sept. 14 — at Union, 7 p.m.
Sept. 21 — at Delta, 7 p.m.
Sept. 28 — at North Sanpete, 7 p.m.
Oct. 5 — JUAB, 7 p.m.
Oct. 12 — at Carbon, 7 p.m.
Oct. 17 — SPANISH FORK, 7 p.m.
....
Felt's Facts for Payson High School
All-time record: 373-411-39 (101 years)
Region championships: 15 (1909, 1919, 1921, 1925, 1928, 1932, 1943, 1949, 1959, 1960, 1966, 1969, 1970, 1971, 1976 co)
Playoff appearances: 24
All-time playoff record: 15-20-2
State championships: 4 (1925, 1943, 1969, 1971)
State championship record: 2-4-1 * Payson and South Sevier tied in the semifinals in 1925, but no state championship was held. Both were awarded state titles.
Most played rivalry: 92 meetings with Springville dating back to 1909. Springville leads 54-31-7. Last met in 2010.
Felt's Factoid(s): Payson holds the state record for the fewest passing yards allowed in a game: minus-20 in 1976 against Carbon. ... Payson played the most tie games in a single season with five in 1937.
Payson coaching history
2009-present — Jeremy Chapman (12-18)
2007-2008 — Jared Woolstenhulme (6-15)
2003-2006 — Colby Knight (8-33)
2001-2002 — Jamal Willis (3-17)
1997-2000 — Rick Robbins (11-26)
1988-1996 — Bart Peery (26-52)
1984-1987 — David McKee (13-22)
1981-1983 — Bob Cook (6-22)
1956-1980 — Jim Durrant (137-96-8)
1941-1955 — Don Fuller (70-44-12)
1940 — Unknown (1-5-1)
1939 — Vern Waldo (3-5)
1936-1938 — Uknown (6-9-7)
1934-1935 — Stan Wilson (3-8-1)
1928-1933 — Unknown (26-11-4)
1927 — Mr. Wooley (3-2)
1922-1926 — Unknown (12-8-4)
1921 — Hugh Sutton (4-2)
1920 — Unknown (0-2)
1919 — Dixon Kapple (5-1-1)
1918 — Ray Monson (1-1)
1916-1917 — Unknown (9-2)
1915 — Mr. Cole (2-2-1)
1909-1914 — Unknown (6-8)
Deseret News First Team all-staters the past 10 years
(None)
To view second team and honorable mention all-staters through the years, check out the Deseret News All-State Archives.
Contributing: Jessica Wilde, Conner Johnson, Steve Mundee and prep football historian George Felt.
Email: [email protected], Twitter: @DNewsPreps