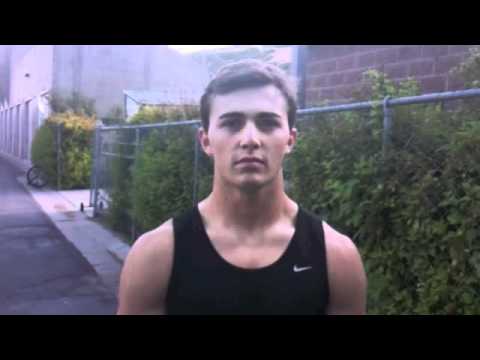 View 11 Items
James Edwards

Scroll to bottom of story to see South Summit Felt's Facts
Note: South Summit finished with an 8-4 overall record and was third in the 2A North region with a 5-2 record in 2011. It lost to Manti, 6-0, in the semifinals of the 2A playoffs.
KAMAS — A year ago at this time, the mood and attitude around South Summit's football program was drastically different.
The Wildcats were coming off back-to-back 2A championship-game loses, and the players were hitting the weights and doing everything in their power to toughen up to challenge San Juan again for a state championship.
So much of that seems trivial now.
Don't be mistaken: Football matters as much to South Summit's players as it did a year ago. The motivation, though, isn't coming from keeping up with the boys in Blanding.
But rather the inspiration comes from trying to make their fallen teammate proud.
South Summit's Porter Hancock was paralyzed from the chest down making a tackle on punt coverage in Week 8 last season. News of the tragedy rocked the Kamas community — not to mention the football community across Utah.
While Hancock's tragedy has drifted from the consciousness of most of the state, that's certainly not the case at South Summit High School.
As the Wildcats gear up for the upcoming 2012 season, Hancock, who can now drive himself around town in his modified pick-up truck, is right there with his friends and teammates.
At morning practices and weight-lifting sessions, South Summit's honorary captain is there supporting their every move.
"It's just pushed everyone a lot more. Instead of lifting for themselves and the team, they're now lifting for him. So everyone is doing twice the amount of work," said South Summit's Jay Reidhead. "He's gone through a lot. I know it's tough for him to come out and watch us. It's definitely motivating for all of us."
Hancock admits being confined to a wheelchair at football practice is exceptionally hard, but he knows what his presence means to his teammates.
"It's important to them that they see me out there and know that I still support them. It's hard to see everybody out here, running around, lifting hard every morning, but I do it," said Hancock, who is still on pace to graduate with the class of 2013 next summer.
Nearly 10 months after the injury, Hancock still has no feeling in his legs or chest. He'll have random sensations and twitches, but nothing that gets his hopes up. Doctors say until a full year has passed after a spinal cord injury, it's too early to tell what the long-term prognosis might be.
For the time being, supporting his teammates is helping take Hancock's mind off the reality of his situation.
As coach Jerry Parker prepares for a season with just a handful of returning starters, he can't help but think what an asset Hancock would be on the football field. Quickly though, Parker adds, "He's still an asset, but just in a different way."
Following a season in which South Summit advanced to the semifinals for the third straight year, Parker said he's extremely excited about what 2012 might have in store.
"This is the hardest-working group we've had. As a group, strength-wise, pound for pound, these kids work harder than any group I've had. I'm excited for this bunch," said Parker.
South Summit is a bit undersized compared to past seasons, but Parker said from a defensive standpoint this year's team makes up for it with athleticism and an ability to fly around.
"Honestly, we have speed, but we don't have a ton of size. We're going to have to be tougher than everybody else," said Porter Santos, a returning starter at running back and defensive back.
Santos is expected to be even better this season, but there's a big question mark at quarterback. Junior Caden Christensen and sophomore Ty Jones are both in the hunt to replace last year's starter Matt Rydalch, but coach Parker said until the players strap on their pads it's tough to tell who's ultimately ready for varsity football.
South Summit Wildcats at a glance
Coach: Jerry Parker is entering his 11th overall season as head coach at South Summit, even though it's been over two stints. A graduate of South Summit, Parker's career coaching record is 64-45.
Offense
(3 returning starters; Option offense)
The strength of this year's offense is at running back. Porter Santos rushed for 484 yards on 62 carries last season while Hayden Packard is back after rushing for 450 yards on 64 carries. It will be tough for defenses to key on either, and if South Summit gets a complimentary quarterback to step up and Jay Reidhead rises to the challenge at fullback, it has the makings of an explosive offense. Garrett Crystal is the lone returning starter on the offensive line, but coach Parker said he has confidence in the quick lineman coming up even though they're a bit undersized.
Defense
(5 returning starters)
South Summit held eventual state champion Manti to just six points in last year's 2A semifinals, but incredibly the Wildcats didn't advance by losing 6-0. With five of South Summit's starters returning, including three linebackers, defense should be the strength this season. Crystal, Reidhead and Santos are all returning starters at linebacker, while Nick Vadrine is back after leading the team in interceptions a year ago. Packard led the team interceptions two years ago, and he's also back. Brad Richins and Cole Richins should provide strength at defensive end, but there's concern at defensive tackle. Finding quality players to fill those spots is vital, because in 2A if you can't stop the run you can't win.
Coaches preseason 2A North straw poll: Second
Deseret News 2A North prediction: Third
Bottom line: South Summit's senior class last year didn't win a game when they were freshmen. They persevered after that winless season and ultimately advanced to the semifinals by the time they were seniors. This year's senior class has won at every level. Sure, South Summit lacks the size that every coach would love to have, but that's often less a concern in 2A. The Wildcats are hungry, motivated and athletic this season, and the potential is there to finally get over the hump after two runner-up finishes and a semifinal appearance in the past three years.
2012 Schedule
Aug. 17 — ALTAMONT, 7 p.m.
Aug. 24 — at Morgan, 7 p.m.
Aug. 31 — AMERICAN LEADERSHIP, 7 p.m.
Sept. 7 — MILLARD, 7 p.m.
Sept. 14 — at North Sevier, 7 p.m.
Sept. 21 — MANTI, 7 p.m.
Sept. 28 — at North Summit, 7 p.m.
Oct. 5 — at Emery, 7 p.m.
Oct. 12 — GUNNISON, 7 p.m.
Oct. 19 — Playoffs
.....
Felt's Facts for South Summit High School
All-time record: 321-323-8 (74 years)
Region championships: 10 (1925, 1971, 1972, 1973, 1974, 2000, 2009 co)
Playoff appearances: 35
All-time playoff record: 40-31
State championships: 4 (1977, 1978, 1984, 1988)
State championship record: 4-7
Most played rivalry: 82 meetings with North Summit dating back to 1942. North Summit leads 45-33-4. Meet on Sept. 28.
Felt's Factoid(s): Wildcat Blake Marchant set a state record for blocked kicks in a game — three — when he blocked two punts and a PAT to help the Wildcats win the 1977 Class 1A championship over Beaver.
South Summit coaching history
2005-current —Jerry Parker (50-28)
1997-2005 — Garry Walker (52-55)
1995-1996 — Tom Crittenden (1-17)
1992-1994 — Jerry Parker (13-17)
1975-1991 — Tom Crittenden (113-62)
1972-1974 — Roy Ritchins (14-18)
1970-1971 — Unknown (10-8)
1969 — Doug Toole (4-4)
1967-1968 — Roy Ritchins (5-13)
1958-1966 — Unknown (25-35-1)
1952-1957 — Hue Jewkes (23-16-2)
1913-1951 — Unknown (13-58-2)
.....
Deseret News First Team all-staters the past 10 years
2011 — Bonner Mitchell, OL/DL
2011 — Lucas Rydalch, OL/DL
2010 — Parker Anderson, QB/DB
2010 — Cody Angell, OL/DL
2010 — Chance Field, OL/LB
2010 — Levi Thompson, RB/LB
2010 — Trevor Rydalch, Specialist
2009 — Judd Rydalch, TE/DE
2009 — Trevor Rydalch, Specialist
2009 — Trevor Lewis, QB
2009 — Levi Thompson, RB/LB
2007 — Harley Atkinson, RB/DL
2007 — Conor Peterson, QB/DB
2007 — Marc Yos, RB/LB
2006 — Brayden Stembridge, RB/LB
2005 — Clif Leavitt, RB/DB
2003 — Kolton Buckner, RB
2002 — Mike DeGering, LB
To view second team and honorable mention all-staters through the years, check out the Deseret News All-State Archives.
Twitter: @DNewsPreps
Contributing: Jessica Wilde, Conner Johnson, Steve Mundee and prep football historian George Felt.