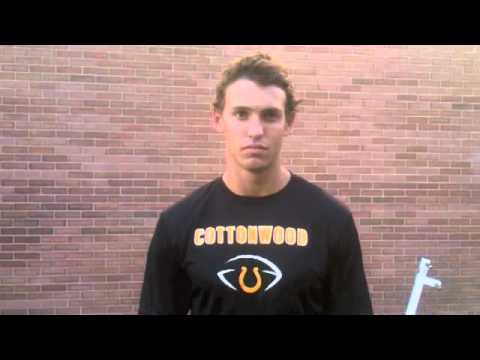 View 18 Items
James Edwards

Scroll to bottom of story to see Cottonwood Felt's Facts
Note: Cottonwood finished with a 5-5 overall record and tied for second in Region 3 with a 3-2 record in 2011. It lost to Northridge, 49-35, in first round of the 5A playoffs.
MURRAY — Damage control has been Greg Croshaw's primary focus since he was hired as Cottonwood's football coach last month, and by all accounts it's gone well.
Croshaw has retained almost all the assistant coaches that were in place before his arrival, and just as important the kids have been receptive to their new situation.
"I told them the first day I got here, 'I'm not going to come in and make you learn my terminology. I'll do that. I just ask you to work hard and play hard and understand that things happen in life that you may not agree or feel right about … but that's going to happen your whole life,'" said Croshaw.
Croshaw brings 25 years of college coaching experience to the program, having spent 24 years as head coach at Dixie State College from 1982-2005. Last season he was with Mesa Community College in Arizona.
"That kind of experience coming into this program, we couldn't be more thankful for that," said star QB Cooper Bateman.
Cottonwood returns nine offensive starters from a year ago, and Croshaw said disrupting an offense that Bateman knows so well wouldn't be smart. Minor tweaks are inevitable with new offensive coordinator TD Crowshaw, but they'll be minimal.
Greg Croshaw said he had no idea Bateman had verbally committed to Alabama when he accepted the job. When he found out, he said it was like expecting to receive a bike on Christmas morning but getting a Porsche instead.
In 10 games last year, Bateman threw for 2,484 yards and 25 touchdowns. Most of his offensive weapons from a year ago are back too. Wide receiver Inoke Lotulelei tallied 1,184 yards and 15 TDs last season, while running back Gabe Hosea racked up 1,399 yards and eight TDs.
Hosea had nearly 250 carries, and the coaching staff wants a similar run-pass ratio this year.
With Bateman at the helm and four of five starters on the offensive line returning, Croshaw isn't worried about the offense. It's the defense he's concerned about.
Cottonwood had the fourth-worst scoring defense in 5A last year at 34 ppg. Only Copper Hills, Lehi and Weber gave up more points.
With only about 53 players expected to be on the team this year, Croshaw expects to platoon more kids to shore up that soft defense.
"You can't take all the great players and put them on offense," said Croshaw.
In Region 3, you can't win if you can't play defense. Jordan and Alta are expected to be the top dogs in Region 3 again this year, and they scored 49 and 48 points, respectively, against Cottonwood last year. Northridge had no problem scoring either in a 49-35 first-round win over the Colts.
Matt Martinez takes over as defensive coordinator for his alma mater after wrapping up his playing career at the University of Utah last fall.
"He's full of energy and knowledge, and most of that has come from playing," said Croshaw.
Cottonwood was a very young defense last year, but eight of those starters are returning, which should make a big difference.
With everything Cottonwood's program — and particularly this senior class — has been through the past three years, Croshaw said this team will have an "us-vs.-the-world mentality."
Based on what he's seen in just a few weeks on the job, Croshaw likens his team to the movie "300." "There's not many of us, but we're pretty good."
Cottonwood Colts at a glance
Coach: Greg Croshaw takes over as Cottonwood's head coach, his first head coaching job in the high school ranks. He's a graduate of Chief Sealth High School in Seattle.
Offense
(9 returning starters; Spread offense)
The potential is there for Cottonwood to be the most explosive offense in 5A. It starts in the trenches. Dakota Jenkins-Baty, Lo Falemaka, Niva Kinikini and Elijah Tupai are all returning starters on the offensive line. Falemaka has committed to Utah. The lone newcomer is Stephen Anderson. Tight end Siale Fakailuatonga has committed to Utah as well, but he's been out all summer with a knee injury and probably won't be back to full strength until region play. QB Cooper Bateman should have a fantastic season playing behind such a great line, while running back Gabe Hosea should benefit as well. Inoke Lotulelei is a BYU commit and arguably the best receiver in the state, while Sione Moli and Tejon Reeves will be quality targets for Bateman too.
Defense
(8 returning starters)
A new defensive philosophy should help Cottonwood improve on its awful defense from a year ago. There's definitely talent to build around. TJ Fehoko was an all-region defensive lineman as a freshman last year. A starter on the offensive line, Tupai will get some playing time on the defensive line as well, a position he is being recruited at. Dorien Banks is back at linebacker after racking up 76 tackles last year, while his brother is a returning starter at cornerback.
Coaches preseason Region 3 straw poll: Third
Deseret News Region 3 prediction: Third
Bottom line: Cottonwood's players have been through so much uncertainty this offseason, they probably can't wait to finally get the season underway. Despite the turmoil, this is still a very talented offensive team that will put up a ton of points. Stopping people is an entirely different matter. Even though the coaching staff is putting more emphasis on defense this season, results won't happen overnight and the Colts will have a hard time beating either Jordan or Alta in Region 3 as a result.
2012 Schedule
Aug. 17 — Bye
Aug. 24 — at Logan, 7 p.m.
Aug. 31 — at Davis, 7 p.m.
Sept. 7 — SKYLINE, Wash., 7 p.m.
Sept. 14 — BINGHAM, 7 p.m.
Sept. 21 — at West Jordan, 7 p.m.
Sept. 28 — at Brighton, 7 p.m.
Oct. 5 — JORDAN, 7 p.m.
Oct. 12 — at Copper Hills, 7 p.m.
Oct. 17 — ALTA, 7 p.m.
.....
Felt's Facts for Cottonwood High School
All-time record: 171-252-3 (42 years)
Region championships: 6 (1984, 2005 co, 2007 co, 2008, 2009 co, 2010)
Playoff appearances: 21
All-time playoff record: 16-21
State championships: 0
State championship record: 0-2
Most played rivalry: 36 meetings with Skyline dating back to 1972. Skyline leads 30-6. Last met 2010.
Felt's Factoid(s): Cottonwood combined with West Jordan for 1,216 total yards and set the single-game record for two teams (Sept. 30, 2011).
Cottonwood coaching history
2012-current — Greg Croshaw
2010-2011 — Josh Lyman (15-6)
2007-2009 — Cecil Thomas (31-7)
2000-2006 — Tom Jones (34-46)
1998-1999 — Steve Coburn (2-17)
1991-1997 — Mike Reardon (12-51)
1979-1990 — Tom Jones (52-68)
1970-1978 — Unknown (24-57)
.....
Deseret News First Team all-staters the past 10 years
2008 — Steve Romero, QB
2008 — Isi Sofele, RB
2008 — Alo Moli, WR
2008 — John Martinez, OL
2008 — Percy Taumoelau, OL
2007 — Isi Sofele, RB
2007 — John Martinez, OL
2007 — Lynn Katoa, LB
2006 — Braydon Anderson, OL
2005 — Alex Cate, QB
2005 — Stanley Havili, RB
2005 — Nick Mostyn, OL
2005 — Matt Martinez, LB
2004 — Alex Cate, QB
2004 — Stanley Havili, RB
2004 — Tyler Hutchins, DB
To view second team and honorable mention all-staters through the years, check out the Deseret News All-State Archives.
Twitter: @DNewsPreps
Contributing: Jessica Wilde, Conner Johnson, Steve Mundee and prep football historian George Felt.