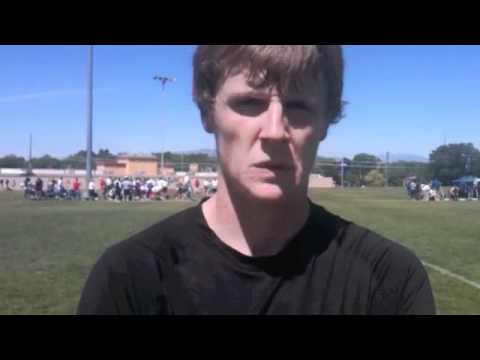 View 14 Items
James Edwards

Scroll to bottom of story to see Bear River Felt's Facts
Note: Bear River finished with a 3-6 overall record and was fifth in Region 11 with a 2-4 record in 2011. It did not qualify for the playoffs.
GARLAND — Picked to finish second in Region 11 last season, Bear River woefully underachieved. The Bears won just three games and missed the playoffs entirely.
For a program not that far removed from being the king of 3A, it was no doubt a frustrating season.
Coach Chris Wise is hoping a new offense, a revamped coaching staff and a new attitude can help the Bears get back to competing for region and state championships.
"We need to develop the brotherhood that we had in the years we did well. That seemed to be the difference-maker at Bear River. The thing they need to do is trust each other — for one — but also make sure they're taking care of each other out there on the field," said Wise.
Like most 3A programs depth is always a concern for the Bears. Wise has little doubt his first-choice kids can compete with anyone in 3A, but the second-choice guys are where the drop off occurs.
"That's not a knock on the people behind — it's just the numbers," said Wise.
Lately, those numbers have taken a hit with many players at Bear River specializing in one sport. During state championship seasons in 2003, 2004 and 2006, most of the elite athletes at the school played multiple sports. The trend has gone away from that.
In 2009 Bear River's boys basketball team won the 3A championship with a record of 23-1. Not one of those basketball starters played football, which suffered through a 3-7 season and missed the playoffs.
Extreme specialization is unlikely in the coming years. Wise's coaching staff got a bit of an overhaul this season, and now includes boys basketball coach Kasey Winters, wrestling coach Jeff Smart and baseball coach Don Hawes. Wise is also the track coach.
"That's what needs to happen at Bear River High School," said Wise.
On the field, Wise believes a change from the traditional ground-and-pound days of Bear River is needed.
With a talented group of receivers and a quarterback who's arguably the best running back on the team, Wise hopes to maximize that potential by switching to a spread offense.
The change isn't necessarily permanent, as Wise always adjusts his schemes based on personnel.
Offensively, Wise said his offensive linemen won't need to learn new terminology, but they will be learning new techniques and fundamentals.
If all goes well, Wise is hoping for a similar run-pass ratio to past seasons. The difference is quarterback Kyle Zundel will get a lot of the carries.
"If he wasn't playing quarterback he'd be battling for the starting halfback," said Wise. "So we've got to do something to involve our quarterbacks in the run game."
Bear River used three quarterbacks last season, and the trio only attempted 127 passes in nine games — most with the Bears trying to play catch up. As a team, the Bears ran the ball 234 times last season.
In the spread offense, Wise wants a 50-50 run-pass ratio. That means more carries for Zundel, who only rushed for 122 yards last year, and much more productivity out of Wade "Bubba" Miller and Garrett Fronk at receiver.
Miller feels very comfortable with the new offense and believes it's progressing well.
"I think we can make a run for the state title this year," said Miller, one of just three returning starters on both sides of the ball this year.
Among those offensive returning starters is junior offensive lineman Branson Fonnesbeck. He's one of at least three underclassmen who will start on the line along with sophomore Carson Gibbs and junior Justus Wise.
"The offensive line is young, but I'm excited about them as a group," said Wise.
Bear River was in the bottom third in 3A last year in points allowed, but Wise expects his team to be more disciplined this year defensively because of some great leadership from Miller, Zundel and others.
Bear River Bears at a glance
Coach: Chris Wise is entering his 11th season as Bear River's head coach, and he's one of the longest-tenured coaches in school history. He's amassed a 61-51 record along the way, including state titles in 2003, 2004 and 2006. He's a graduate of Bear River High School.
Offense
(3 returning starters; Spread offense)
Year after year teams around the state make the switch to a spread offense, but it's rarely a simple or smooth transition. Bear River is the latest to make the switch, and it's counting on the athleticism of quarterback Kyle Zundel for a smooth transition. It's unlikely he'll like it up in the air, but he's arguably Bear River's best ball-carrier and could excel with the switch. Junior Jeremie Selman was Bear River's second-leading rusher last year with 413 yards and four touchdowns, but he missed several summer functions with Bear River and only time will tell if he picks up the offense as quickly as his teammates.
Defense
(3 returning starters)
The three best teams Bear River faced last season were Logan, Stansbury and Morgan, and the Bears allowed 49, 37 and 48 points, respectively. That obviously wasn't good enough last season, and it wouldn't be good enough again this year. Miller and Zundel are offensive starters who will factor in the secondary. Dallin Bergman is a returning starter at linebacker, and someone coach Wise thinks very highly of heading into the 2012 season.
Coaches preseason Region 11 straw poll: Fourth
Deseret News Region 11 prediction: Fourth
Bottom line: Every team is optimistic this time of year, and with a new offense Bear River is right there with them. Realistically though, the Bears face an uphill climb. They were a middle of the pack offensive and defensive team last year, and those trends rarely change overnight. If coach Chris Wise's team has any hope of competing for the Region 11 championship, Kyle Zundel will need to have a banner season at quarterback for the Bears.
2012 Schedule
Aug. 17 — NORTH SANPETE, 7 p.m.
Aug. 24 — at Preston, Idaho 7 p.m.
Aug. 31 — BOX ELDER, 7 p.m.
Sept. 7 — at Stansbury, 7 p.m.
Sept. 14 — OGDEN, 7 p.m.
Sept. 21 — at Ben Lomond, 7 p.m.
Sept. 28 — at Morgan, 7 p.m.
Oct. 5 — GRANTSVILLE, 7 p.m.
Oct. 11 — vs. Pine View, 3 p.m. (At Snow College)
Oct. 17 — TOOELE, 7 p.m.
....
Felt's Facts for Bear River High School
All-time record: 354-411-19 (90 years)
Region championships: 13 (1937, 1959, 1983, 1984, 1985 co, 1986 co, 1987, 1990, 1998, 1999, 2003, 2004, 2006)
Playoff appearances: 31
All-time playoff record: 35-28
State championships: 3 (2003, 2004, 2006)
State championship record: 3-5
Most played rivalry: 91 meetings with Box Elder dating back to 1923. Box Elder leads 64-25-2. Meet on Aug. 31.
Felt's Factoid(s): Bear River's 91 meetings with Box Elder makes the game the longest uninterrupted active rivalry in state history, having been played every season since 1923. The winner has taken home a traveling trophy, the Golden Spike, since 1959. ... BR recovered 10 fumbles — a state record — against Jordan in a 1981 Class 3A playoff game.
Bear River coaching history
2002-current — Chris Wise (61-51)
2001 — Jay Graft (5-4)
1998-2000 — Ryan Bishop (23-10)
1997 — Jeff Kilts (2-8)
1992-1996 — Doug Parry (34-22)
1988-1991 — Mike Rosky (26-16)
1981-1987 — Dan Cox (58-21)
1979-1980 — Mark Pierce (4-14)
1978 — Hal Lewis (2-7)
1976-1977 — Bill Jacobson (7-13)
1968-1975 — Don Peterson (20-50)
1959-1967 — Gerald Simmons (38-39)
1957-1958 — Donald Smith (8-10)
1955-1956 — Hess Peterson (6-11)
1954 — Wendell Hess (6-3)
1952-1953 — Howard "Tuff" Linford (7-9)
1946-1947 — Floyd Rasmussen (4-10)
1944-1945 — Moyle Knudson (2-9)
1943 — Mr. Leavitt (0-6)
1940-1942 — Carl Smith (0-19)
1937-1939 — Lyle Tripp (9-11)
1932-1936 — Vern Harris (7-17)
1927-1931 — Leo Walker (10-14)
1922-1926 — Unknown (6-12)
Deseret News Mr. Football recipients
2004 — Jason Zundel, QB
Deseret News MVPs the past 10 years
2006 — Garland Munns, RB
2003 — Jason Zundel, QB
Deseret News First Team all-staters the past 10 years
2009 — Hunter Payne, LB
2007 — Jake Miller, DL
2006 — Tyson Rasmussen, QB
2006 — Tyler Hess, OL
2006 — Jake Miller, DL
2004 — Tony Martinez, RB
2004 — Dallas Miller, WR
2004 — Travis Harris, OL
2004 — Isaac Williams, OL
2004 — Brady Robbins, DL
2004 — Devin Gibbs, LB
2003 — Tyrell Marble, WR
2003 — Bart Bowen, OL
2003 — Isaac Williams, OL
2003 — Nick Zundel, DL
2003 — Joel Harris, LB
To view second team and honorable mention all-staters through the years, check out the Deseret News All-State Archives.
Twitter: @DNewsPreps
Contributing: Jessica Wilde, Conner Johnson, Steve Mundee and prep football historian George Felt.