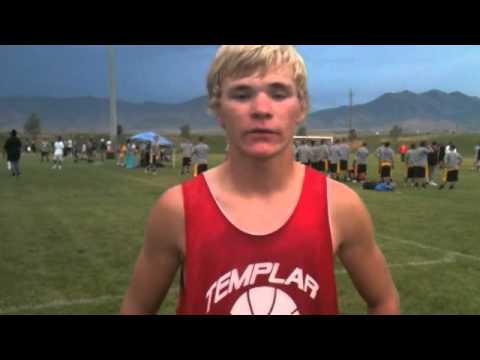 View 20 Items
James Edwards

Scroll to bottom of story to see Manti Felt's Facts
Note: Manti finished with an 11-1 overall record and was first in the 2A North region with a 7-0 record in 2011. It beat Millard, 37-9, in the 2A championship.
MANTI — Heading into the 2011 season, 2A coaches around the state spoke enviously about Manti's size in the trenches. All hinted it might be too much to overcome.
They were right.
Manti lost just one game all year — to 3A's Juan Diego — en route to claiming the 2A state championship. Size on the lines was the difference as it overpowered everyone in 2A.
As the Templars go for a repeat this season, most of that size has graduated. In fact, only one lineman on either side of the ball returns.
Coach Cole Meacham isn't about to lower expectations though.
"We're going to be young, and a couple of the seniors that we could have are going to be inexperienced without any good quality varsity snaps. It will be interesting to see what they do in the first couple preseason games," said Meacham.
Koleton Moon is the lone returning starter on the offensive and defensive line. Taylor Coburn would've been a returning starter as well, but he transferred to Wasatch after his father Steve Coburn took the head coaching job up there.
Just like last year, the newcomers will get tested early as Manti opens the preseason with games against 3A top dogs Delta and Juan Diego.
As the lines adjust to the speed and physicality of varsity football, Manti will lean heavily on a talented group of returning skill-position players.
"We could have some skill kids in a rotation situation. Some years they could be playing every down, but this year they may have to rotate," said Meacham.
He's curious to see if they learn to accept their roles to build team unity.
Running back Austin Jackson said team unity is what made last year's team special. Manti had 15 seniors, and they were in the weight room every morning during the summer building a bond with the underclassmen. As a senior this year, Jackson said it's up to him to help facilitate a similar relationship with the underclassmen to build that team unity up again.
Manti's underclassmen will fill important roles on the offensive and defensive line, not to mention quarterback.
After watching his brother Brady lead Manti to the state title last year, junior Connor Aste takes over at quarterback this season.
"He throws the ball really, really well. As a passer he's probably as good if not better than his brother. Brady ran the offense to perfection, was a huge running threat. As a passer Conner could be better," said Meacham.
Zane Stevens returns at running back after leading Manti last year with 115 carries for 745 yards and 10 TDs.
Jackson, Jamen Miller and Colin Haymond will all rotate at the speed-back position.
Meacham is counting heavily on the experience of the four running backs.
"It's huge. There's really nothing that we haven't seen. They've seen all the different defenses, and the leadership they can give to us, even to the younger linemen, is huge," said Meacham.
At the end of the day, confidence is obviously high for the defending state champs heading into the season. Guarding against overconfidence is something Meacham continually reminds his players about.
"There's some confidence that comes out of them, but there can also be a little bit of complacency if you're not careful.," he said. "If you're not careful, you can have that 'been-there-done-that' attitude and think it's going to come easy and it never does."
Manti Templars at a glance
Coach: Cole Meacham is entering his 12th season as Manti's head coach. He's amassed an 88-42 record and led Manti to the 2A state title in 2003 and 2011. He's a graduate of Richfield High School.
Offense
(5 returning starters; Fly offense)
If a young offensive line comes together, Manti's collection of running backs will be tough to stop. Zane Stevens is back after leading Manti in rushing last year, while Austin Jackson, Jamen Miller, Kyle Larsen and Colin Haymond are all returning contributors. Taylor Soper is a returning blocking back who should pave the way for all of them. With so many talented runners, coach Meacham said his only concern is if everyone is willing to accept their roles — no matter how big or small. The kicking game will actually be a big strength for Manti. Carlo Garcia kicked eight field goals last year, including two in a 6-0 semifinal win over South Summit. The star soccer player is back again this year.
Defense
(5 returning starters)
The Templars are strong at linebacker and in the secondary, but Koleton Moon is the lone returning starter on the defensive line. Manti is particularly strong at outside linebacker, and one or two of those players will be asked to play defensive end. Jackson and Stevens will be the heart of the defense at outside linebacker, while Miller and Haymond are returning starters at corner. Joe Creery should be a solid player in the secondary as well.
Coaches preseason 2A North straw poll: First
Deseret News 2A North prediction: First
Bottom line: There will definitely be a bit of a learning curve with the new offensive line this year, but that's only temporary. Manti is one of the most talented teams in 2A and the newcomers will eventually figure it out. If the players avoid complacency after winning the state title last year, there's no reason this team won't be back in the 2A semifinals again this season.
2012 Schedule
Aug. 17 — DELTA, 7 p.m.
Aug. 24 — at Juan Diego, 7 p.m.
Aug. 31 — at Emery, 7 p.m.
Sept. 7 — at Gunnison, 7 p.m.
Sept. 14 — NORTH SUMMIT, 7 p.m.
Sept. 21 — at South Summit, 7 p.m.
Sept. 28 — NORTH SEVIER, 7 p.m.
Oct. 5 — AMERICAN LEADERSHIP, 7 p.m.
Oct. 12 — at Millard, 7 p.m.
Oct. 19 — Playoffs
.....
Felt's Facts for Manti High School
All-time record: 206-219 (44 years)
Region championships: 7 (1994, 1999, 2001, 2002, 2005 co, 2009 co, 2011)
Playoff appearances: 26
All-time playoff record: 25-23
State championships: 3 (1999, 2003, 2011)
State championship record: 3-2
Most played rivalry: 44 meetings with Juab dating back to 1969. The series is even at 22-22. Last met in 2010.
Felt's Factoid(s): Manti is the only team – high school or college – in the United States (or anywhere else) whose mascot is the Templar.
Manti coaching history
2000-current — Cole Meacham (89-41)
1992-1999 — Brennan Jackson (50-33)
1988-1991 — Bill Sullivan (13-24)
1985-1987 — Robert Gent (16-13)
1982-1984 — Cliff Hughes (1-24)
1980-1981 — Dewey Brundage (3-15)
1977-1979 — Ken Van Tasell (5-23)
1976 — Phil Hall (2-8)
1972-1975 — Russ Felt (17-18)
1971 — David Jensen (3-7)
1969-1970 — Bill Brown (7-11)
.....
Deseret News MVPs the past 10 years
2011 — Aaron Austad, DL
2003 — Jason Thomson, OL
Deseret News First Team all-staters the past 10 years
2011 — Brady Aste, QB/DB
2011 — Austin Jackson, RB/LB
2011 — Landon Carter, OL/DL
2011 — Chris Lauti, OL/DL
2008 — Griffin Aste, QB/DL
2008 — Nick Brown, WR/DB
2008 — Seth Gergetz, OL/DL
2008 — Mathew Olson, RB/LB
2008 — Chase Stevens, RB/LB
2007 — Saula Taufa, OL/DL
2005 — Brandon Puett, TE/LB
2005 — Tim Dalene, TE/DE
2005 — Russell Petersen, OL/DL
2005 — Jace Moore, RB/LB
2004 — Taylor Salanoa, QB
2004 — Devin Frischknecht, WR
2003 — Spencer Harman, RB
2003 — Beau Braithwaite, OL
2003 — Kurt Richards, DL
2003 — Austin Soper, LB
2003 — Nolan Taylor, LB
2002 — Kevin Cox, QB
2002 — Chris Miller, OL
2002 — Kyle Crouch, DB
2002 — Blake Trythall, DB
To view second team and honorable mention all-staters through the years, check out the Deseret News All-State Archives.
Twitter: @DNewsPreps
Contributing: Jessica Wilde, Conner Johnson, Steve Mundee and prep football historian George Felt.