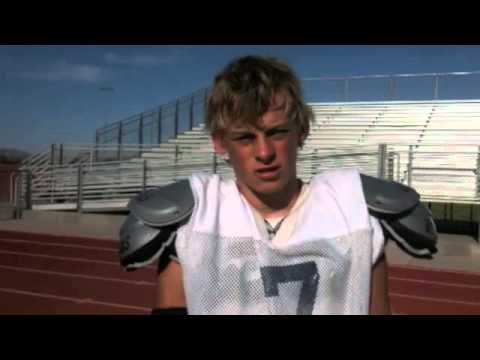 View 12 Items
James Edwards

Note: Juab finished with a 6-5 overall record and was fourth in Region 12 with a 2-3 record in 2011. It lost to Stansbury, 48-21, in the first round of the 3A playoffs.
NEPHI — Despite enrollment numbers that suggest Juab's football team shouldn't be successful in 3A, it continues to hold its own.
In the three years since making the jump from 2A, the Wasps have made the playoffs all three years, including advancing to the quarterfinals in 2010.
Even last year, despite falling to Stansbury 48-21 in the first round, Juab was right there at the half — leading the explosive Stallions 21-20.
Heading into the 2012 season, Juab coach Mike Bowring really likes how his team is coming together and is anxious to get the season underway.
"The reason I feel good is the way the kids have been working," said Bowring. "The kids have done a good job in the summer lifting, and at camp we improved every day. We're optimistic, which I think most people are at this point. They've been working hard, and we're excited to see what we can do."
Like most teams at this time of year, Juab has a lot of holes to fill because of graduation, though Bowring doesn't seem as concerned about that reality as in past years.
That doesn't mean there aren't question marks, however. The quarterback position is still unsettled. The offensive line is almost entirely brand new. And the defense must find a way to get tougher against the best teams in 3A.
Senior Chandler Vance is the lone returning starter on the offensive line. A center last year, he's making the move to right tackle this year. Bowring has been pleased with his transition, and now it's up to the other four starters around him to fill in and rise to the occasion.
"So far they've done a good job. They're picking it up quick, but nothing can replace experience," said Bowring.
The line will likely be protecting junior quarterback Jeff Rowley. Juab's kicker the past two years, Rowley is No. 1 on the depth chart heading into two-a-days. Sophomore QB Nick Robbins has looked very good this summer though, having honed his skills at various summer passing camps.
Regardless of who's taking snaps, wide receiver Curtis Orme is who they'll be looking for. Last season Orme led the Wasps with 561 receiving yards and seven touchdowns.
"Offensively he's legit. He runs good routes. He's good," said Bowring, who really likes the collective talent at receiver.
Fullback is where he's a bit more concerned, a position that may be in flux all season.
Juab was a very middle-of-the-pack defensive team last year, an area it will need to improve on to crack the Top 2 or 3 in Region 12.
"Defensively we just have to be sound and disciplined. Those are things we have to do to get back into region," said Bowring.
Juab Wasps at a glance
Coach: Mike Bowring is entering his ninth season at Juab with a 64-28 record. Prior to moving to Juab, Bowring was the head coach at Monticello for seven years and won a state championship in 2001. Bowring is a graduate of San Juan High School.
Offense
(3 returning starters; Spread offense)
Whether the coaching staff goes with junior Jeff Rowley or sophomore Nick Robbins at quarterback, neither has taken a varsity snap. That's always a concern heading into a season, even though Bowring seems comfortable with both. Fullback is an unsettled position. Dalton Harmon is a player more suited to play slot receiver in the spread offense, but he might need to play fullback if the experiment doesn't work with Trevor Fowkes. Kaden Kelson is another offensive weapon who may end up playing multiple positions, but he's a rushing and receiving threat that defenses will need to keep track of.
Defense
(3 returning starters)
The Wasps surrendered 25 ppg last year, a number it should be able to improve on despite just three returning starters. Fowkes returns at middle linebacker after racking up 60 tackles last year, while Harmon (27 tackles) and Dalton Brooks (41 tackles) are also back this year. Chandler Vance is the lone returning starter on the defensive line. Dalton Gee and Kaden Kelson will help anchor the secondary.
Coaches preseason Region 12 straw poll: Third
Deseret News Region 12 prediction: Fifth
Bottom line: Based on the personnel turnover at Delta and Spanish Fork — not to mention the increased expectations at Payson, Carbon and North Sanpete — every region game this year could be a battle for Juab. The Wasps are talented enough to make the playoffs, but the lack of experience could hurt in what figure to be tight games in the fourth quarter — especially with three of five region games on the road.
2012 Schedule
Aug. 17 — CANYON VIEW, 7 p.m.
Aug. 24 — at Grantsville, 7 p.m.
Aug. 31 — SALEM HILLS, 7 p.m.
Sept. 7 — at Wasatch, 7 p.m.
Sept. 14 — PARK CITY, 7 p.m.
Sept. 21 — at North Sanpete, 7 p.m.
Sept. 28 — SPANISH FORK, 7 p.m.
Oct. 5 — at Payson, 7 p.m.
Oct. 12 — at Delta, 7 p.m.
Oct. 17 — CARBON, 7 p.m.
.....
Felts Facts for Juab High School
All-time record: 239-307-3 (57 years)
Region championships: 6 (1976 co, 1995, 1997, 2005 co, 2006 co, 2008)
Playoff appearances: 29
All-time playoff record: 15-29
State championships: 0
State championship record: 0-2
Most played rivalry: 47 meetings with North Sanpete dating back to 1957. Juab leads 25-22. Meet on Sept. 21.
Felt's Factoid(s): Juab played four overtime games in 2010, the most in a season. The Wasps went into OT three consecutive weeks. ... Juab shares the single-game safety record (tied with two others) of three, set in 1995 against Morgan.
Juab coaching history
2003-current — Mike Bowring (68-34)
1999-2002 — Will Biesinger (18-25)
1992-1998 — Paul Messersmith (48-26)
1991 — Alan Sperry (3-6)
1988-1990 — Raymond Nielsen (4-21)
1985-1987 — Fenton Broadhead (8-18)
1976-1984 — Lee Scott (35-54)
1971-1975 — unknown (24-25-2)
1967-1970 — Dennis Hansen (18-19)
1964-1966 — LeRoy Davis (1-23)
1962-1963 — Verl Shell (2-14)
1960-1961 — unknown (1-15-1)
1959 — Cary LaComb (3-4)
1957-1958 — unknown(4-11)
1956 — Marcus Garrett (2-6)
1955 — unknown (0-6)
.....
Deseret News First Team all-staters the past 10 years
2010 — Elias Brooks, LB
2008 — Jordan Bainter, OL/DL
2008 — Jameson Izatt, OL/DL
2008 — Cody Keisel, FB/LB
2008 — Chandler Street, RB/DB
2007 — Kade Brough, OL/DL
2007 — Jordan Jones, QB/DB
2006 — Tyler Davidson, WR/LB
2006 — Landon Nielson, WR/DB
2006 — Todd Watts, OL/LB
2005 — Shane Blackett, QB/DB
2005 — Kyle Callaway, OL/DL
2005 — Trent Stowell, OL/DL
2004 — Trevor Jones, RB
2004 — Matt Howard, RB
2004 — Kellen Nielson, WR
2004 — Jordan Guillory, OL
2002 — Justin Hooper, DL
To view second team and honorable mention all-staters through the years, check out the Deseret News All-State Archives.
Email: [email protected]
Twitter: @DNewsPreps
Contributing: Jessica Wilde, Conner Johnson, Steve Mundee and prep football historian George Felt.