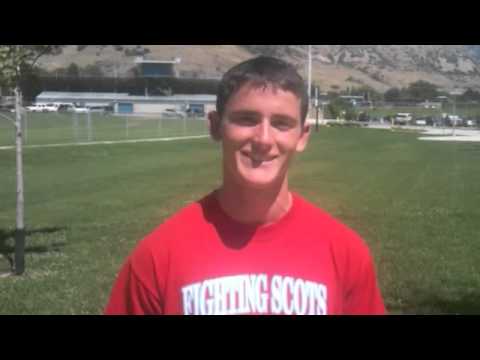 View 16 Items
James Edwards

Scroll to bottom of story to see Ben Lomond Felt's Facts
Note: Ben Lomond finished with a 2-7 overall record and was sixth in Region 11 with a 1-5 record in 2011. It did not qualify for the playoffs.
OGDEN — Bill Mierzejewski isn't naïve.
He did his research on Ben Lomond's football team before accepting the job as head football coach, but he wasn't deterred by the program's 19-81 record the past decade.
"I knew what I was getting into," said Mierzejewski. "I've won state championships in football, basketball and girls basketball. I've got some experience. I see that my job is to captivate and motivate them. I think there's athletes here. I'm not sure if they're football players yet. But, I believe in myself enough to know we can do this."
Mierzejewski has never coached in Utah, but he has 30-plus years of head coaching experience between Wyoming, Idaho and overseas in countries like Japan, South Korea and the Phillipines. His longest stint was 20 years at Kadena High in Okinawa, Japan, where he retired last October.
Since being hired in May following the sudden resignation of coach Don Kenyon, who needed to return to Nebraska to tend to an ailing parent, Mierzejewski has been pleasantly surprised. He said the kids have a good attitude, and they're in pretty decent shape.
"These kids are ready to be successful, but I'm not absolutely sure points on the scoreboard are going to determine their success. I have expectations for this year, but I'm not going to tell them what they are until they're ready to hear them," said Mierzejewski.
So far, the kids like the positive attitude their new coach has brought to the program, which will be quite young with only about eight seniors.
"He's brought a lot of confidence. He's made the team really confident in what we've accomplished so far," said senior Braxton Chapman.
To increase that confidence, Ben Lomond is abandoning the spread offense from a year ago in favor of the Wing-T.
Mierzejewski said the run-oriented offense is a great way to build the confidence of young linemen, which in turn helps the running backs.
"We will run a play to help a lineman block depending on what the defense is doing. If you can build a lineman's confidence, he can hit the hole a lot harder," he said.
Mierzejewski will try and feature his eight seniors as much as possible, which includes senior quarterback Austin Sullins and senior running back Chapman.
The offensive line will be anchored by a pair of juniors, Randhu Zavala and Keith Holman. Both are pretty quick and have experience at the varsity level from last season.
Andrew Short, Ben Lomond's girls basketball coach, will serve as offensive coordinator, and Mierzejewski has a ton of confidence in what he brings to the table.
The same goes for defensive coordinator Stephen Gordon. An Arizona native, Gordon played for Urban Meyer at the University of Utah, even though injuries prevented him from making significant contributions.
Alberto Garcilazo and Mario Anderson will anchor the 3-4 defense at linebacker, but Mierzejewski believes in rotating players regularly to keep everyone fresh. He anticipates playing as many as 30 to 40 players each game.
"There are good football players here. There are good athletes. Most of my work is from the neck up. One thing they'll be absolutely sure of: I'll never quit on them. I'll never let them down," said Mierzejewski.
The first-year coach believes heavily in academics, and in the 55 minutes between when school lets out at 2:35 and when football practice begins at 3:30, he'll make sure the players are in his classroom studying.
He also wants to involve the community as much as possible, which is no easy task with the program's tradition of losing. Ben Lomond's last winning season was a 6-5 record in 2000.
"There are some good kids here to get behind," said Mierzejewski.
Ben Lomond Scots at a glance
Coach: Bill Mierzejewski is entering his first year as head coach at Ben Lomond. He's never been a head coach in Utah, but he has 30-plus years of coaching experience in Idaho and Okinawa, Japan. He's a graduate of Plainville, Conn.
Offense
(5 returning starters; Wing-T offense)
Ben Lomond only had 11 touchdowns last year, and most of those were scored by departing seniors. The coaching staff is hoping a switch to the Wing-T offense will increase that productivity. Austin Sullins will start at quarterback after very limited playing time at the position last year. He did throw a second-half TD against Stansbury, though. Khalil Cullis will be his primary receiving threat. Braxton Chapman takes over for graduated Nate Watkins as the primary running back, with Mario Anderson expected to step in and fill the fullback role.
Defense
(5 returning starters)
Most teams run the football in Region 11, and stopping the run wasn't much of a strength for the Scots last year. The coaching staff believes in rotating multiple players in and out to keep them fresh throughout the game and the season. The team has several quality defensive end-type players who should help in that category. Alberto Garcilazo and Anderson will anchor the linebacker positions, with Chapman expected to do the same at safety.
Coaches preseason Region 11 straw poll: Seventh
Deseret News Region 11 prediction: Seventh
Bottom line: Coach Mierzejewski is a great motivator, and so far the kids have bought in. If he can keep that up, the young Scots should win a few games this year and lay the foundation to try and be competitive in the coming years as well. At a school that hasn't had a winning season since 2000 though, that is much easier said than done.
2012 Schedule
Aug. 17 — at Union, 7 p.m.
Aug. 24 — at Wasatch, 7 p.m.
Aug. 31 — CARBON, 7 p.m.
Sept. 7 — at Ogden, 7 p.m.
Sept. 14 — MORGAN, 7 p.m.
Sept. 21 — BEAR RIVER, 7 p.m.
Sept. 28 — at Grantsville, 7 p.m.
Oct. 5 — at Stansbury, 7 p.m.
Oct. 11 — at Tooele, 7 p.m.
Oct. 17 — STANSBURY, 7 p.m.
.....
Felt's Facts for Ben Lomond High School
All-time record: 167-379-9 (59 years)
Region championships: 3 (1965, 1967 co, 1985 co)
Playoff appearances: 11
All-time playoff record: 10-11
State championships: 0
State championship record: 0-3
Most played rivalry: 63 meetings with Ogden dating back to 1953. Ogden leads 44-19. Meet on Sept. 14.
Felt's Factoid(s): The winner of the Ben Lomond-Ogden game claims the Iron Horse — one of just seven traveling trophies currently being contested in Utah prep football. Seven of their 63 matchups have gone into overtime, the most between any two teams. ... BL's Emmett White holds the state record for all-purpose career yards with 8,532 set from 1994-97. He also returned seven kickoffs for touchdowns during his career, another Utah prep record.
Ben Lomond coaching history
2012 — Bill Mierzejewski
2011 — Don Kenyon (2-7)
2007-2010 — Jeff Kilts (6-34)
2005-2006 — Nick Howell (4-16)
2003-2004 — Art Burtenshaw (6-15)
2000-2002 — Aaron Tillett (10-22)
1997-1999 — Guy Andersen (11-18)
1995-1996 — Garry Walker (1-17)
1991-1994 — Roger Howell (9-27)
1989-1990 — Jerre Holmes (4-15)
1984-1988 — Ralph Johnson (18-33)
1983 — Holger Hansen (5-6)
1976-1982 — Brent Belnap (28-38)
1963-1975 — Al Kapp (35-74)
1953-1962 — William "Twist" Jones (28-57)
.....
Deseret News First Team all-staters the past 10 years
(None)
To view second team and honorable mention all-staters through the years, check out the Deseret News All-State Archives.
Email: [email protected]
Twitter: @DNewsPreps
Contributing: Jessica Wilde, Conner Johnson, Steve Mundee and prep football historian George Felt.