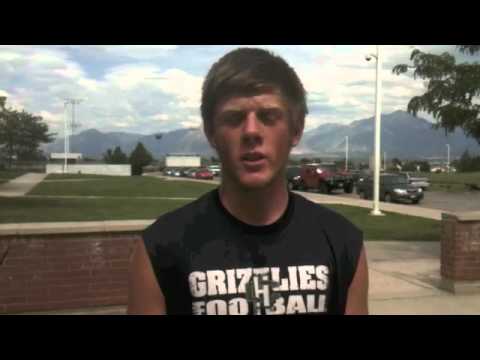 View 8 Items
James Edwards

Scroll to bottom of story to see Copper Hills Felt's Facts
Note: Copper Hills finished with a 3-7 overall record and was last in Region 3 with an 0-5 record in 2011. It did not qualify for the playoffs.
WEST JORDAN — If you can't beat 'em, join 'em.
That's kind of what Copper Hills' football team is doing in 2012.
In an effort to keep up with elite passing teams in Region 3 like Jordan, Cottonwood, Alta and West Jordan, the Grizzlies are ditching the veer offense in favor of the spread. Those four teams averaged 46.5 ppg against Copper Hills last year, and coach Kai Kapele knows his team needs a bit more offense to compete.
"Last year when they got good at stopping our veer option, we couldn't throw the ball. So we looked at more of a balanced attack this year," said Kapele.
Without a marquee running back returning this season, and with a couple decent quarterbacks ready for their opportunity at the varsity level, now is a great time to make the switch.
Christian Reese and Dustin Soter will share time at quarterback this year, and Soter can't wait.
"It's my favorite offense. You get to run back there, make some plays. It's the offense I've always wanted to run. I think we'll be successful," said Soter. "It's kind of hard transitioning from last year's offense to this, but as the summer goes on we're executing a lot better. So I think it's going to be a big year for us."
Kapele has no intention about naming either Reese or Soter the No. 1 guy. He's going to let the season play out and let game situations determine who should be on the field. Both will play receiver, so whether they're playing quarterback or not they'll be making contributions.
Soter didn't play any quarterback last year, but was the sophomore quarterback two years ago. Experience is an area Reese has a leg up. He started the last two games for Copper Hills last year completing 23-of-43 passes for 360 yards and one TD.
After Reese the entire offense is brand new. Every starting lineman, running back and receiver from a year ago graduated.
With almost no varsity experience returning and the Grizzlies implementing a new offense, the preseason will be very important if they have any chance at competing in Region 3.
"We've got to hope we get momentum with our preseason. We're going to need a lot of help, but all we can do is play one game at a time. I know these kids have been working hard and we're just trying to change their attitude," said Kapele.
In the 17 years since Copper Hills opened, the football team has never had a winning record.
So much of that is attitude according to Kapele. The Grizzlies aren't very big compared to a lot of the other 5A teams around the state, and Kapele said his players get intimated when they do line up against bigger players. He's trying to convince them it's not all about size — it's about technique as well.
So much of the summer has been spent on getting the kids to buy into that message.
"The offensive and defensive line — they're the foundation of any program. You can't win without them and that's been our focus, really working with them. We can't execute any plays without them. We can't make stops without them," said Kapele.
Defensively, Copper Hills wasn't good at all last year, but with roughly six returning starters it could be a strength this year. The pass defense should be better at least.
One of the perks of being a passing offense is that your defense get to work against it in practice every day. Against elite Region 3 QBs like Cottonwood's Cooper Bateman, Jordan's Austin Kafentzis and West Jordan's Michael Moorehead, that can only help.
Copper Hills Grizzlies at a glance
Coach: Kai Kapele is entering his fourth year as head coach at Copper Hills, a program that is 5-25 in Kapele's previous three years. He's a graduate of St. Louis High in Hawaii.
Offense
(1 returning starter; Spread offense)
With a new offense and 10 new starters, there's obviously a lot of uncertainty surrounding the Grizzly offense this season. Christian Reece and Dustin Soter will share time at the all-important QB position, while Jorge Alvarez and Tyler Smith should see some time at running back. Most of Copper Hills' wide receivers got some varsity playing time defensively, but there's a big learning curve on the offensive side of the ball.
Defense
(6 returning starters)
With a new offense, Copper Hills' defense needs to be sharp early if the program has any hope of exceeding last year's win total. Troy Humphreys and Aaron Stroebehn combined for 71 tackles last year and are both returning contributors at linebacker. Alvarez is another player expected to make contributors at linebacker. Soter, Anthony Hall and Jacob Clayson got significant experience in the secondary last year, but as evidenced by how easily teams passed on Copper Hills the trio must get better this season.
Coaches preseason Region 3 straw poll: Sixth
Deseret News Region 3 prediction: Sixth
Bottom line: Copper Hills has never had a winning season, and it's hard to imagine it happening this year with so much talent around the region. The coaching staff is trying to be proactive though to help the Grizzlies compete, and a switch to the spread offense will accommodate the team's personnel better. Running the spread isn't easy, and this will probably be a transition season for the players and coaching staff.
2012 Schedule
Aug. 17 — TAYLORSVILLE, 7 p.m.
Aug. 24 — KEARNS, 7 p.m.
Aug. 31 — at Hillcrest, 7 p.m.
Sept. 7 — HERRIMAN, 7 p.m.
Sept. 14 — at American Fork, 7 p.m.
Sept. 21 — at Jordan, 7 p.m.
Sept. 28 — at West Jordan, 7 p.m.
Oct. 5 — at Alta, 7 p.m.
Oct. 12 — COTTONWOOD, 7 p.m.
Oct. 17 — BRIGHTON, 7 p.m.
.....
Felt's Facts for Copper Hills High School
All-time record: 39-130 (17 years)
Region championships: 0
Playoff appearances: 3
All-time playoff record: 0-3
State championships: 0
State championship record: 0-0
Most played rivalry: 18 meetings with West Jordan dating back to 1995. West Jordan leads 18-0. Meet on Sept. 28.
Felt's Factoid(s): Copper Hills holds the record for giving up the most points and still winning the game. Riverton scored 60, but the Grizzlies topped that with 61 in a double-overtime thriller in 2000. The 121 combined points are the most in a game since 1926 and the second-most all-time when both teams scored.
Copper Hills coaching history
2009-Current — Kai Kapele (4-25)
2005-2008 — Art Erickson (13-27)
2000-2004 — Mike Smith (15-39)
1995-1999 — Ron Halbertson, Jr. (7-39)
.....
Deseret News First Team all-staters the past 10 years
(None)
To view second team and honorable mention all-staters through the years, check out the Deseret News All-State Archives.
Twitter: @DNewsPreps
Contributing: Jessica Wilde, Conner Johnson, Steve Mundee and prep football historian George Felt.