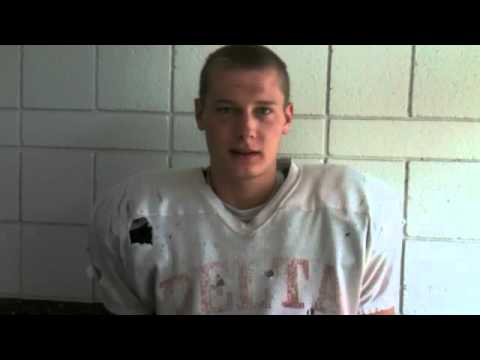 View 7 Items

Scroll to bottom of story to see Delta Felt's Facts
Note: Delta finished with a 10-2 overall record and won the Region 12 title with a 5-0 record in 2011. It lost to Cedar, 28-6, in the 3A quarterfinals.
DELTA — Whenever Delta coach Russ Henrie gets asked around town about the upcoming football season, he can't help but be honest and express his concern about how things will come together.
Inevitably, people tell Henrie everything will be fine. It always is.
"That's what everybody keeps telling me, 'Oh coach, you'll get it figured out, blah, blah, blah. We're not worried,'" said Henrie. "But I'm worried."
He's worried about having only a handful of returning starters. He's concerned there were 20 fewer kids at team camp this summer than in past years. He's worried about whether players will accept their roles for the good of the team.
History says everything will probably be just fine. It usually is with Delta football.
Henrie isn't prepared to rely on it blindly though.
"I don't feel good enough about it to just count on it just coming through for us. The reason it all happens is a lot of hard work and kids committing. If we can get that then you bet I feel confident," said Henrie.
It might take some time for Henrie and his staff to put the offensive and defensive personnel puzzles together, but if "everybody swallows their pride and plays where we need them to play and let us put the puzzle together I think we'll be OK when the time comes," he said.
In his seven years as head coach, Henrie has guided the Rabbits to the quarterfinals each year. Even though there's uncertainty now, this year's team has something in common with the previous seven teams — a bunch of hard-nosed kids who are willing to work.
"In the end that's all the matters," said Henrie.
Delta will need to be tough to survive a tough schedule. It opens against Manti and Millard — the returning 2A champion and runner-up — and then wraps up the preseason with consecutive road games at Stansbury, Park City and Taylorsville.
After that, it dives into region play where everyone will be gunning for the defending Region 12 champs.
"Our resolve is going to be tested. We have a tough schedule and teams are gunning to get us. We've got a lot of maturing to do," said Henrie.
Returning starting seniors McKay Shamo and Dallin Christensen will be counted on immensely for that leadership on both the offensive and defensive line. Delta has some quality kids at running back and quarterback who should excel in the inverted wishbone offense, but Henrie said they won't go anywhere if no one's opening up holes for them.
Ezra Seui will be the feature tailback for the Rabbits.
With Christian Hatch, Kaden Hughes and Colin Christensen dominating the running game last year, Seui only had 65 carries, but he still rushed for 346 yards and five TDs. If things go well, he will see over 200 carries like Hatch last year.
Henrie hasn't settled on who will take over at quarterback for Christensen, who was a Deseret News First-Teamer last year.
Junior A.J. Schena and senior Hunter Johnson have been battling it out for the job this summer, and Henrie said they're both good kids.
The team got a big boost when Morgan Bogue decided to come out for football after sitting out his sophomore season last year to focus on wrestling.
"He's going to help us a ton. He's a tough kid. When he was a freshman, we were very impressed with him," said Henrie.
Kale Leavitt, Kole Lyman and Danny Dutson should all get plenty of carries at fullback.
Delta Rabbits at a glance
Coach: Russ Henrie, a Delta High graduate, is entering his eighth season as Delta's head coach. He's amassed a 56-27 record and led the Rabbits to the 3A quarterfinals all seven years, including a pair of semifinal appearances.
Offense
(4 returning starters; Inverted wishbone offense)
It's going to take some time for the seven new starters to settle in, but when they do the Rabbits could have a pretty strong running game. Delta has some depth at fullback with Kale Leavitt, Kole Lyman and Danny Dutson, and the later two are bruising runners. Big things are expected of Ezra Seui at tailback, and whoever lands the starting quarterback job has big shoes to fill replacing three-year starter Colin Christensen.
Defense
(4 returning starters)
The same kids who are returning starters on offense are back on defense as well. McKay Shamo and Dallin Christensen will anchor the defensive line, while Seui is the lone returning starter and linebacker and Hunter Johnson is back at safety. Coach Henrie said he'd prefer not to start Johnson in the secondary if he's also the quarterback, but he might not have a choice. Neither Lyman nor Dutson played much linebacker last year, but they'll be asked to shore up the defense along with Seui.
Coaches preseason Region 12 straw poll: Second
Deseret News Region 12 prediction: Second
Bottom line: It's human nature for coaches to worry, so it's no surprise coach Henrie has his reservations about the upcoming season. The Rabbits may take their lumps in the preseason while the newcomers adjust, but once region play roles around you can bet the hard-nosed Delta kids will be right in the thick of things eying another region title.
2012 Schedule
Aug. 17 — at Manti, 7 p.m.
Aug. 24 — MILLARD, 7 p.m.
Aug. 31 — at Stansbury, 7 p.m.
Sept. 7 — at Park City, 7 p.m.
Sept. 14 — at Taylorsville, 7 p.m.
Sept. 21 — PAYSON, 7 p.m.
Sept. 28 — CARBON, 7 p.m.
Oct. 5 — at Spanish Fork, 7 p.m.
Oct. 12 — JUAB, 7 p.m.
Oct. 17 — at North Sanpete, 7 p.m.
.....
Felt's Facts for Delta High School
All-time record: 512-259-24 (89 years)
Region championships: 30 (1927, 1930 co, 1931, 1932 co, 1938, 1939, 1941, 1942, 1947 co, 1961, 1964, 1965, 1966, 1968, 1970 co, 1975, 1976 co, 1977, 1983 co, 1986, 1991 co, 1993, 1994, 2000, 2003 co, 2004 co, 2005 co, 2009 co, 2010, 2011)
Playoff appearances: 51
All-time playoff record: 63-42
State championships: 9 (1938, 1966, 1968, 1975, 1985, 1986, 1991, 1995, 2001)
State championship record: 9-3
Most played rivalry: 88 meetings with Millard dating back to 1926. Millard leads 47-37-4. Meet on Aug. 24.
Felt's Factoid(s): Delta has made the state playoffs a state-record 37 straight years, every season since 1975.
Delta coaching history
2005-Current — Russ Henrie (56-27)
1982-2004 — Dean Fowles (161-78)
1979-1981 — Clark (21-12)
1974-1978 — Unknown (45-13)
1971-1973 — Bill Brown (20-12)
1970 — Jim Porter (7-2)
1968-1969 — Brent Rock (20-6)
1967 — Myers (5-3)
1965-1966 — Jim Porter (24-1)
1957-1964 — Robert Horlacher (48-22)
1956 — Joe Martinez (3-4)
1954-1955 — Jim Durrant (7-9)
1950-1953 — Bruce Osborne (16-13)
1947-1949 — Nephi Schwab (9-12)
1946 — Reginald LeFevere (0-4)
1942-1945 — F.G. "Frosty" Richards (9-13)
1941 — Mr. Anderson (5-2)
1939-1940 — Howard Schaub (10-6)
1936-1938 — Jay Tolman (13-5)
1931-1935 — Unknown (12-8)
1928-1930 — Joe Snow (11-2)
1924-1927 — Unknown (9-7)
.....
Deseret News First Team all-staters the past 10 years
2011 — Gerry Banda, OL
2011 — Colin Christensen, DB
2010 — Dallin Henrie, OL
2010 — Hadley Myers, LB
2009 — Nick Nissen, OL/DL
2009 — Derek Peterson, RB
2008 — Dayton DeLoach, DB
2007 — Curt Eliason, DB
2006 — Dallin DeLoach, LB
2006 — Jason May, LB
2004 — Jacob George, OL
2004 — K.C. Rawlinson, DB
To view second team and honorable mention all-staters through the years, check out the Deseret News All-State Archives.
Contributing: Jessica Wilde, Conner Johnson, Steve Mundee and prep football historian George Felt.