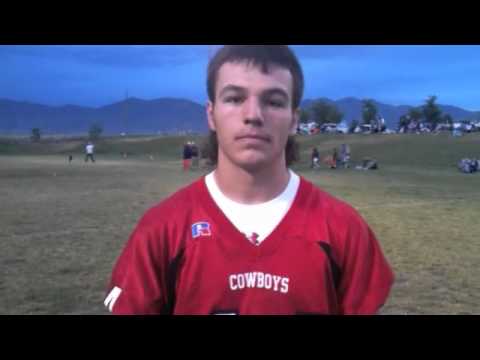 View 13 Items

Scroll to bottom of story to see Grantsville Felt's Facts
Note: Grantsville finished with a 7-5 overall record in 2011 and second in Region 11 with a 5-1 record. It lost to Hurricane, 41-0, in the quarterfinals.
GRANTSVILLE — Tony Cloward can't talk about how young Grantsville's football team is anymore.
The opening of Stansbury High forced Cloward to start numerous underclassmen the past three years, but those kids are all grown up.
Grantsville returns nine offensive and defensive starters heading into the 2012 season, and most are seniors with two or three years of varsity experience already.
A year ago the Cowboys snuck up on a lot people, finishing second in Region 11. They won't sneak up on anyone this year in the 100-year anniversary of Grantsville High.
"Since the split with Stansbury, we were forced to go young. That really hurt, and it hurt Tooele as well," said Cloward. "This year we're very optimistic. We're very confident."
After starting last season 0-3, Grantsville went 7-2 the rest of the way. Those lone losses came against Stansbury in region play and Hurricane in the 3A quarterfinals. Neither game was close, with Stansbury winning 33-6 and Hurricane winning 41-0.
"The No. 1 thing that we saw between those two teams was strength. We came back and said, 'Kids, we've got to get stronger,'" said Cloward.
The kids bought in. Attendance at offseason weight training has been better than in Cloward's previous seven seasons.
"These kids have lived in the weight room. I can honestly say we're stronger this year. Are we strong enough? We'll find out," said Cloward.
Throughout the offseason, the coaches have used the Hurricane game as motivation. Grantsville wants to compete with teams like Hurricane — not just be their next step on the march to a championship.
If that's going to happen, defense will be the Cowboys' catalyst.
Grantsville returns all four starting linebackers from a year ago, with all four playing virtually every minute of every game. Senior Skyler Cloward and junior Ky Fisher start in the middle, with Kaleb Ware and Max Cook starting on the outside. All four can run well.
"We run a 3-4 scheme, and you can't play defense for us if you can't run. We go with speed over size, except for maybe the nose guard position. We run and we run well," said Cloward.
Grantsville was fifth in 3A scoring defense last year at just over 15 ppg, and Fisher led the way with 106 tackles. Skyler Cloward was a close second with 96 tackles.
Offensively, with so many returning starters Grantsville figures to be much better than the 18th-best scoring team in 3A it was a year ago.
It starts on the line, with all five starters returning — even though one of the five might get beat out by junior Carson Stroh. The other four linemen are right tackle Skyler Cloward, right guard Dillon Ellis, center Austin Delaney and left tackle Johnathan Morton.
That experience should pave the way for the Cowboys to be a much better running team.
"We have legitimately five to six kids that we feel confident running the ball at the varsity level," said coach Cloward.
Jared Lambert led the team in yards last year with 518, while Fisher led in touchdowns with 10. Quarterback Cook has a much better understanding of the offense, and his coach said he'll be the catalyst of the offense.
"He's the real deal," said Cloward.
Grantsville Cowboys at a glance
Coach: Tony Cloward, a Grantsville alum, is entering his eighth season as Grantsville's head coach. He's amassed a 30-51 in those seven years.
Offense
(9 returning starters; Veer offense)
Grantsville only averaged 17 ppg last year, and turnovers were partially to blame. Quarterback Max Cook threw for over 1,000 yards out of the veer offense, but he threw 11 interceptions and just one touchdown. Coach Cloward has taken his team to several 7-on-7 tournaments this year to improve that passing efficiency. Dillon Hutchins didn't catch a pass last year, but he's emerged as the top receiving threat, while Kyle Landon should be productive as well at the slot receiver. Ky Fisher and Jared Lambert will be the top running threats.
Defense
(9 returning starters)
Linebacker is the strength of this team with Skyler Cloward, Fisher, Kaleb Ware and Cook, but the line should be pretty good as well. Jacob Riding, Devin Adams and Wyatt Smith will all rotate in at defensive tackle to keep fresh, while Kyle Mecham and Bronson Degelbeck are both in the hunt for the vacated starting nose guard spot. Kelby Landon and Dallin Williams will start at the safety positions, but the cornerbacks will both be new and that's probably the lone weakness of the defense.
Coaches preseason Region 11 straw poll: Third
Deseret News Region 11 prediction: Second
Bottom line: Not much was expected of Grantsville last year, and it used that as motivation to produce a second-place finish in Region 11. This year expectations are high, and the players must learn to play with a target on their backs. Defensively, the Cowboys should be fine, but the offense really struggled to move the ball last year. Grantsville is counting on a strong running game to change that, but it also needs much better decision-making out of the quarterback position.
2012 Schedule
Aug. 17 — WASATCH, 7 p.m.
Aug. 24 — JUAB, 7 p.m.
Aug. 31 — at Judge, 7 p.m.
Sept. 7 — at Morgan, 7 p.m.
Sept. 14 — at Uintah, 7 p.m.
Sept. 21 — at Tooele, 7 p.m.
Sept. 28 — BEN LOMOND, 7 p.m.
Oct. 5 — at Bear River, 7 p.m.
Oct. 12 — STANSBURY, 7 p.m.
Oct. 17 — OGDEN, 7 p.m.
.....
Felts Facts for Grantsville High School
All-time record: 359-418-21 (95 years)
Region championships: 9 (1960, 1967 co, 1973, 1978, 1984 co, 1985, 1986, 1991 co, 1998)
Playoff appearances: 35
All-time playoff record: 39-32
State championships: 3 (1992, 1996, 1997)
State championship record: 3-5
Most played rivalry: 75 meetings with Morgan dating back to 1945. Morgan leads 45-28-2. Meet on Sept. 7.
Felt's Factoid(s): Grantsville holds the state record (tied with Clearfield) for season interceptions with 33 set in 1997. ... Cowboy Alan Mouritsen holds the season all-purpose yardage record, 3,287 set in 1997 and the career rushing TD record, 70, set from 1996-98. He also holds the record for career TDs, 77, and season TDs, 42 (1997).
Grantsville coaching history
2005-current — Tony Cloward (30-50)
2003-2004 — Les Hamilton (14-11)
1987-2002 — Kevin Butler (119-67)
1983-1986 — Bill Mikelson (33-10)
1966-1981 — Larry Harrison (65-85)
1964-1965 — Evan Crowther (9-6)
1957-1963 — Glen Rupp (21-30)
1953-1956 — Don Sandburg (4-22)
1951-1952 — unknown (4-5)
1949-1950 — Ken Linsday (7-7)
1934-1948 — unknown (18-90)
1933 — Sterling Anderson (0-6)
1915-1932 — unknown (42-46)
.....
Deseret News First Team all-staters the past 10 years
2011 — Skyler Cloward, LB
2008 — Austin Gumucio, LB
2005 — Jared Thompson, DL
2004 — Derek Erickson, TE
2003 — Zach Nelson, QB
2003 — Derrick Erickson, TE
2003 — Boone Bolinder, OL
2003 — Troy Prince, DL
2003 — Kevin Mouritsen, LB
To view second team and honorable mention all-staters through the years, check out the Deseret News All-State Archives.
Email: [email protected]
Twitter: @DNewsPreps
Contributing: Jessica Wilde, Conner Johnson, Steve Mundee and prep football historian George Felt.