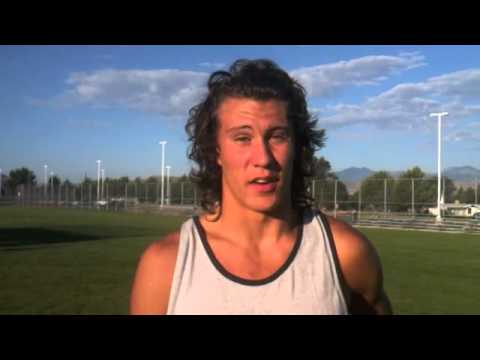 View 11 Items

Scroll to bottom of story to see Alta Felt's Facts
Note: Alta finished with a 9-2 overall record and won the Region 3 title with a 5-0 record in 2011. It lost to Syracuse, 16-10, in the first round of the 5A playoffs.
SANDY — Alta is in a quarterback quandary. Senior Dylan Rivas and junior Chipper Lucero are both worthy of leading the Hawks this year.
Coach Bob Stephens has been down this path before.
Back in 2007 when he was an assistant coach, Alta had a tough decision to make between senior Ryan Rosenvall and junior Ammon Olsen.
"It kind of reminds me of that whole scenario 'cause we were unsure with both of them right up until the end," said Stephens.
In fact, both Rosenvall and Olsen got to play a half in Alta's season-opening victory over Spanish Fork. Rosenvall clearly rose to the occasion on that night, won the job and was eventually named the Deseret News 5A MVP for leading the Hawks to the state championship.
A year later, Olsen led Alta to another state title and was also named 5A MVP.
Back in 2007, Stephens didn't have to make the final decision. However, now that's he's the head coach it's his call.
"It's too hard to tell right now. Probably when we get into two-a-days when one clearly starts to emerge we'll make that decision. If no one does, it may be Timpview (in Week 1) when we make that decision," said Stephens.
Both Rivas and Lucero are outstanding athletes with strong arms and a good understanding of the spread offense. Both threw about a dozen passes at the varsity level last season with each tossing a touchdown.
Whoever ultimately lands the job, they'll have some outstanding weapons to throw to. Two of Alta's three returning offensive starters are wide receivers — Harrison Handley and Ammon Barker.
Both have Division I talent, and Handley already has offers from Utah, Utah State and BYU. Two weeks ago Handley was invited to participate in the Elite 11 camp in California and he was named the camp's top receiver by the coaches. Barker is back after leading Alta with six receiving TDs last year to go along with his 335 receiving yards.
After Handley and Barker though, there are a ton of questions marks surrounding the football team in the final year before the split with new Corner Canyon High School.
Alta only returns one other starter on offense and zero starters on defense.
"Last year we were very senior heavy, so a lot of these kids were just biding their time, waiting for their opportunity," said Stephens. "We have some good talent coming in. They're just not tested."
Everyone is hungry to make amends for last season. Alta went into the 5A playoffs regarded as the biggest threat to knock off No. 1 Lone Peak. Instead, it was stunned in the first round by Syracuse, which played phenomenal defense en route to a 16-10 win.
Injuries to Alta's starting running back and quarterback didn't help, but Stephens said it shouldn't take away from what Syracuse accomplished.
"I'll never take anything away from Syracuse. They deserved the win and they earned the win," he said.
"As far as this year, me as a coach it definitely re-motivates me and it re-motivates my staff to really put in the extra time and effort. I remind these kids: It's not easy. When you get to the playoffs it's one and done. You can't take anything for granted and anything lightly. You have to go in every game like it's your last game," said Stephens.
It shouldn't be hard to motivate anyone this year with the brutal schedule Alta faces. Four of its opponents are ranked in the Top 10 of the Deseret News preseason Top 25 rankings, while Don Bosco, N.J. — which Alta plays at Rio Tinto Stadium in Week 7 — finished last year ranked No. 1 in the country according to USA Today and MaxPreps.
"I love it. You get hard competition every Friday night," said Handley.
This year Don Bosco begins the year ranked No. 21 according to MaxPreps.
"Win or lose, being able to compete on that level is a good thing," said Stephens.
Alta Hawks at a glance
Coach: Bob Stephens is entering his second season as Alta's head coach after leading the Hawks to a 9-2 record in his inaugural campaign. He's a graduate of La Mirada High in California.
Offense
(3 returning starters; Spread offense)
Alta was the second-highest scoring team in 5A last year, and it's hard to imagine that changing with quality quarterbacks Dylan Rivas and Chipper Lucero vying for the job. They'll have plenty of weapons to throw to with Harrison Handley and Ammon Barker on the outside and Mack Richards at slot receiver. Alta will utilize more of a running back by committee approach this year with seniors Max Broman, Jake Forsling and Kendal Reese all expected to contribute. Senior Josh Nash is the lone returning starter on the offensive line, but he missed the final few games of the season with a broken leg.
Defense
(0 returning starters)
Alta led 5A in scoring defense last year at 13 ppg, but not one of those starters are back. Don't expect much of a drop off at a school with a history of reloading. Sonatane Lui will anchor the defensive line after getting a little playing time last year backing up Shad Ennis. In anticipation of fewer numbers next year and in the future with the split with Corner Canyon, some offensive linemen might see some time on the defensive line as well as Alta makes a paradigm shift in regards to platooning. Alta's linebackers had great summer camp down at Snow College, with senior Max Broman picking up an offer from Snow. Junior Jaden Johnson has emerged as a solid linebacker as well. Taylor Smart is moving from running back to safety, and big things are expected of him. Cornerback Brandon Smart is another player who should have a strong season.
Coaches preseason Region 3 straw poll: First
Deseret News Region 3 prediction: Second
Bottom line: For the better part of the last decade, Alta's football program has benefited from a huge student body to become one of the best programs in the state. Times are changing though with the opening of neighboring Corner Canyon High School next year. In many respects, this is the swan song for Alta in its current form, and you can bet the team will be hungry to go out with a bang. Alta may lose a game or two with its difficult schedule, but if it stays healthy there's no reason it won't be one of the teams to beat once the 5A playoffs roll around.
2012 Schedule
Aug. 17 — at Timpview, 7 p.m.
Aug. 24 — BINGHAM, 8 p.m. (at Rice-Eccles Stadium)
Aug. 31 — at Olympus, 7 p.m.
Sept. 7 — RIVERTON, 7 p.m.
Sept. 14 — at Jordan, 7 p.m.
Sept. 21 — BRIGHTON, 7 p.m.
Sept. 28 — DON BOSCO, N.J., 7 p.m. (at Rio Tinto Stadium)
Oct. 5 — COPPER HILLS, 7 p.m.
Oct. 12 — WEST JORDAN, 7 p.m.
Oct. 17 — at Cottonwood, 7 p.m.
....
Felt's Facts for Alta High School
All-time record: 234-135 (34 years)
Region championships: 11 (1984 co, 1985 co, 1988 co, 2000 co, 2003, 2005 co, 2006, 2007, 2008, 2009 co, 2011)
Playoff appearances: 26
All-time playoff record: 41-22
State championships: 4 (1983, 1988, 2007, 2008)
State championship record: 4-2
Most played rivalry: 35 meetings with Brighton dating back to 1978. Brighton leads 19-16. Meet on Sept. 21.
Felt's Factoid(s): Alta has scored in a school-record 112 straight games stretching back to 2002. It's the second longest current scoring streak and ninth longest in state history.
Alta coaching history
2011-current — Bob Stephens (9-2)
2005-2010 — Les Hamilton (51-15)
1994-2004 — Mitch Lunak (71-42)
1978-1993 — Doug Berry (94-72)
.....
Deseret News Mr. Football recipients
2007 — Boo Andersen, LB
2006 — Sausan Shakerin, RB
Deseret News MVPs the past 10 years
2008 — Ammon Olsen, QB
2007 — Ryan Rosenvall, QB
Deseret News First Team all-staters the past 10 years
2011 — Ryan Jensen, DL
2009 — Jordan Brown, QB
2009 — Zach Liston, WR
2009 — Lundon Smith, OL
2009 — Beaver Ho-Ching, DL
2009 — Nick Wolford, LB
2009 — Vance Bingham, K
2008 — Parker Webster, WR
2008 — Parker Erickson, OL
2008 — Dan Adams, DL
2008 — A'I Ho-Ching, LB
2008 — Trey Phillips, DB
2007 — Sausan Shakerin, RB
2007 — Derek Keller, DL
2007 — Jordan Anderson, LB
2007 — Jefferson Court, LB
2007 — Parker Walbeck, Specialist
2006 — Cody Gates, OL
2006 — Jefferson Court, LB
2006 — Dallin Cutler, Specialist
2005 — Braden Hansen, OL
2005 — Jordan Herkimer, DL
2005 — Troy Bunting, LB
2004 — Dave Johnson, TE
2003 — Beau Enslow, RB
2003 — Collin Robinson, WR
2003 — Dave Johnson, TE
2003 — Adam Norton, OL
To view second team and honorable mention all-staters through the years, check out the Deseret News All-State Archives.
Email: [email protected]
Twitter: @DNewsPreps
Contributing: Jessica Wilde, Conner Johnson, Steve Mundee and prep football historian George Felt.