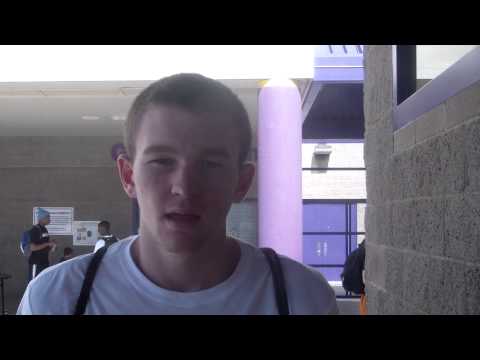 View 5 Items
Brandon Gurney, Deseret News




LAS VEGAS — It's not often that you have the chance to play in front of more than 30 top Division I basketball coaches — including legends such as North Carolina's Roy Williams and Michigan State's Tom Izzo. It's something that could be nerve-wracking for most people, but it's something that top AAU participants have grown accustomed to over the years.
Arizona Select's Payton Dastrup was faced with such a prospect during a pool play game on Thursday against Chicago's Mac Irvin Fire. Not only was he pressed to play well in front of top coaches, but he was also going against the top-rated center prospect in the country — Jahlil Okafor.
With Las Vegas hosting three tournaments in what could well be considered the Grand Finale of 2012 AAU play — almost every top national basketball prospect was in town. Subsequently, top local recruits faced stiff competition in every matchup.
This is what AAU basketball is all about. It's an opportunity for collegiate hopefuls to hone their skills while showcasing those skills in front of coaches from every school imaginable.
Dastrup, who is 6-foot-8 and a member of The Church of Jesus Christ of Latter-day Saints, held his own against Okafor as did his team. Arizona Select was able to build an early lead before Mac Irvin Fire came storming back to take the win.
You don't just show up and play well against the nation's top teams and prospects, however. Those who reach the top levels of AAU play get there with a lot of personal sacrifice and dedication from not only themselves, but also their families.
Most AAU participants begin in early March and go non-stop until the end of July with set practice sessions and tournaments around the country. A lot of parents not only provide the money for their children to make the trips, but also their time.
"I've spent less days in the month of July in Arizona than I have out of state taking Payton to these tournaments," said Dastrup's father, David. "I figure it's an investment in his future, so as a parent I wouldn't do it any different."
David has been doing this since before Payton's eighth-grade year. David recognized that his son had a lot of ability and determined to sacrifice the better part of his summer to help him realize that talent.
The sacrifices have apparently paid off with Payton currently holding 10 scholarship offers, which include offers from Utah, Utah State and most recently, BYU.
The Dastrups are hardly alone in this, with other parents sacrificing just as much and for a longer period of time.
Take Orem High's Dalton Nixon, who has been fully participating in AAU ball since the fourth grade.
"Doing this is just part of what we've done for so long that I don't know what I'm going to do when our kids move on," said Dalton's father, Kevin. "It's something we've grown used to and it's basically our family vacation every year."
The Nixons spent 19 straight days in Las Vegas with a lot of time to kill in between games. So what do you do to pass the time in a place not typically known to be "family friendly?"
"It's really hard finding things to do in Las Vegas for almost three weeks," said Kevin Nixon. "You end up doing a lot of the same things over and over again and one of those things is bowling. We've stayed at a place that has a bowling alley in the hotel, so we've been there a lot, so we've gotten pretty good at bowling, too. The kids enjoy it — getting to eat out at McDonalds and other places, but after 19 days I think everyone is ready for mom's home-cooked meals."
Another challenge with AAU tournaments is finding time away from work. A few of the parents own their own businesses or are independently wealthy, but those are the exceptions. Most of them — including Kevin Nixon — work full-time jobs, but have understanding employers.
"They just know what I do every summer and I use it as my vacation time," said Nixon. "You have to put some money aside and save up for all of this, but I feel — all of us — feel that it's well worth it with all the experience and exposure the kids get."
Playing in a quality AAU program is also key. Considering the amount of resources involved with playing full-time on the AAU circuit, parents aren't given to having their kids play for just anyone.
Fortunately for most local prospects, Utah has developed some very good AAU programs. Salt Lake Metro blazed the trail for quality AAU ball and has been followed up by programs such as Utah Pump-N-Run and Utah Hoops.
"Utah Pump-n-Run does a great job and has been able to pump out some great talent," said Kevin Nixon. "They're consistently finding great opportunities for players and have really been key to their development. I'm very happy to be part of this organization and it's just one of many great AAU programs in the state. The coaches around the state have really done a great job getting good development programs for their kids and we've really benefited from it."
For BYU commit Braiden Shaw, finding a quality AAU program had unique challenges given his stance of not playing on Sunday. Shaw is a 6-foot-8 prospect from Eagle, Idaho, who was able to find a program that worked around his decision to not play on the Sabbath.
Shaw played this past summer for Idaho's Hoop Dreams and coach Ed Boyce.
"Our coach, who is not LDS, has done great to honor his commitment to not play on Sundays and they just go on without him," said Shaw's father, Kelly. "He's been wonderful respecting our beliefs and working with us that way, so I couldn't be more happy to have Braiden as part of his AAU program. It's a quality program and they lose a lot of size not having Braiden play on Sundays, so I'm very grateful for the sacrifice they've made."
Braiden played in the Bigfoot Hoops Classic in Las Vegas which was the seventh tournament he's been a part of since early April. Braiden has played AAU basketball since his eighth-grade year and, like most parents, Kelly Shaw sees his participation as an essential part in his son's development.
"I don't know how they could make it to college without AAU ball," said Kelly Shaw. "This is the time when coaches can see what the kids can do and if they're not out there, then you really run the risk that they won't be noticed. Fortunately Braiden got noticed and will be going to BYU, which has been a dream for him. It's very important to find the right program and then to put in the time necessary."
"The general public never sees the amount of countless hours spent to achieve a college scholarship. I don't know if that aspect is appreciated by most," added David Dastrup. "It's the same as someone perfecting their talent in a musical instrument or in academics — it all takes a huge commitment and a lot of time and it's certainly the same with an athlete. These kids earn it with the hard work they put in and dedicating yourself to playing AAU ball is certainly part of that."
Twitter: @BrandonCGurney