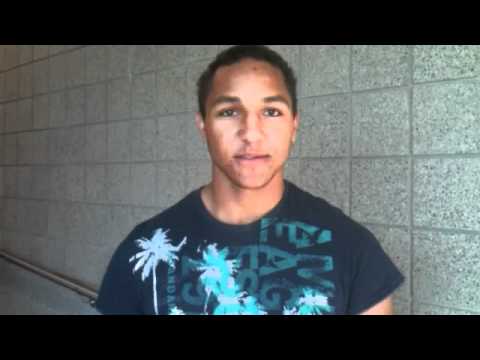 View 12 Items
James Edward, Deseret News

Scroll down to see North Summit Felt's Facts
Note: North Summit finished with a 6-5 overall record and was fourth in the 2A North region with a 4-3 record in 2011. It lost to San Juan, 38-0, in the quarterfinals of the 2A playoffs.
COALVILLE — North Summit enjoyed a so-so football season under first-year coach Devin Smith last year.
The Braves beat the teams you'd expect them to beat and lost to the teams you'd expect them to lose to. The manner in which they lost those games, however, is something Smith has been addressing since January.
"The kids always played hard, but when we played the upper-tier teams we got thrown around physically a bit," said Smith.
To say North Summit got thrown around a bit is an understatement. In five losses last year, the Braves were outscored 164-12, including a 38-0 quarterfinal loss to San Juan.
With dwindling enrollment numbers in North Summit's sophomore and junior classes, Smith and his coaching staff have taken a proactive approach to address the problem. They hired Bigger, Faster, Stronger to put on a weight lifting clinic in January, and they've encouraged the kids to buy into more frequent and regimented weight-lifting over the past seven months.
For the most part the kids have bought in, and Smith said, "I think it's going to make a big difference."
He'll find out early this season whether his players' commitment in the weight room makes a difference as North Summit opens with road games at Beaver, Duchesne and Millard.
Team unity is another thing that could make a difference this year. Smith said the players on this year's team get along really well, and jokingly said they're like a pack of thieves because they hang out so much.
"They have great team chemistry, and I've been around long enough to know that's important," said Smith.
Defense, which was often a weak spot in 2011, should be a strength this season. Not only does Smith expect good things from his four returning starters, but from the newcomers as well.
A healthy and stronger Austin Scholes will make a big difference at linebacker. A junior last year, Scholes injured his knee in a season-opening victory over Beaver and didn't return to the field until Week 6.
He averaged 6.1 tackles per game when he returned and will anchor the defense in 2012.
"I feel 100 percent. My knee is so much better and also my shoulder," said Scholes. "It's going to be a great year. We have a bunch of dedicated seniors."
Scholes said getting knocked around by the likes of San Juan, Manti and Millard was definitely a learning experience last year.
North Summit doesn't have a lot of size defensively, but what it does have is an athletic, aggressive bunch that is anxious to get after it.
"We're going to run the 4-6 like we did last year. We're going to put on pressure. It's a little bit of a high risk-, high reward-type defense," said Smith.
Offensively, North Summit is starting from scratch with the graduation of its three leading rushers. Ben Stephens, who played in a pair of games for injured Keegan McQueen last year, is taking over at quarterback, while senior Brandon Thiriot and junior Trevor Hale take over at running back in the option offense.
Stephens qualified for the 2A 100-meter dash final at the state track & field meet back in May and brings a speed dimension to the back field.
Scholes will start at fullback, and between the quartet of ball carriers North Summit is hoping for better production offensively than the 20 points it averaged a year ago.
North Summit Braves at a glance
Coach: Devin Smith is entering his second season as head coach at his alma mater after guiding the Braves to a 6-5 record in 2011.
Offense
(2 returning starters; Option offense)
In addition to a revamped backfield, North Summit is counting on experience in the trenches to make a difference in 2012. Cameron Smith is the team's best returning lineman, and he'll again start at guard. Senior Dylan Bingham and junior Austin Simister shared time at the other guard position last year, but both will be regulars this year as one of the two moves to a tackle position. Even though Ben Stephens wasn't North Summit's starting QB last year, he filled in on two occasions and was basically thrown to the wolves against Millard and San Juan. That experience playing quarterback at the varsity level can only help him this year.
Defense
(4 returning starters)
The lasting image from the 2011 season for the Braves was seeing San Juan bully them around in the 38-0 quarterfinal loss. The players hope an offseason of dedication in the weight room produces better results. The strength of this year's team is at linebacker with returning starters Scholes and part-time starter Trevor Hale. Defensive linemen Smith and Landon Richins are back as well after racking up around 40 tackles each a year ago. Richins is a big kid who has really filled out this offseason. He's someone coach Smith expects to have a great season.
Coaches preseason 2A North straw poll: Sixth
Deseret News 2A North prediction: Fifth
Bottom line: Last season was incredibly frustrating for North Summit. One week it took care of business against a middle-of-the-pack 2A team, and the next it was getting crushed by a top-tier team. This year will be much of the same if North Summit doesn't toughen up in the trenches. With four of its first five games on the road, including games at Duchesne, Millard and Manti, the Braves will find out right away if they've closed the gap in 2012. Duchesne, Millard and Manti combined to outscore North Summit 91-12 last year.
2012 Schedule
Aug. 17 — at Beaver, 7 p.m.
Aug. 24 — at Duchesne, 7 p.m.
Aug. 31 — at Millard, 7 p.m.
Sept. 7 — AMERICAN LEADERSHIP, 7 p.m.
Sept. 14 — at Manti, 7 p.m.
Sept. 21 — NORTH SEVIER, 7 p.m.
Sept. 28 — SOUTH SUMMIT, 7 p.m.
Oct. 5 — at Gunnison, 7 p.m.
Oct. 12 — EMERY, 7 p.m.
Oct. 19 — Playoffs
Felt's Facts for North Summit High School
All-time record: 406-350-23 (86 years)
Region championships: 21 (1928, 1929, 1930 co, 1937, 1955, 1965, 1969, 1971, 1972, 1973, 1974, 1975, 1976, 1977 co, 1978, 1983 co, 1989, 1990, 1991 co, 2006, 2007)
Playoff appearances: 44
All-time playoff record: 47-37
State championships: 7 (1964, 1972, 1989, 1990, 1991, 2007, 2008)
State championship record: 7-4
Most played rivalry: 92 meetings with Park City dating back to 1926. North Summit leads 47-42-3. Last met in 2004.
Felt's Factoid(s): North Summit is tied with two other teams for the most shutouts in one season with 10 (1974). ... Brave Andy Carlsen set the state record for season rushes with 323 in 2002.
North Summit coaching history
2011-current — Devin Smith (6-5)
2000-2010 — Jerre Holmes (74-53)
1999 — Steve Carlsen (1-8)
1995-1998 — Earl Blonquist (13-27)
1994 — Travis Crittenden (3-6)
1993 — Van Hutchinson (8-3)
1987-1992 — Rick Harrison (48-20)
1985-1986 — Earl Blonquist (5-15)
1983-1984 — Bill Brown (10-11)
1982 — Scott Summers (2-7)
1969-1981 — Earl Blonquist (99-44-3)
1962-1968 — Ernest Jacklin (37-26-5)
1958-1961 — Raynor Pearce (12-18)
1957 — Bob Sanchez (5-2-1)
1953-1956 — Benny Kilpack (20-13-3)
1952 — Ken Bearden (1-6)
1951 — unknown (1-6)
1950 — Don Snow (1-5-2)
1949 — Ralph Olsen (1-7)
1948 — Floyd Biddolph (0-6)
1946-1947 — unknown (5-6-1)
1945 — Ed Jensen (5-3)
1931-1947 — unknown (41-49)
1930 — "Silky" Knudsen (4-2-1)
1926-1929 — unknown (13-14-2)
.....
Deseret News MVPs the past 10 years
2008 — Deven Holmes, QB
2007 — Dallin Donaldson, RB/DB
Deseret News First Team all-staters the past 10 years
2011 — Braden Brown, RB/DB
2010 — Courtney Orgill, RB/LB
2008 — Caden Richins, TE/DE
2008 — Colby Richins, RB/DE
2008 — Wyatt Richins, OL/DL
2008 — Stevin Sommerville, RB/LB
2008 — Bryer Trussell, WR/DB
2007 — Caleb Adams, FB/DL
2007 — Deven Holmes, QB
2007 — Colby Richins, LB
2007 — Drew Robinson, TE/DE
2007 — Chandler Woolstenhulme, LB/OT
2006 — Dallin Donaldson, RB/DB
2006 — Kamren Garfield, QB/DB
2006 — Nathaniel Richins, RB/DB
2004 — Curtis Louder, RB
2004 — Grant Stoddard, OL
2004 — Justin Bagnell, LB
2003 — Ben Morrill, DB
2002 — Andy Carlsen, RB
2002 — Rocky Pace, DB
To view second team and honorable mention all-staters through the years, check out the Deseret News All-State Archives.
Contributing: Jessica Wilde, Conner Johnson, Steve Mundee and prep football historian George Felt.
Email: [email protected], Twitter: @DNewsPreps