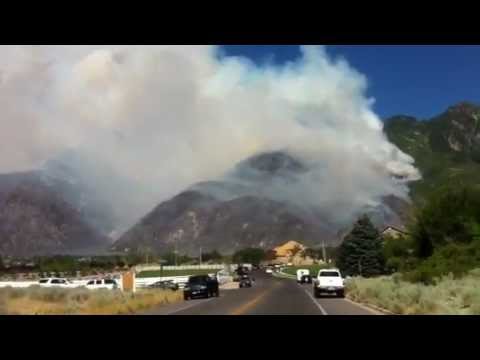 View 12 Items
Matt Sanders

AMERICAN FORK — My wife and I were driving home after spending the morning on the boat at Utah Lake. We left the Lindon Marina and as we turned north, we saw a wisp of smoke in the northeast corner of Utah Valley.
With all the recent wildfires, that little bit of smoke was enough to cause some concern, because our house is near American Fork Canyon and there are plenty of dry, brushy areas close by.
In the five minutes that it took to reach the Timpanogos LDS Temple, the column of smoke was much bigger and lots of black smoke was now mixed with the white. As we neared our neighborhood, we could tell the fire was in an area on the east side of Alpine where we often hike and ride horses.
We dropped the boat at our house and drove north so we could see the precise area that was burning.
Alpine residents lined the streets to watch the fire burn. An afternoon wind that is typical for the area was driving the flames up the mountainside. As we approached, we could already see a spotter plane circling above the fire.
A few minutes later, a helicopter with a water bucket arrived and began working the lower edges of the fire. It was dipping water from a small irrigation reservoir behind a church and just a couple hundred yards from the fire line.
From the south side, smoke prevented being able to see whether or not the fire was burning any homes, but knowing the area, that seemed likely. On the south side there were homes close to the fire line, but the wind was pushing the flames north and east.
We watched for about 30 minutes and in that time the fire appeared to at least double in size. Finally, more emergency vehicles and personnel arrived at the scene and began asking spectators to clear the area.
Flint Stephens has a master's degree in communications from Brigham Young University. He is author of "Mormon Parenting Secrets: Time-Tested Methods for Raising Exceptional Children." His blog is www.mormonparentingsecrets.com.