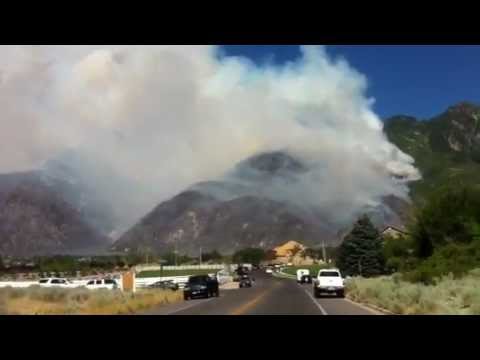 View 101 Items
Matt Sanders

It's really moved really fast, faster than I would have expected.

—Reid Shelley, U.S. Forest Service
Read more: Utah County couple provide eyewitness account to early stages of Tuesday's
Read more: Fire Watch: Track the latest wildfire developments and view photos from fires statewide
Related: Mandatory evacuation map
ALPINE — A fast-moving fire threatened homes in Alpine Tuesday, destroying a large barn and prompting officials to evacuate about 80 homes.
The fire also caused heat damage to a couple of homes and came frighteningly close to several others.
The fire, dubbed the Quail Fire, erupted near Lambert Park outside of Box Elder Canyon and moved northeast into that canyon, away from most nearby houses and structures. Smoke could be seen rising above the mountain in Draper and in southern Utah County Tuesday afternoon.
As of 10 p.m., the fire had burned around 5,000 acres. None of it had been contained, but firefighters were making progress, said Forest Service spokeswoman Loyal Clark.
Mandatory evacuations were ordered for all subdivisions and residences on Grove Drive north of Alpine Boulevard and everything east of Alpine Boulevard from Grove Drive to Round Mountain Drive. That includes the Alpine Cove and Box Elder subdivisions. A total of 80 homes were evacuated and those residents were directed to gather at Timberline Middle School, where the Red Cross set up a makeshift shelter.
"It's on flashy fuels so it's actively running," Cami Lee with the Bureau of Land Management said of the fire. "Our concern is that as the evening comes, the winds could shift and push the fire back down the mountain."
American Fork Canyon was also closed and deputies combed the canyon, evacuating campers and residents of cabins and summer homes in the Tibble Fork Reservoir area.
Sheriff's deputies searched for a family group of 32 people who in the canyon, but they were eventually located and escorted out of the canyon.
Flames 20 feet or higher were seen racing up in the canyon and up the mountainside Tuesday afternoon.
"It's really moved really fast, faster than I would have expected," said Reid Shelley with the U.S. Forest Service. "Even without the wind and the steep slope, it's moved faster. I mean, it's just extreme fire behavior."
Utah County Sheriff's Sgt. Spencer Cannon said the fire, which was burning in an area near the popular Dry Creek Trail, may have been human-caused.
"The information that came in initially is that it was caused by a track hoe, an individual working on a track hoe area," he said. I don't know if there were sparks or … just the heat of the machinery itself."
Cannon said the fire grew quickly.
"It was reported initially at about 100 feet, 200 feet and within an hour it had topped the first ridges," he said.
"We've been fortunate so far that only one outbuilding (a barn) has sustained some damage. But to this point, anyways, no homes have been damaged, although there have been a lot of threats to homes," Cannon said. "This particular area there's a lot of very heavy underbrush, a lot of scrub oaks that causes significant concern, especially for the homes that have that kind of growth near them.
"In getting people out, you can't get them out quick enough. And the people in this area have been through this experience in the past, and so they don't hesitate very much at all when someone knocks on their door and says we need you to leave," he said.
Two Blackhawk helicopters from the Utah National Guard, two heavy air tankers, one small air tanker, four helicopters and several engines from the forest service and surrounding communities were assisting in the firefighting efforts.
No homes or structures were in danger as of 7 p.m. "The wind is blowing the fire away from any homes and any structures and burning up towards the mountain," she said. "We have cliff faces, granite rock that is causing a natural barrier to the fire."
Alpine resident Doug Parrish said he noticed about 2:30 p.m. that the light coming into his house turned yellow. He looked outside and saw smoke.
"I called to my wife and I said, 'I think we're going to have to get out of the house.' About that time, we realized that the wind was coming our direction, and we weren't really sure if it was going to take the house or not. "
Parrish said the recent fires prompted him to think about what he'd have to do in the event of an evacuation. "We had a couple of grab-and-go kits and we threw our 72-hour backpacks in the car and kits that had some of our precious things in it. And so we drove away and sat over here on a hill and watched," he said.
"Every time the fire would advance, we were just thinking, 'Please wind, blow further east.' If it would have been another 5 degrees further to the west, I think we would have lost the house."
He was philosophical about realizing what things are most important.
"What goes through my mind is that there are irreplaceable things and there are valuable things. The irreplaceable things are our lives and treasures, everything else fire insurance policy will cover, I suppose," he said. "But it's heart-wrenching to sit there and watch the flames march ever-closer, wondering if it's going to go or not."
Ryan Johnson said he was coming home from an activity with his family when he saw the chaos from the fires. He was retrieving photos, dogs and other items from his parents' house when officers approached.
"The police came, frantically evacuating everyone, knocking on the doors," he said, but added there was one scenario that concerned him.
"I saw one cop shoot at a neighbor's dog (that had been barking loudly). It was a Labradoodle. The neighbor was pretty upset about that. I think some of the police were overreacting," Johnson said. "That shot heightened everybody's tension."
Ironically, Johnson said he had discussed preparing his parents' house in case of a fire just hours earlier.
"Just last night, my mom said, 'Hey, can you and your brother help us clear out some of the brush and trees for fire danger?'"
The Anderson family came to Utah from Colorado Springs to get away from wildfires there — only to be evacuated because of a wildfire here. The family was camping in American Fork Canyon Tuesday when they were told they had to leave.
"It was a little surprising. We just got here," said Mary Anderson.
The family had to leave so quickly that they were forced to leave their dog and other belongings behind in their RV. Later, however, they were allowed to return, gather the rest of their things, hitch up their trailer and retrieve their dog.
 "We just didn't expect it," she said.
Ron Zitting, of Salt Lake City, was also glad he was allowed to quickly return to the canyon and gather up his stuff.
"I figured if I couldn't get up her tonight, I'll try again tomorrow. The truck and trailer are insured. As long as everybody is safe."
Utah Congressman Jason Chaffetz, who visited many of the major fires in Utah this past week, lives on the west side of Alpine and was home when the fire broke out.
"It's a big one and it's getting worse," he said. "There aren't as many homes in danger as in Sanpete County or down in Saratoga Springs, so there hasn't been what's called an FMAG issued yet, which would give some federal funding.
"A lot of what is burning right now is on Forest Service land, and we need federal assets to try to put a hamper on it."
Fire Management Assistance Grants come from federal monies that the state has paid into an insurance program. The financial assistance is available to help pay the cost of fighting fires and provides a 75 percent federal cost share for the actual costs that are incurred.
Alpine Mayor Hunt Willoughby said Tuesday's fire was something that he and other city officials feared would happen but had tried to address.
"We did the complete ban on all open fires and fireworks a week or so ago based on the fire chief's recommendations," he said. "The fire and the conditions that have been around it have been so dangerous that we thought it best to do that." 
Suzanne Davis, who lives on the Alpine/Highland border, said there seemed to be a lot of people who drove to the area to watch the fire burn. She wasn't too worried about losing her home, however, since the fire was heading in another direction.
"I don't see it coming down the mountain. I don't see it headed toward any structures, coming towards Highland," she said. "I have seen once in a while a flare up, but I did see a plane come and drop the retardant down and that has slowed down the fire."
"It's too dry. People aren't safe," Alpine resident Ryan Smith said while watching the fire grow. "Even when you are the safest, it's not safe to light fireworks."
Reid Shelley with the U.S. Forest Service said a Type 2 incident management team was called in to fight the fire, which will bring more resources.
This type of incident extends beyond the capabilities for local control and is expected to go into multiple operational periods, according to the Federal Emergency Management Association website. A Type 2 incident may require the response of resources out of area, including regional and/or national resources, according to FEMA.
"We're getting thin" on personnel to fight the fire, Shelley said.
Mark Woolsey of Hauula, Hawaii, flew in Tuesday morning to stay at his father's house, which is about ¾ of a mile from where the fire started.
"First thing I said when I came in this morning was that with no rain, it's just a matter of time before a fire breaks out in this area," said Woolsey, who was on his way to Philmont, N.M., to train with Boy Scouts. "I was just about to take a nap when my dad said, 'You gotta come up and see this.'
"The fire just got bigger and bigger, and finally it just went right up the mountain."
"We're evacuated almost yearly because of tsunami scares," the Hawaii resident said. "What do you put in your car to take?"
Contributing: Viviane Vo'Duc, Alex Cabrero
Twitter: @FinleyJY