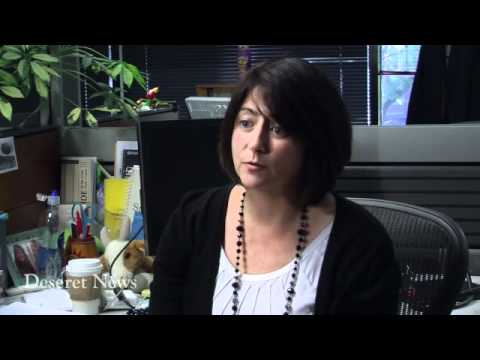 View 9 Items
Christian Ross, Deseret News

The fact is that we have more minorities living in Salt Lake City than we have in the past and crime has fallen dramatically. So I don't see how there's a correlation there.

—Salt Lake Police Chief Chris Burbank
Editor's note: This report is part 2 of "Coming to our Census," a series of reports that takes a careful look at the issues posed by the changing demographics of Utah and the nation.
Part 1: The changing face of Utah - Are we ready to embrace the future?
Part 3: Some solutions in place to close education gap, but is Utah willing to pay for them?
Part 4: Latino students face barriers to higher education
Part 5: Minorities face hurdles in getting health care
Part 6: Immigrants, refugees can choose which aspects of culture to assimilate
Copyright 2012, Deseret News
SALT LAKE CITY — Utahns like the idea of a more diverse state. They're just not sure what that will mean, and in some cases, they're drawing from incorrect perceptions.
About one-fifth of the 2.8 million people in the Beehive State are ethnic minorities, many of them young, working-age adults and children, according to the latest Census figures. If current trends continue, Utah will join the rest of the nation as a place where minorities become the majority in many cities and counties.
To help gauge attitudes about these changes, KSL and the Deseret News commissioned a public opinion poll of 411 Utahns. The poll results reflect a Utah that is generally receptive to the changing landscape.
Seventy-seven percent of Utahns polled by Dan Jones & Associates said they consider the state's increasing diversity as a good thing, with 38 percent describing the change as "a very good thing."
The Most Rev. John C. Wester, Bishop of the Catholic Diocese of Salt Lake City, who moved to mostly white Utah from a diverse San Francisco in 2007, said he is "encouraged by the people who say, in general, that diversity is a good thing."
That's true in general but is especially welcome news to Catholics, he said.
"St. Paul's Church calls the body of Christ many members and one head. If you don't have all the members, your community is less able to reflect the presence of God," he said.
Two-thirds of Utahns polled said they grew up in environments that welcomed or encouraged racial diversity.
"I think there is more tolerance, more appreciation of the strength diversity gives us. I think we're moving in the right direction but I think at times, we're stumbling there," said Salt Lake immigration attorney Mark Alvarez.
The poll, conducted May 15-20, revealed a disconnect in some cases between Utahns' perceptions about illegal immigration and actual data.
For instance, the number of illegal immigrants living in the United States has fallen from its peak in 2007, and it has leveled off the past two years, according to U.S. Census Bureau and U.S. Department of Homeland Security estimates.
Even so, the poll found that 74 percent of Utahns consider illegal immigration in Utah a serious problem.
Experts said immigration has slowed to a trickle in the past two years as the recession has worsened and the federal government has enhanced border patrols. Deportations of unauthorized Mexican immigrants across the nation have risen to record levels — 280,000 in 2010 alone, according to the Pew Hispanic Center.
The majority of both legal and illegal immigrants in Utah come from Latin America, most from Mexico. Immigration advocates say there are 110,000 undocumented people in Utah.
"There's no inundation happening at all," said University of Idaho researcher Priscilla Salant, who studies population trends in the Mountain West.
The poll also revealed concerns that a more diverse Utah could result in higher crime rates. Forty-four percent of people polled said a more diverse Utah would have a "somewhat negative" or "very negative" impact on criminal activity in the state.
Salt Lake Police Chief Chris Burbank said crime statistics tell a different story.
"The fact is that we have more minorities living in Salt Lake City than we have in the past and crime has fallen dramatically. So I don't see how there's a correlation there," Burbank said.
In 2011, Salt Lake City experienced a 26-year low in Part 1 Crime. Part 1 crimes include homicide, sexual assault, robbery, aggravated assault, burglary, larceny (and motor vehicle theft) and arson.
"So for more than my entire career, crime has never been lower. It's a nice downward trend," Burbank said.
Overall crime in Utah shows decreases in violent crime, property crimes and the number of arrests, according to the state Bureau of Criminal Identification's 2011 Crime in Utah report. This is consistent with national crime statistics that reflect a drop in violent crime for the past four years.
Another "downside" of diversity raised by people who responded to the poll was the increased costs to education.
For decades, students of color in Utah have lagged behind their white peers on standardized achievement tests and high school graduation rates. As schools become more diverse and more populated, addressing these issues takes on greater significance, education leaders said.
Some 59 percent of Utahns polled said they strongly favor or somewhat favor committing more resources in an effort to close the achievement gap in Utah.
Brenda Hales, associate state superintendent for instructional services, said the sentiment is encouraging because one of her greatest concerns is that resources won't keep pace with the needs of a larger and more diverse public school population.
"This is not a burden and expense. It's an investment in our future," Hales said.
Another "downside" raised by poll respondents was the increased public assistance and public health programs. In this case, perception matches reality.
Illegal immigrants are not eligible for public assistance or public health programs, with a few exceptions such as emergency care, state officials said. Because many immigrant families are of mixed immigration status, children who were born in the United States and are citizens could qualify for some public programs.
The University of Idaho's Salant was among a team of researchers who studied the impacts of southern Idaho's rapidly growing dairy industry. Dairy workers tend to be young men, Hispanic and foreign-born.
There were no impacts on crime. But the researchers said there were higher rates of childhood poverty and greater reliance on reduced-price school lunch programs.
The Idaho researchers, whose work included a telephone survey of more than 1,300 people and interviews of health care professionals, concluded that "community services like health care are not overwhelmed by the Hispanic population."
That finding was consistent with national research that documented that Hispanics receive health care at less than half the rate of non-Hispanics, the Idaho study authors wrote.
Absent access to traditional care, many people without insurance seek assistance from safety net programs such as community health centers. Others end up in the emergency room, the costliest health care alternative.
"We serve a representative cross-section of the working poor who don't have health insurance and can't afford out-of-pocket health care. A large segment of the working poor happen to be undocumented," said Dexter Pearce, executive director of Community Health Care Centers Inc. Patients at the clinic pay for services on a sliding scale.
"We are not a free clinic," Pearce said.
A number of people who responded to the Dan Jones & Associates poll indicated that a more diverse Utah had a number of benefits such as understanding other people and cultures. Several polled mentioned a wider array of cuisine.
"It brings different neighbors and I like all kinds of different neighbors," one respondent told pollsters. "If you get to know them, it really makes a difference, gives you a new way of thinking, a new paradigm. I went on a (church) mission to Spain and when I came back, I started working at the driver license office. I spoke Spanish with the Mexicans. They have really close-knit families."
Others remain unconvinced that there is an upside to the shift away from a very homogenous, English-speaking and mostly white majority.
"Well to be honest, it really bothers me when I pick up something at the store and it's in a different language. Because I feel like when we're here in the United States I feel like things should be in English," a poll respondent said.
Former state lawmaker Brian Allen, who grew up in a predominately white, working-class Millcreek neighborhood in the '60s and '70s, said the poll results reflect "a Utah that was homogenous for a very long time."
"I would like to believe and hope Utah is a little better at accepting different people. I don't know if that's true of all but in my experience we're getting better," he said.
Alvarez said he believes there will be more tolerance and acceptance over time and as Utahns become better educated about its changing demographics.
"I think a lot of it has a lot to do with a lack of information," Alvarez said.
Editor's note: This report is part 2 of "Coming to our Census," a series of reports that takes a careful look at the issues posed by the changing demographics of Utah and the nation.
Part 1: The changing face of Utah - Are we ready to embrace the future?
Part 3: Some solutions in place to close education gap, but is Utah willing to pay for them?
Part 4: Latino students face barriers to higher education
Part 5: Minorities face hurdles in getting health care
Part 6: Immigrants, refugees can choose which aspects of culture to assimilate