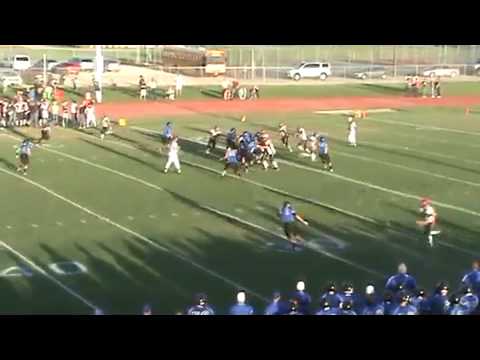 View 2 Items
YouTube

I could wait for other offers, but I don't think I'd find a better fit than Utah State. I love the coaches, the direction the program is going and the people up in Logan. I always feel so comfortable with everything when I go up there and that's the reason why I decided to commit there.

—Braden Harris
GUNNISON — Growing up in a town of just over 3,000 people, Gunnison Valley High's Braden Harris is used to a lot of open space and relative quiet.
He's quite fond of it, too.
Harris, a linebacker prospect, recently committed to Utah State, which although not as small as Gunnison, holds a lot of the small town atmosphere he's grown fond of.
"I don't think you could find a college that is in a town as small as Gunnison, but Utah State has sort of that same atmosphere and it's a big reason why I committed there," said Harris. "I love the feel of the place, the people and it felt like the type of place I needed to be. I'm just not a big-city person."
Harris received an offer from Utah State this past February and slowly began to fall in love with the place with each passing week. He's remained in constant contact with Aggie coaches — particularly with defensive line coach Frank Maile who has been his primary recruiter.
Harris has taken several trips to Utah State since being offered — taking part in all of their camps and recruiting functions.
Utah State has not been alone in its interest in the 6-foot-3, 230 prospect. BYU has also been in constant contact and both Utah and Stanford have shown interest along with other programs. Harris was due to take a camp visit to Stanford next week, but opted out of the trip due to his commit to Utah State.
"I could wait for other offers, but I don't think I'd find a better fit than Utah State," said Harris. "I love the coaches, the direction the program is going and the people up in Logan. I always feel so comfortable with everything when I go up there and that's the reason why I decided to commit there."
Harris called Aggie coaches late Tuesday night to inform them of his decision. He spoke personally with head coach Gary Andersen on Wednesday.
"I always love talking with coach Andersen," said Harris. "He's a real down-to-earth guy who is very easy to talk to. He's working so hard getting Utah State in the right direction — all the coaches are doing the right things up there. It's something that I'm very excited to be a part of."
Harris will serve an LDS mission straight out of high school, so it will be a while before he officially joins the Aggie program. Although he was signed as a linebacker, coaches have mentioned that if he keeps growing, he may find himself playing along the defensive front.
"We'll see how much I grow on my mission and if they want me to play defensive end, then I'm fine with it," said Harris.
Twitter: @BrandonCGurney