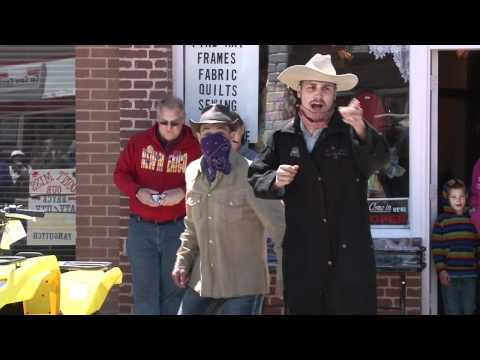 Utah League of Cities and Towns
It's nearly summer. School is out. Vacation season is about to begin, and so is Utah's festival season.
Utah is rich in tradition when it comes to festivals. There are freedom festivals and turkey trots and heritage celebrations. Utah is also alive with diversity. Consider Wheat and Beets Days in Garland, Swiss Days in Santa Clara, Foam Day in Lehi and Green Jello Day in Springdale.
In May, the small city of Panguitch celebrated a new festival this year — bringing to life the outlaws of the Old West. After all, the childhood home of Butch Cassidy still stands near the neighboring town of Circleville. The Panguitch Western Roundup featured a Little Britches Rodeo, a Harley parade, and a bank robbery and shootout on Main Street.
"We just wanted to start the summer off with a bang," said Becky Yard, Panguith festival organizer. We wanted to get all the different festivals here and let everyone know Panguitch is a destination, not just a drive through."
Her husband, who also helps organize the festival, said he enjoys the variety of people who visit Panguitch for festivals like the Western Roundup. "It's a lot of fun, Randy Yard said. "We get a lot of tourists, a lot of Europeans, they just love the Old West flavor. And we enjoy them being here and sharing it with them."
There are nine festivals in Panquitch each summer, and it seems there are countless festivals throughout Utah. Check out this list compiled by the Utah League of Cities and Towns to find a festival near your hometown — or one you'd like to visit for a summer getaway.