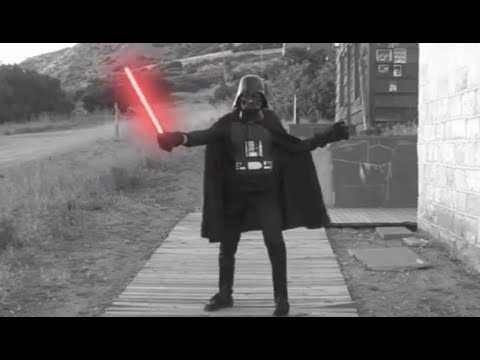 View 5 Items

Ray Bradbury: There's another marvelous Mormon connection with the celebrated author. This blogger sent Ray Bradbury a letter, to which the he replied back in 1985. And, oh, what a reply. It has some delightful memories where Bradbury describes visiting the nearby Mormon chapel as well as having connections to this blogger's relatives. Check out this delightful post that includes the entire reproduced letter.
Star Wars: "I find your locks of faith disturbing" quips Darth Vader to Porter Rockwell. (Get it? Because as you may remember, this was the man who was promised by Joseph Smith that if he never cut his hair, he could not be harmed). Watch this delightfully campy new YouTube video "Star Wars: Darth Vader vs. the Mormon" that totally made me giggle.
From the makers: "The film purports to be a restoration of a 1913 silent film featuring Porter Rockwell facing off against the 'Dark Raider' on the streets of Salt Lake City. The music was recorded before a live audience at The Organ Loft in Salt Lake City on a Mighty Wurlitzer Organ by Blaine Gale." See who laughs last, or more accurately, gets the lightsaber last in a western-meets-science fiction-meets-Mormondom battle.
Boat FHE: "Ask a volunteer to come up in front of everyone and start handing them things. Start with maybe a handheld game and insist that it's really important so they need to play it. Then, hand them some ear phones and tell them that they really need to listen to this important song, but they can't stop playing the game – then hand them a book (make them hold it in the crook of their elbow) and tell them they have to read this book because it's a really good book. Finally call someone (really call one of the parents in the other room) and tell them to listen hard to the important message the person on the phone is telling them. Take away all the stuff and ask them what the important message was. They probably won't be able to tell you."
I thought this attention-getting activity was absolutely brilliant since the takeaway is "how sometimes we are so busy we forget to stop and think about the important things in life." Plus, the activity involves making and sailing little paper boats, with is another amazing takeaway lesson. Click in to find the full family home evening lesson from Amber May Be.
Emily W. Jensen updates "Today in the Bloggernacle" on Mondays, Wednesdays and Fridays, presenting the best from the world of LDS-oriented blog sites. Her extended "Bloggernacle Back Bench" appears on Tuesdays. Email: [email protected]