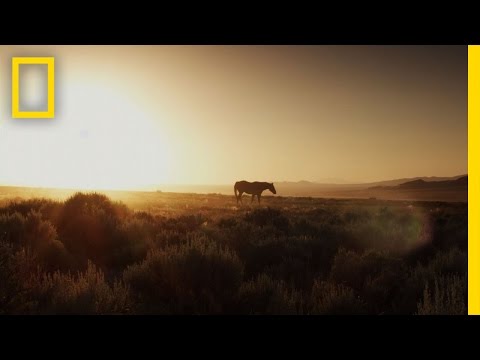 View 7 Items
YouTube


UTAH'S WESTERN DESERT — A solitary and battered stallion trying to fight its way back into a herd of mustangs is among the animals featured in a four-part National Geographic documentary, a Utah addition to a series that explores North, Central and South America.
"Untamed Americas" premieres Sunday and Monday in the first U.S. simulcast on the National Geographic Channel, Nat Geo Wild and Nat Geo MUNDO.
Filmed in 20 countries and divided into four segments of "Coasts" "Mountains" "Deserts" and "Forests," the two-year effort is the first of its kind to examine the diverse extremes of the Americas.
Producer Karen Bass said "Untamed Americas" is string of television mini dramas unfolding time and time again, capturing incredible — and sometimes sad — survival stories that play out in the animal world.
Photographer John Shier and a crew tracked wild horses in Utah's western desert for one segment, and fell into the story of the lone stallion.
"It was a very fortunate episode because it wasn't just a case of filming horses in a generic way," Bass said. "We lucked out on this unique story of a horse trying to get back into the herd."
Bass said special cameras were used to capture a battle scene between two stallions in slow motion.
"They're magnificent creatures. When you see that fight, you realize what is at stake."
To make the film, camera crews and producers rappelled down Peruvian cliffs, endured jellyfish stings off the coast of California and were even stalked by a puma in Chile.
Bass said the drama that carries on so quietly in the wild is characterized in scenes like a mother mountain lion trying to teach her cubs to hunt in advance of the winter so they can survive, or depicted by a lone wolf struggling to take down a caribou.
"These amazing extremes, challenges and hardships — it's incredible stories of how these creatures survive."
Several promotional videos — such as one showing tens of thousands of mobular rays  and some leaping out of the ocean to fly — have been posted on YouTube as a tease to the series.
Bass, who produced "Nature's Most Amazing Events" for BBC and Discovery, said she hopes people walk away from "Untamed Americas" with surprise and new appreciation for the wildlife that may be closer than one thinks.
"Most of this incredible wildlife is just beyond people's backyards," she said. "So, if we can surprise our audience with stories that they didn't realize were so close to home, and if they think it's great, it's cool, then we have done our job."
E-mail: [email protected]
Twitter: amyjoi16