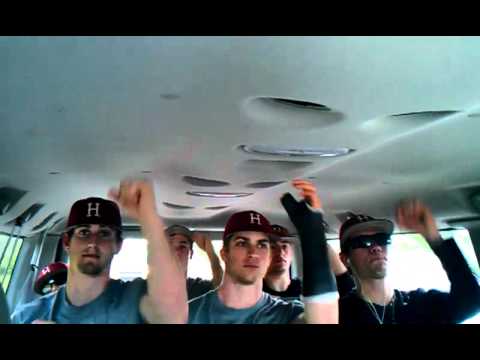 View 2 Items
YouTube

Carly Rae Jeppsen's song, "Call Me Maybe," is so catchy that it gets stuck in most listeners' heads. The song rose to the top of the iTunes charts on May 17, and according to Mashable, it might be due to a few catchy videos that go along with the music.
On May 6, Harvard University pitcher Connor Hulse uploaded a video to YouTube of several teammates dancing to Jeppsen's song while traveling back from a tournament. The baseball players lip synch the lyrics and move their arms to the beat while teammate Jack Colton sleeps. The climax of the video features Jon Smart lip synching an emotional solo performance and closing it with a wink. The video has received more than 9 million views and thousands of comments on YouTube and Twitter.
Once the video started to go viral, Hulse posted a link to the team's charity beneath the video in order to increase awareness of Alex, a boy with cancer whom the team has adopted as an honorary teammate.
The dancing didn't stop with Harvard. Several university teams have created their own versions in response to Harvard's viral video, creating a trend where handfuls of "Call Me Maybe" videos appear on YouTube daily.
Southern Methodist University's female rowing team posted its response to Harvard's video on May 16, which has received more than 280,000 views. Emily McCombs, a junior from Dallas, directed the video and said while spending hours in a van traveling back from a competition, the team's athletic director suggested they do the dance with their legs.
"We weren't trying to one-up Harvard," McCombs said. "We were just trying to one-up their moves."
The two videos received so much attention that SMU competed against Harvard in a dance-off on The Today Show Plaza on May 17.
Under their YouTube video, McCombs posted a link to SMU runner Monika Korra's rape survival story, which ran on ESPN. McCombs said that the team is not only supporting a fellow teammate but raising awareness for violence against women.
She said it is flattering to have others watch the video and then create parodies of it, and the team has seen an overwhelming amount of support. However, their main focus is on raising awareness of women's rowing at SMU and in Texas.
"It is sad that we're getting more attention from a YouTube video than from winning a national championship," McCombs said, "But we're definitely heading in the right direction."
SMU was not the only university to receive such a huge response to a Harvard parody.
Sean Pilola and Tyler David, both exercise and sports therapy seniors at Texas State, said they created their "Call Me Maybe" video while traveling from a tournament in McKinnley, Texas, back to the university in San Marcos, Texas. Pilola said after their friends saw Harvard's version, they begged the baseball club to make a version of its own. The video starts out with the team copying Harvard's moves, stopping after a verse and dancing the "bagel dance" to Run DMC's "It's Tricky."
"People all over the world either don't really get the dance, or they think it's hysterical," Pilola said.
He said the "bagel dance" was started by a few members of the team as a way to laugh and relax before games. The video was published on YouTube on May 14 and has already received more than 380,000 views. They were interviewed by Fox News Austin and have received hundreds of comments on YouTube, Facebook and Twitter.
"We've never had this kind of attention before," Pilola said. "We're kind of star struck right now; we're eating it up."
The attention the team has received has also included many comments on its physical features, along with requests to "call me, definitely."
"There's actually this girl who claimed me as her future husband," Pilola said. "I thought that was kind of weird."
The team members are currently planning on doing a follow-up video to thank all of their friends and fans, and they are talking about supporting a local charity as well. David said that the way to get an opinion out in the public is to attach it to a viral video and said that promoting a charity is a great way to raise awareness of an issue. As for why "Call Me Maybe" is viral, David said that it's a catchy song that many people can relate to.
"Whether anyone wants to admit it or not, people enjoy listening to it," he said.
Pilola agreed, and said their video is still growing because people like the song as well as their dance. He said there was also the element of watching a baseball team do something out of character.
"I think people love watching guys dance to silly girly songs," he said.
You can watch the top ten athletic teams in their versions of "Call Me Maybe" on Mashable.
Beki Winchel is a current BYU student studying public relations and business management. Besides being a tech geek, she loves social media, music, movies and craftiness. She's also a fierce Packers fan with a Wisconsin accent.