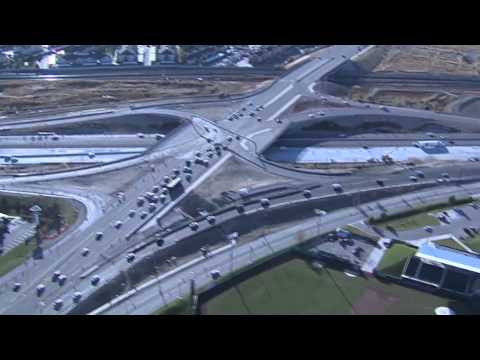 View 2 Items
YouTube

OREM — Construction crews on the Utah County I-15 Corridor Expansion are scheduled to reduce southbound I-15 in Orem to three lanes from 1600 North to 400 South as early as Monday morning.
Utah Department of Transportation crews are also scheduled to close the Orem 800 North interchange for approximately six weeks beginning as early as Tuesday.
The southbound lane restriction is scheduled to last up to two weeks and will allow crews to continue concrete paving. A similar lane restriction on northbound I-15 is scheduled to begin in the same area as early as June 10. The 800 North closure is the second long-term interchange closure this summer in the Orem area. The 1600 North interchange recently reopened after a 30-day closure.
Workers will build permanent on- and off-ramps and resurface 800 North near I-15 with new concrete. The interchange is being reconfigured as a single point urban interchange similar to University Parkway or state Route 77 in Springville. This new design will improve traffic flow and enhance safety for drivers, according to UDOT. The interchanges at 1600 North and Orem Center Street will remain open.
"These closures, while inconvenient for drivers in the short term, are necessary to meet the project's aggressive (completion) schedule and will significantly reduce traffic delays in the long term," said UDOT spokeswoman Mindy Nelson.
During the closures, UDOT will time traffic signals in the area to improve movement along alternate routes. A video with information about this summer's Orem interchange closures can be viewed online.