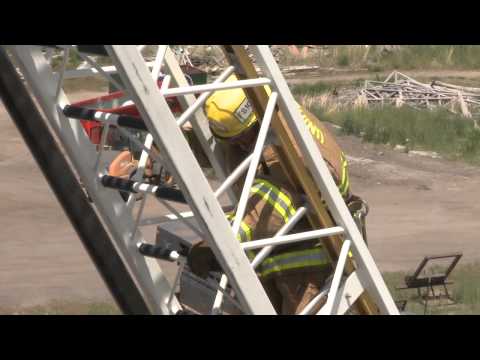 Utah League of Cities and Towns
The day is hot. The gear is heavy. And alarm rings and firefighters have to respond to a fire as a car has collided with a school bus. It's a scenario designed to show city leaders what firefighters must deal with on a second's notice.
Unified Fire Agency represents a half dozen cities, several townships and all residents and businesses located in the unincorporated area of Salt Lake County.
The agency employs 431 full-time employees, more than two-thirds of whom are also certified paramedics. UFA responds to an average of 24,000 calls a year, and this figure increases annually by approximately 10 percent.
Once or twice a year, UFA invites members of city councils or mayors from each of the cities it serves to participate in a one-day training called "Fire School 101."
They learn that working as a UFA firefighter consists of much more than knocking down flames. In fact, the bulk of the work seems to involve crawling through dark, tight corridors, heavy lifting and quick thinking.
During the course of the day, trainees attempt to climb up a 100-foot-tall ladder extending from a bright red engine. The officials in during Fire School 101 attempt the climb on a sunny day, but firefighters often have to climb the same ladder when the temperatures are freezing and the mist from the spray of the fire hose turns to ice when it makes contact with the metal steps.
The council members and mayors also make their way on hands and knees through a two-story building wearing a blindfold to gain understanding of how firefighters must use the hose as a lifeline. When the thick smoke makes it impossible to see further than their hand, and the temperature rises dramatically with the height of every inch, firefighters depend on that fire hose to find their way through many obstacles. The firefighters' goal is to find and rescue victims overcome by the flames and smoke, but for the elected officials engaged in this exercise it is merely to make it through the obstacle course.
It was a very difficult, physically exhausting day with firefighters, and one that many council members and mayors will remember as they consider policy that affects their city.
ULCT is a nonpartisan, inter-local, government cooperative working to strengthen the quality of municipal government and administration. The League serves as a voice for Utah's 245 cities and towns at the county, state and federal level.