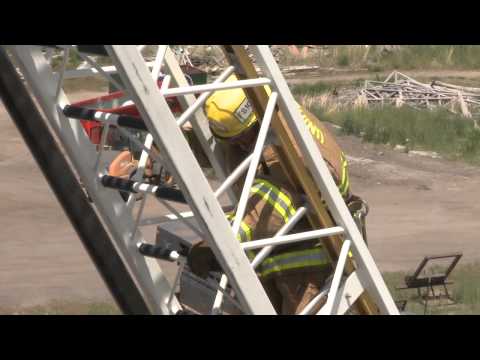 View 15 Items
Utah League of Cities and Towns

I stand back and I watch our brave firemen, but I have no idea what they go through and all it entails.

—Dama Barbour, Taylorsville City Councilwoman
MAGNA — Radiant heat coming from gigantic flames on the school bus could be felt 25 yards away, but with a fire hose in hand, city council members, public relations managers and other civic leaders forged their way to the fire.
Sixteen of them were participating in a training exercise Saturday that showed them the ins and outs of the Unified Fire Authority, an agency whose more than 420 firefighters and paramedics serve the greater Salt Lake Valley.
"I stand back and I watch our brave firemen, but I have no idea what they go through and all it entails," said Taylorsville City Councilwoman Dama Barbour. "I always admired them, but after this, I will never think of them the same. My admiration for them has gone way off the charts."
The 5-foot-4, 72-year-old Barbour was bedecked in about 50 pounds of firefighter gear, but she eagerly participated in each training exercise, and said the experience was something "I'll never forget."
She even had a little fun when the various teams decided to use the water spewing from 1.75-inch hoses in a massive water fight. More than 200 gallons a minute was tossed back and forth in the playful battle, but it wasn't long before they were back to work.
"The fire was so intensely hot you could feel it through the clothes," said Taylorsville City spokeswoman Aimee Newton. "We have had the experience of a lifetime being firefighters today, and it's been amazing."
Riverton City Councilman Sheldon Stewart said it was like fulfilling a childhood dream.
"It's a very cool feeling being out there," he said. Stewart said he learned the importance of additional manpower in incident management and would more seriously consider UFA initiatives now that he understands what is at stake.
"There's a lot more to firefighting than just spraying the hose and knocking the fire down," said UFA Capt. Cliff Burningham. Mini-classes throughout the day included rescue and transport techniques, wayfinding through smoke and fire, extrication and use of the ladder trucks to reach the top of a six-story building.
"Our whole goal for today is to build on relationships with these folks … and in turn for the firefighters to get some familiarity with the leaders of the cities," Burningham said. "Part of our message today is to demonstrate, show and talk about why it's important to have certain staffing levels in each of our fire stations."
UFA firefighter and paramedic Mike Washburn coached Barbour throughout the full-day Fire School 101 course, volunteering her first for each activity. He said out in the field, "you have to speak up if you want to do something."
"I just want her to have fun," he said. "It's hard work, but it is really fun."
The focus of the invitation-only course, which is offered nearly every year, is to help participants become familiar with the UFA, as well as expose community leaders to the work firefighters are faced with on a daily basis.
"We want them to know the kind of service their money is getting," Burningham said.
Holding onto the hydraulic "jaws of life," Taylorsville City spokeswoman Aimee Newton emotionally recalled the mangled vehicle her father was cut from just last year. Her mother was killed in the rollover in southern Utah, and watching how extrication works really hit home for her.
"It is fascinating to me and a little bit sad," she said.
The fire agency has various vehicles in its command. Some of them require up to four firefighters for the most efficient operation ability, but budget constraints keep that from happening. During Saturday's course, paricipants were shown the difference one person can make.
"I saw the difference first-hand and in some cases, it adds up to lives being saved," Barbour said.
E-mail: [email protected] Twitter: wendyleonards