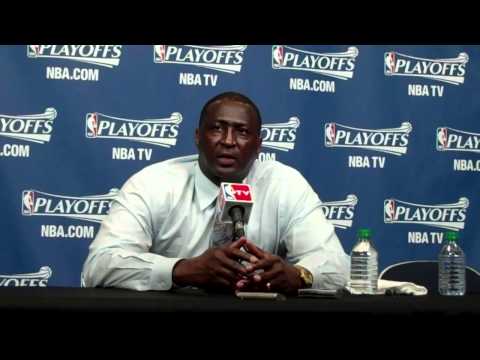 View 39 Items
Brandon Brown, Deseret News

SALT LAKE CITY — For a team down 0-3 in the series and staring at a 21-point deficit in the fourth quarter, the Utah Jazz could have laid down and quit. But, like they have all season, they fought to the bitter end. The San Antonio Spurs completed the sweep by winning 87-81, but the Utah Jazz ended the season with their heads held high as they showed true character.
The juggernaut Spurs did what they have done all series long: They jumped out quickly, built up a big lead and made all the plays that silenced any Utah runs. As a result, they await their next opponent while the young Jazz squad hopes to build on a season that exceeded most expectations.
Reserve Energy: While San Antonio's starters — Tony Parker and Tim Duncan included — had quiet performances, it was the Spurs' reserves who won the game for the road team. Their depth showed as they combined to outscore their counterparts 57-10.
Manu Ginobili, who had been struggling with his shooting, hit a trio of crucial 3-pointers in the second half and finished with a team-high 17 points. Gary Neal scored 11 and Tiago Splitter added 10. Stephen Jackson, DeJuan Blair and Matt Bonner also made solid contributions.
DeMarre Carroll's numbers (six points, five rebounds) belied his effort. His hustling energy was contagious and was integral toward the Jazz's furious fourth-quarter run.
Shutout: Gordon Hayward and Alec Burks are two obvious reasons why the future is incredibly bright for the Utah Jazz. But there will be growing pains along the way, with Monday being a prime example. The talented pair of guards went scoreless, going a combined 0-15 shooting from the floor.
Laying it Out There: While they each had their struggles, kudos go out to the other four Utah starters, three of whom had double-doubles.
Al Jefferson had difficulties against Duncan but came through with his best outing of the Playoffs. Going 13-19 from the field, he had 26 points and 10 rebounds. His veteran partner in crime, Paul Millsap, shot poorly but tallied 10 points and 19 rebounds.
Devin Harris' shooting was also subpar, but his 19 points and seven assists were big. His running blocked shot of Parker's breakaway layup was one of the plays of the season.
And last, but not least, Derrick Favors got the start and showed once again what he can do with extended playing time: 16 points, 10 boards, two blocked shots and two steals.
David Smith provides instant analysis for Deseret News' Utah Jazz coverage. He works for LDS Philanthropies and also blogs for the Utah Jazz 360 website. He can be reached at [email protected] or on Twitter at davidjsmith1232.