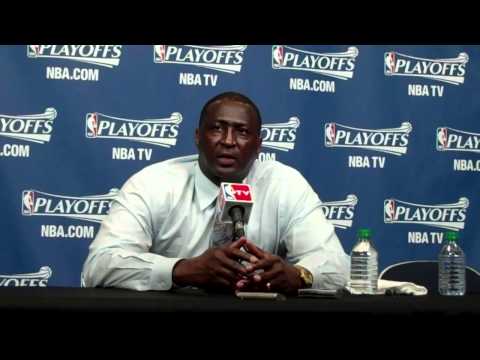 View 39 Items
Brandon Brown, Deseret News

SALT LAKE CITY — San Antonio strolled past the Utah Jazz Monday night at EnergySolutions Arena. Monday's 87-81 victory gave the Spurs a four-game sweep in the best-of-seven NBA playoff series.
Manu Ginobili led the Spurs with 17 points.
Al Jefferson topped the Jazz with 26 points and Devin Harris added 19. Paul Millsap contributed a double-double with 19 rebounds and 10 points.
The Jazz used a 10-0 run to pull within 61-58 late in the third quarter. It proved, however, to be their last serious challenge against the Western Conference's top seed until making it a four-point game in the final minute.
Ginobili, who had made his first nine 3-point shot attempts in the series, hit back-to-back shots from beyond the arc to headline a 7-0 spurt by the Spurs to close out the third quarter. They opened the fourth with eight more points to increase their lead to 76-58.
Utah, meanwhile, failed to score for a stretch of more than eight minutes en route to being eliminated. The drought provided San Antonio with enough cushion to withstand a late 19-2 outburst by the Jazz.
The Spurs held a 50-42 halftime advantage.
A seesaw opening period ended on a down side for the Jazz. They fell into a pair of seven-point deficits early — at 9-2 and 11-4 — before rallying to take a 19-15 lead less than five minutes later.
Unfortunately for Utah, a decisive momentum shift followed.
While holding the Jazz scoreless over the final 2:33 of the quarter, the Spurs reeled off seven straight points to regain the lead — this time for good — at 22-19.
San Antonio extended its lead to 14 at one point in the second, and Utah drew no closer than six before the half was complete.
Twitter: @DirkFacer