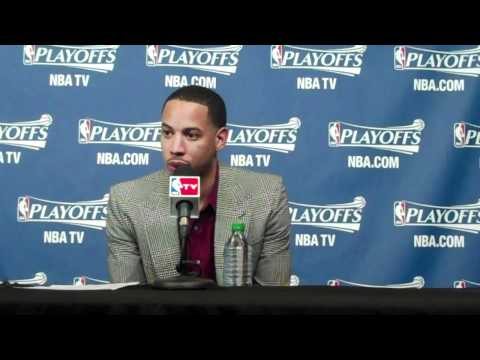 View 23 Items
Brandon Brown, Deseret News

SALT LAKE CITY — After losing a pair of games in San Antonio, the Utah Jazz were hoping the safe confines of EnergySolutions Arena would help sway their fortunes. While their play was much improved, the experienced San Antonio team was just too much down the stretch. The Spurs defeated the Jazz 102-90 to take a commanding 3-0 lead in the first-round matchup.
Points left on the table: Poor free-throw marksmanship helped seal Utah's fate. The patterns started early and essentially carried on throughout the game. The Jazz combined to shoot 14-26 from the charity stripe, an anemic 53.8 percent. Outside of Gordon Hayward's 2-2 shooting, every player who attempted a free throw missed at least one.
Bench bravado: The San Antonio reserves continued to outperform their Utah counterparts, outscoring them 40-30. The Spurs were boosted by the return of center Tiago Splitter from a minor injury. He was extremely productive, tallying 10 points and eight rebounds in just 18 minutes. Recent addition Stephen Jackson was big from the perimeter, nailing a trio of 3-pointers en route to 13 points. And sixth man extraordinaire Manu Ginobili scored only six points, but his 10 assists slickly set his teammates with simple scoring opportunities.
Conversely, two of the brightest performances for Utah came from young bench players Alec Burks and Derrick Favors. The rookie Burks played a steady game, injecting the Jazz lineup with much-needed energy and movement. He finished with 11 points while contributing solid defense.
Favors, the subject of many fans' pleading for more playing time, showed what he can do. He was indeed given extra minutes and produced to the tune of 15 points, 11 rebounds, two steals and two blocked shots. His defense was particularly powerful in the first half.
Shooting struggles: While the juggernaut Spurs continued to hum along offensively, the Jazz also continued to struggle. San Antonio shot a solid 48.8 percent from the floor, while Utah managed just about 40 percent. That is difficult to overcome.
Odds 'n' ends:
While the Utah Jazz are usually the team swatting away their opponents' shots, it was the Spurs who administered some tough on-the-ball defense, blocking 11 shots.
The Jazz's big lineup of Favors, Al Jefferson and Paul Millsap got more time together and all three were able to collect 11 rebounds each.
David Smith provides instant analysis for Deseret News' Utah Jazz coverage. He works for LDS Philanthropies and also blogs for the Utah Jazz 360 website. He can be reached at [email protected] or on Twitter at davidjsmith1232.