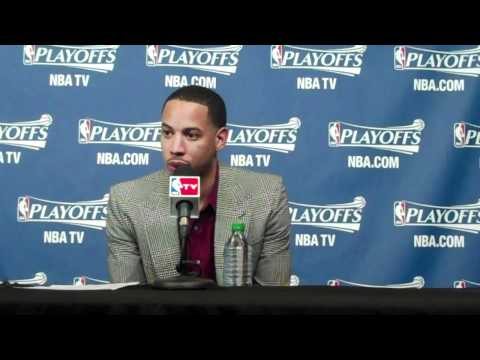 View 27 Items
Brandon Brown, Deseret News

SALT LAKE CITY — Tony Parker scored 27 points and Tim Duncan added 17 as the San Antonio Spurs took a commanding 3-0 series advantage over the Utah Jazz with a 102-90 victory Saturday night at EnergySolutions Arena.
Devin Harris and Al Jefferson each had 21 points for Utah. The Jazz will need to make history in order to advance as no team in NBA playoff history has ever overcome a 3-0 deficit.
Game 4 is Monday night in Salt Lake City. Game 5, if necessary, would be Wednesday in San Antonio.
Utah held its last lead, at 58-56, on a pair of free throws by Devin Harris with 8:51 to go in the third quarter. San Antonio responded by building a lead that swelled to 10 points before the period was complete.
The Spurs were never seriously tested down the stretch as the Jazz drew no closer than five in the fourth quarter.
Matt Bonner hit a 3-pointer as time expired to give San Antonio a 52-50 halftime lead. Duncan and Parker led the Spurs with 13 and 11 points, respectively, at the break. Harris topped the Jazz with 14 and Jefferson added 11.
Utah held a 24-16 rebounding advantage at halftime, but 8-of-16 shooting from the foul line proved costly in a half featuring 10 lead changes and five ties.
Although the Jazz trailed 6-0 early after Duncan made two baskets and a pair of free throws, they managed to erase much of the deficit quickly. A 3-pointer by Harris and a jumper from Gordon Hayward cut the Spurs' lead to 6-5 less than two minutes into the contest.
San Antonio remained in front early on until Harris made a second 3-pointer. The shot gave Utah a 23-22 advantage with 2:21 remaining in the opening quarter, giving the Jazz their first lead in the series since a 13-12 edge in Game 1.
By quarter's end, though, the veteran Spurs held a 30-28 lead.
And down the stretch in the second half, they proved to be too tough for the young Jazz.